Since starting from 2004, the China Open has given badminton a new feel; exciting games, thrilling encounters, and surprising upsets. Everything a fan dreams about. In 2014, the current world #2 Saina Nehwal beat Japan's Akane Yamaguchi in the final to become the first Indian woman to win the China Open Super Series Premier. In 2015, she's again performing stupendously.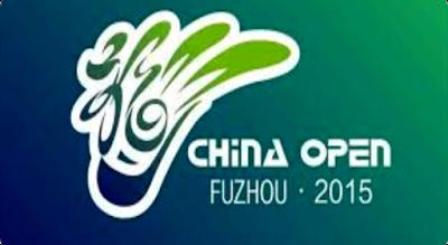 Saina Nehwal is in impressive form in 2015 and has already won the India Grand Prix Gold and India Open BWF Super Series, which helped her gain the #1 world ranking spot according to the rankings released on April 2. She started the 2015 China Open Super Series Premier with a narrow win over Sun Yu and qualified for the second round. She then beat Tee Jing Yi to win the pre-quarter finals.
Saina's progress to the semi-finals became possible thanks to an easy win against the world #10 Nozomi Okuhara. The semi-finals proved to be a straightforward affair as she easily beat former world champion Yihan Wang in 42 minutes.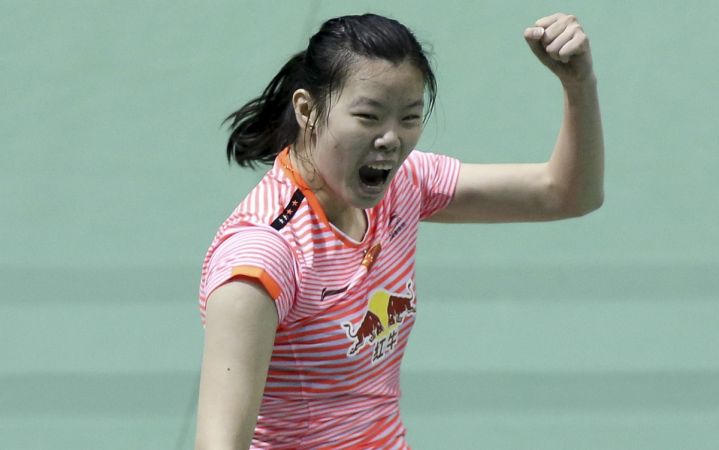 But in the finals, the match proved to be too much of a struggle for the Indian star. Up against the current Olympic Champion Li Xuerui, who has an astonishing 10-2 winning record against Saina Nehwal, Saina Nehwal faltered once again (21-12, 21-15) to her nemesis at the China Open final.
Switching gears from the recently concluded China Open to next year's Thomas Cup, China has the best chances of winning the Cup with favourable odds of -275 courtesy of British online bookie bet365. On the other hand, Nigeria seems to be the least favourite with winning odds of +300000. There are six countries including the likes of Russia, England, and France that have the same winning outright odds of +30000.
【2016 Thomas Cup Winner Odds】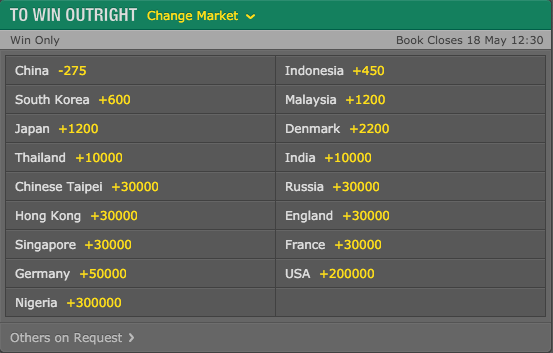 ※ Current Odds Date & Time: November 15, 11:00 p.m. (GMT)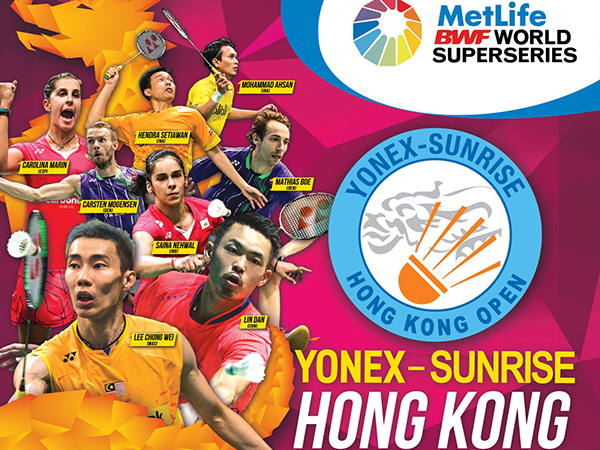 When it comes to the Hong Kong Open set to begin this week, the qualifier round results for Men's Singles seem pretty easy to predict. The odds are oceans apart for a few matches, including the one between Christie Jonathan (-100000) and Jacob Maliekal (+2500). The toughest call might be for the match between Ginting Anthony and Riichi Takeshita who both have odds of -120. The other contests are also going to be close and tense affairs according to the current odds on offer.
【2015 Hong Kong Open: Men's Singles Qualifying Round Match Winner Odds】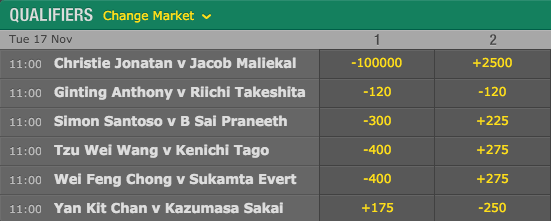 ※ Current Odds Date & Time: November 15, 11:00 p.m. (GMT)
Coming towards the Women's Singles of the same tournament, three matches have the same odds of +2500 and -100000. Those matches will be played in-between Hadia Hosny and Wing Yung Ng, Sum Yee Yeung and Aya Ohori, and Yi Ting Wu vs. Nitchaon Jindapol. With odds such as these, the later players in each match are in pole position to win their individual matches and quality for the next round.
【2015 Hong Kong Open: Women's Singles Qualifying Round Match Winner Odds】



※ Current Odds Date & Time: November 15, 11:00 p.m. (GMT)
The odds for the Men's Doubles in Hong Kong Open don't follow a specific pattern. The three matches: Hirata/Hashimoto vs. Ahsan/Setiawan (+333 and -500), Seong Yoo/Dae Lee vs. Cai/Lu (-500 and +333), and Zhang/Wang vs. Hoon/Lim (-500 and +333) stand out from the rest of the 12 matches.
【2015 Hong Kong Open: Men's Doubles Round 1 Match Winner Odds】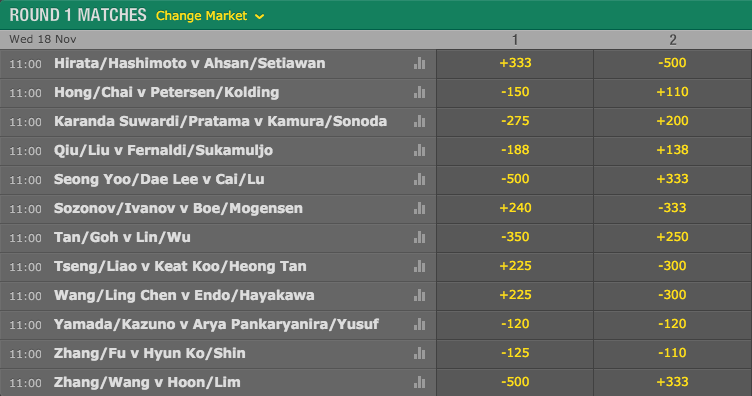 ※ Current Odds Date & Time: November 15, 11:00 p.m. (GMT)
The situation isn't very different for Women's Doubles with three matches having similar winning and losing odds: I.N. Ketut/S Awanda vs. Tang/Zhong (+700 and -1600), Juhl/Pedersen vs. Kititharakul/Prajongjai (-1600 and +700), and Piek/Muskens vs. Ching Hsu/Pai (-1600 and +700). However one match's odds stand out from the rest concerning the match of Zhao/Tian vs. Hanadia/Permatasari with odds at -100000 and +2500.
【2015 Hong Kong Open: Women's Doubles Round 1 Match Winner Odds】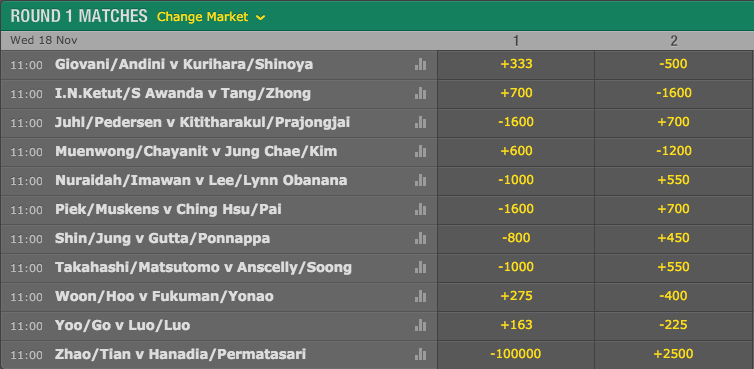 ※ Current Odds Date & Time: November 15, 11:00 p.m. (GMT)
The odds are also in vogue for Mixed Doubles at the Hong Kong Open. The Zhao/Zhang vs. Prapakamol/Thoungthongkam match has odds of -3300 and +900 while the other odds show that the mixed double matches are going to be tough and not one-sided in any way. All the players are already in tune with each other's playing style and fierce showdowns are expected.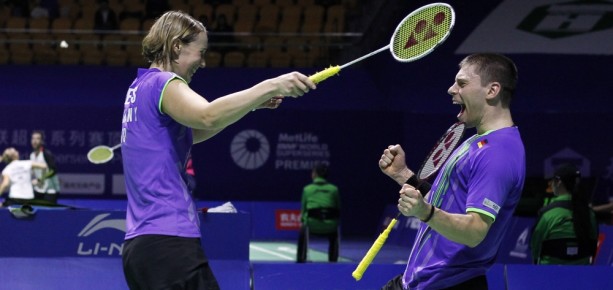 If we take a look at the qualifier rounds of each Doubles format, we can see a few interesting matchups when it comes to finding an easy betting opportunity. In Men's Doubles, the match of Li/Chung vs. El Khateeb/Kashkal has odds of -2500 and +800 while in Women's Doubles, Yu/Tang vs. Chang/Ng has very clear betting odds of -20000 and +1600. For Mixed Doubles, the matches are predicted to be narrowly fought-between Chan/Or and Law/Yuen (-225 and +163) and also Saengchote/Thongnuam vs. Yeung/Ng (-250 and +175).
With 2015 coming to a close and winter fast approaching, it means one thing and one thing only – a busy season for badminton players as the action heats up indoors. As one of the highlight tournaments of the season, expect the Hong Kong Open to be a thrilling display of athleticism amongst those slated to compete.
As for which players will bring their "A-game", it may be too early to tell but for sure we can expect an upset or two along the way.
Great ready as Hong Kong becomes the focus of the badminton world!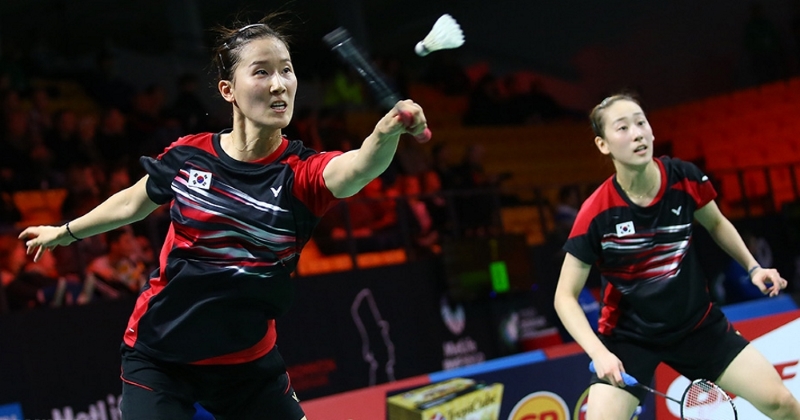 P.S.:
Want to know
1)
which online bookmakers offer the best odds so I can maximize my winnings on bets,
2)
which online bookmakers process withdrawal requests the fastest so I can receive my money ASAP,
3)
which online payment gateways offer the lowest transactional fees & highest limits,
4)
which online bookmakers accept US-based players, and
much more
??
Download the ultimate resource covering the online bookmaker industry by clicking on the green button below.

P.P.S.:
Bookmaker Info is now in
Español
,
Chinese
&
Indonesian
!! If you have any Spanish-speaking, Chinese-speaking or Indonesian-speaking friends who are interested in online sports betting, by all means feel free to let them know about our sister web sites:
Spanish:
http://bookmaker-info.com/es/
Chinese (Simplified):
http://bookmaker-info.com/cn/
Chinese (Traditional):
http://bookmaker-info.com/tw/
Indonesian:
http://bookmaker-info.com/id/

☆
【Want up-to-date sports betting odds & news delivered straight to your inbox?】
Send a blank email w/o subject line to:
bookmaker@getresponse.net
【Useful Links】
・
Bookmaker 101: The Basics
・
Step-by-Step: How to Register → Bet → Withdraw
・
Sports Betting Lingo: A-to-Z
・
Current Bookmaker Promotions
・
Betting Picks, Strategies & Tips

・
bet365 Profile
・
How to Open a bet365 Account
・
How to Transfer Money from NETELLER to bet365
・
How to Transfer Money from Skrill to bet365
・
How to Place Bets on bet365
・
How to Withdraw from My bet365 Account