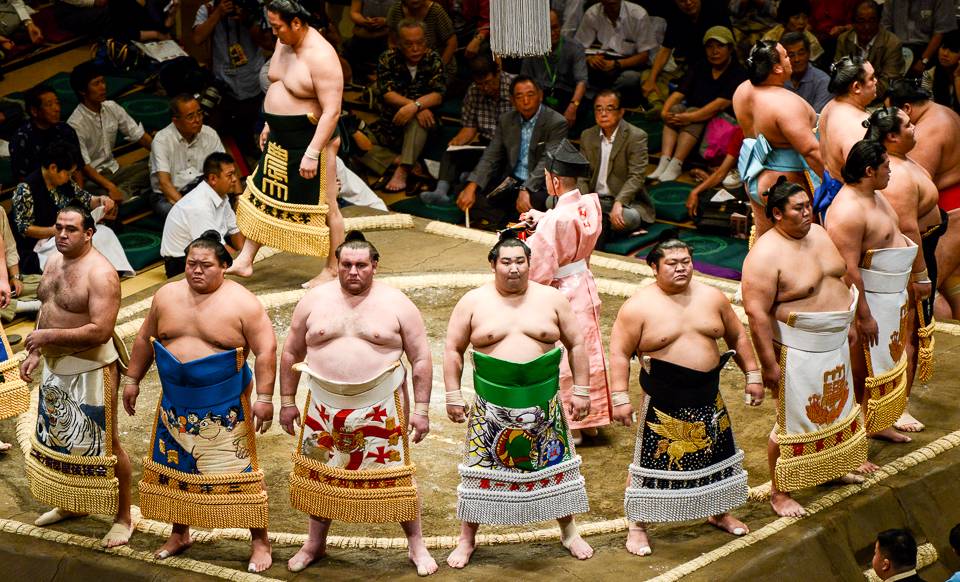 In March the nonpareil sumo wrestler Hakuhō celebrated his 30th birthday, often a watershed in a champion athlete's career. That same month Hakuhō extended his all-time record of championships at the Haru Basho in Osaka to 34, winning 14 of 15 bouts. It was the Mongolian legend's sixth consecutive championship, a mountain climbed only four times previously, including once by himself.
But in his first outing on the far side of 30, in the Summer Grand Sumo Tournament, Hakuhō suffered four defeats. The second most since he was elevated to the ultimate rank of yokozuna back in 2007. The question for bettors in the upcoming Nagoya Basho will be: "Is Hakuhō still the most dominant force the sport of sumo has ever seen or has he entered a phase of decline?"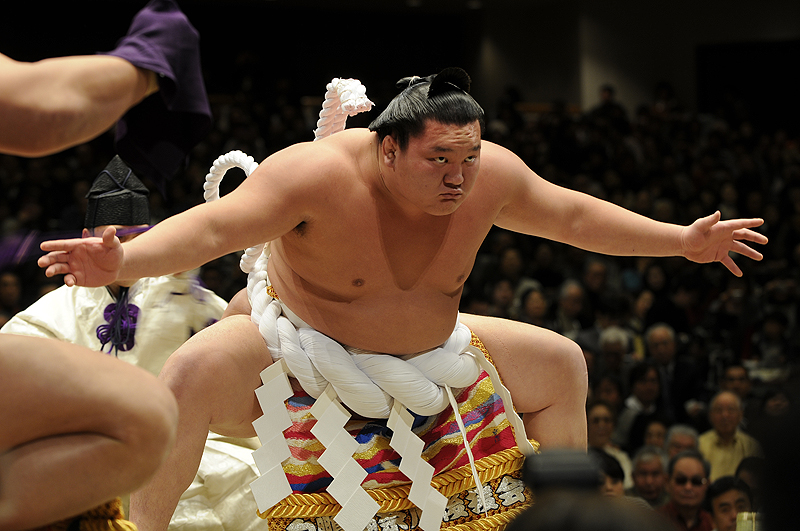 History provides no solace to those seeking a definitive answer. Only two yokozunas have reached the level of 30 championships before Hakuhō. Taihō Kōki won just one of his 32 championships after this 30th birthday while Chiyonofuji Mitsugu on the other hand won 15 of his 31 championships after his 30th birthday. Marathonbet clearly believes Hakuhō is still the fighter who piled up an 84-6 record during his six championship-run before his uncharacteristic inconsistent performance in May by listing him as the overwhelming 3/5 favorite in opening odds.
【2015 Nagoya Basho Tournament Winner Odds】



※ Current Odds Date & Time: July 4, 7:00 a.m. (GMT)
Contrarian bettors may point to Hakuhō's most previous pedestrian effort, also at the Natsu Basho, in 2012. After posting a 10-5 record during that campaign, the master yokozuna was unable to take home the hardware in his next two tournaments posting a three-drought championship run, which was the longest in his reign at the top of the sport. Fast forwarding to 2015, who might be in the best position to challenge Hakuhō this time around?
【July Grand Sumo Tournament Banzuke】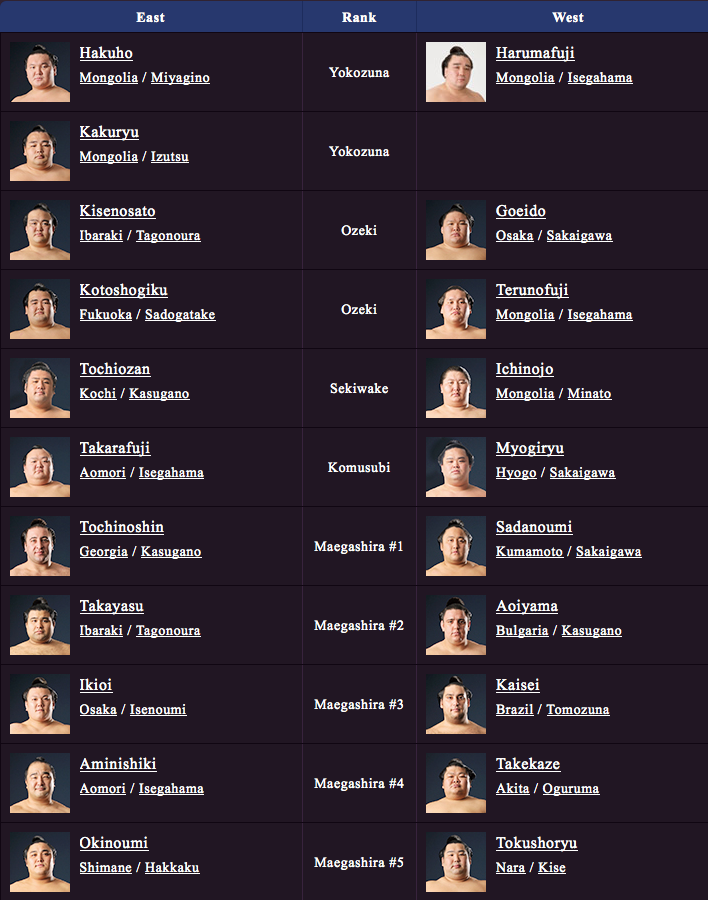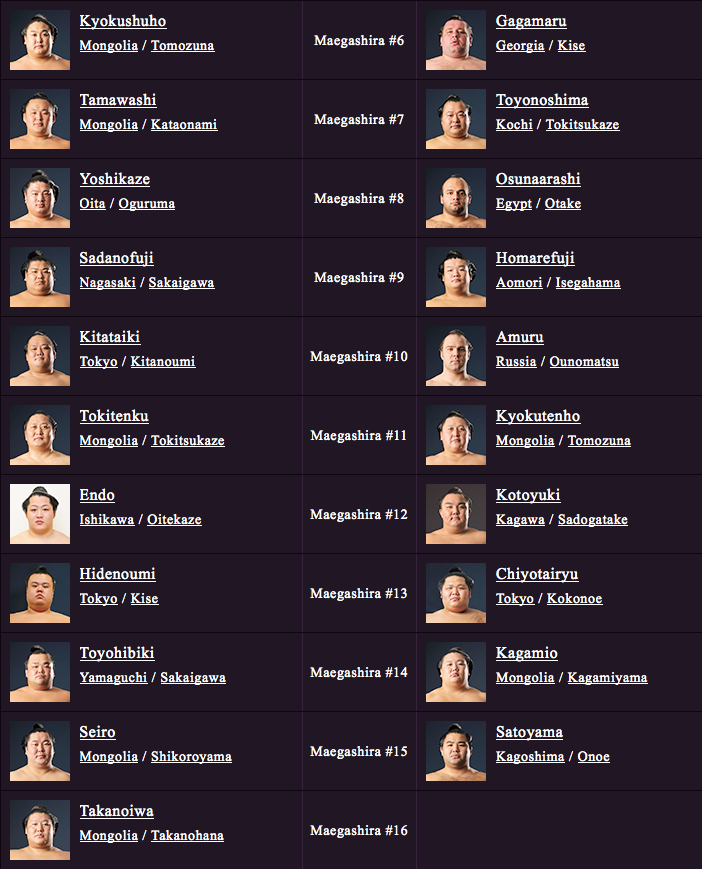 Harumafuji Kōhei, light of weight but long on technical skill, defeated his countryman Hakuhō at that Natsu Basho in 2012 to trigger his losing skid. The victory elevated Harumafuji to the rank of yokozuna and he went on to go undefeated in winning the next two championships. The speedy Harumafuji appeared ready to challenge Hakuhō for sumo supremacy but he has not been able to build on that success in recent years. He has been hounded by injuries and has seldom been in contention in the second week of tournaments.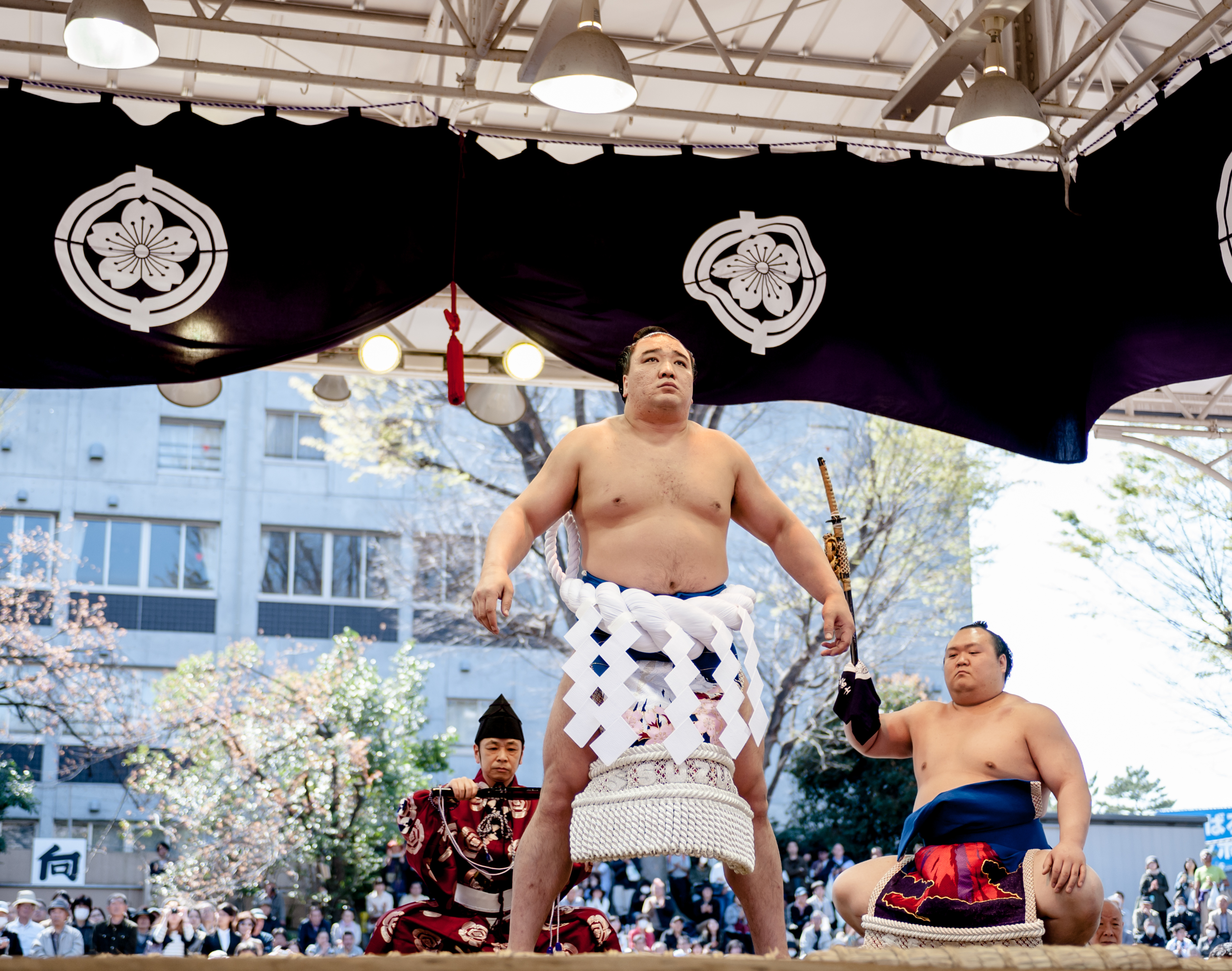 In their most recent head-to-head meeting, Harumafuji ousted Hakuhō from the Summer Grand Sumo Tournament at Ryogoku Kokugikan in the final bout. With this flash of good form, Marathonbet posts Harumafuji as the third betting favorite at 4/1. But for those worried about Hakuhō's advancing age, Harumafuji is a year older.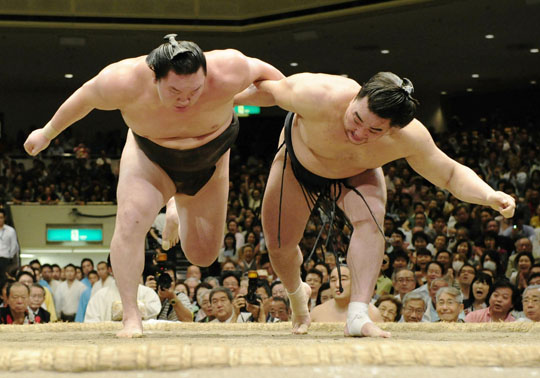 The only other active yokozuna, Kakuryū Rikisaburō, is just a month shy of his 30th birthday as well. He earned promotion to sumo's highest rank just last year when he won his first championship at the Haru Basho in Osaka. Since then the Mongolian wrestler, who grew up fantasizing of playing professional basketball, has assembled an indifferent 53-22 mark. Marathonbet makes the youngest yokozuna a tepid 6/1 choice for Nagoya after Kakuryū missed the previous tournament while nursing an injury.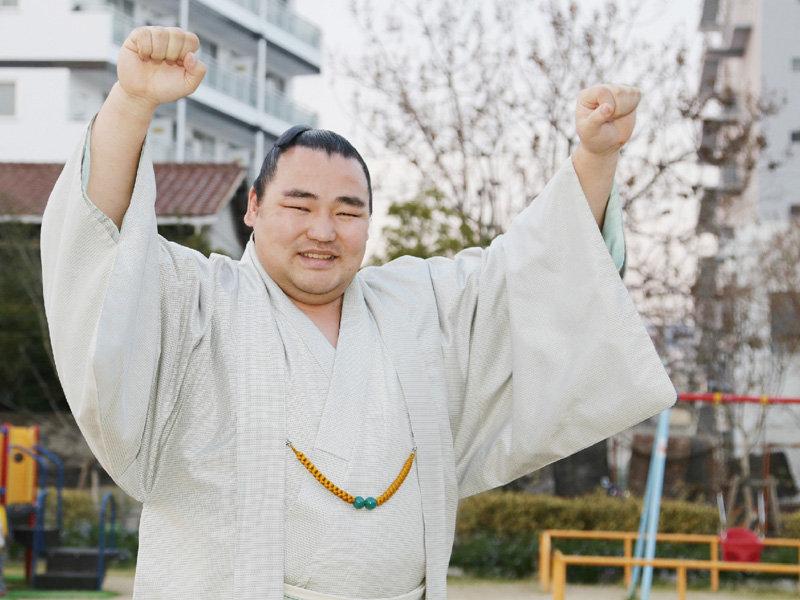 The most intriguing name for punters going into the tournament is the second choice at 3/1 odds, Terunofuji Haruo. The 23-year old Mongolian was the surprise winner of the Natsu Basho in May in just his eighth top-division tournament. Terunofuji finished with a 12-3 mark after which he was bumped up to the rank of ozeki, the second-highest level of sumo wrestling. He entered the final day tied for the lead and won the title when Hakuhō lost that final bout with Harumafuji, a stablemate of Terunofuji's at Isegahama.
One of Terunofuji's three losses came at the hands of the experienced Hakuhō who easily dismissed his young compatriot from Ulan-Bator. Before his elevation, Terunofuji had been making waves among lower division wrestlers, having earned three consecutive Fighting Spirit Awards. Is he ready to step up in class and bypass the current yokozunas and take his place at the pinnacle of sumo? Supporters will have to lay short odds to cash in on that supposition.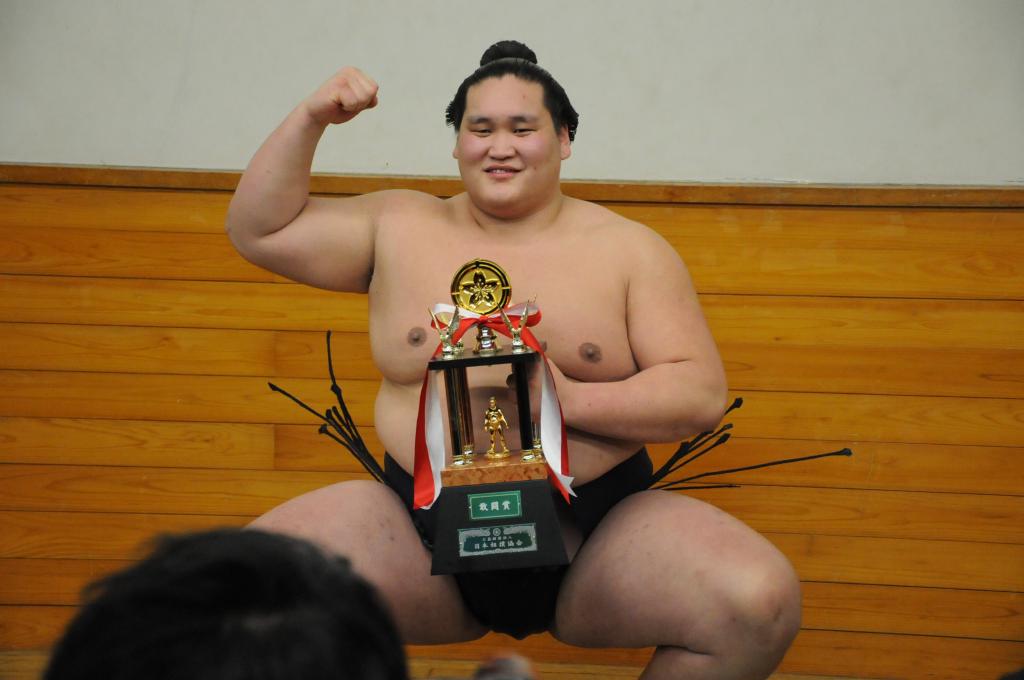 With his recent championship Terunofuji is now considered the front-runner to become sumo's next yokozuna, a rank reached by only 71 men in the last 258 years. None of the other three current ozekis competing in Nagoya are given high regard for coming from the pack in the two-week event. Kisenosato (9/1), Kotoshogiku (14/1), and Goeido (13/1) have lacked the consistency to outmaneuver the top-ranked yokozunas and grab an elusive title. The trio of Japanese wrestlers have each earned numerous special awards but own no championship titles among them, as indicated by their odds.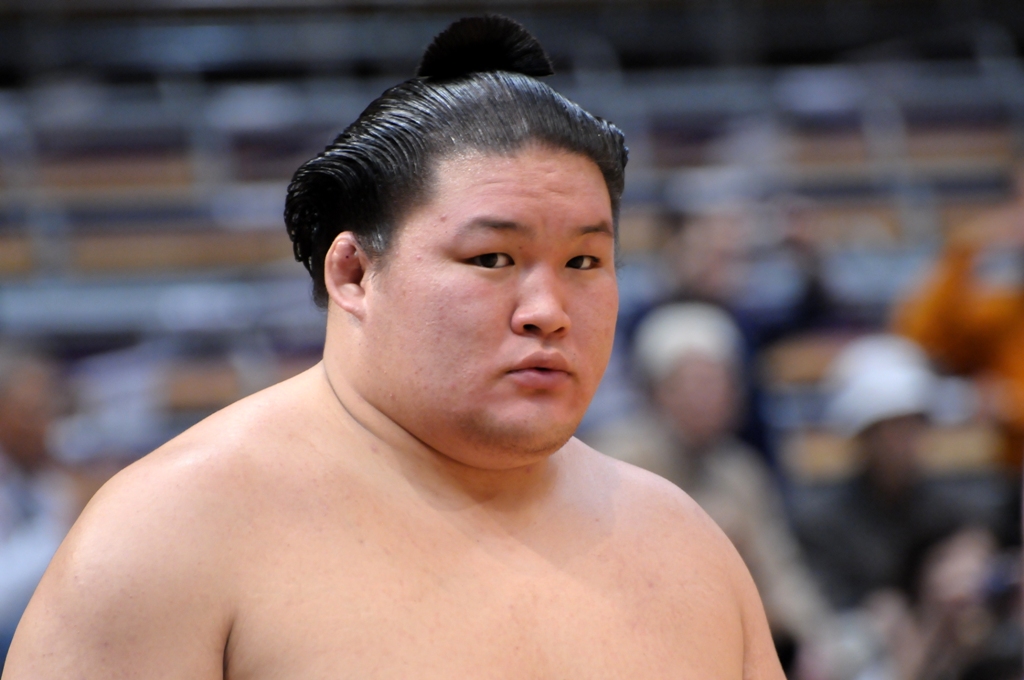 Longshot hunters could do worse than Ichinojō Takashi, a 22-year old Mongolian considered to be Terunofuji's main rival for a future rank of yokozuna. Ichinojō wrestles from the humble Minato stable where he, at the rank of sekiwake, is the team star. At the Aki Basho in Tokyo last September, the youngster knocked off so many higher ranked fighters that the tournament organizers had to scramble to rearrange the match order. He picked up special prizes for Outstanding Performance and Fighting Spirit on his way to a 13-2 mark and a runner-up finish.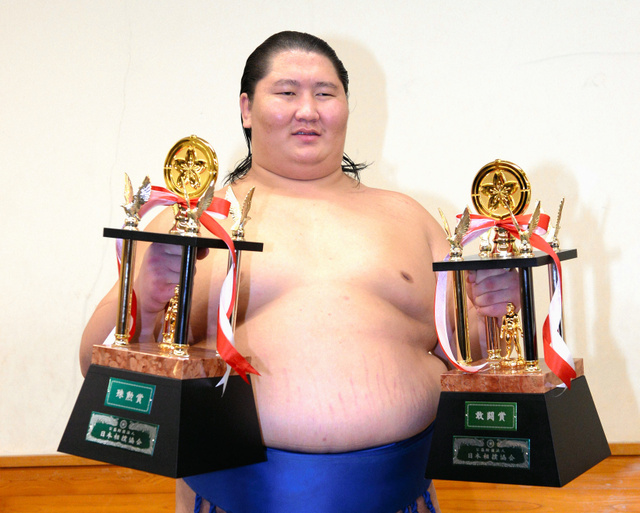 At Nagoya, Ichinojō will need to once again work his way through a palisade of higher-ranked wrestlers. It will be a stiff task but Marathonbet does not see it as undoable. Ichinojō, who is the first sumo wrestler to come to Japan from a nomadic clan, is listed at 14/1 odds. If the age of 30 really does signal the end of dominance in sumo, this young rikishi could provide value for bettors.