(1)Log into M88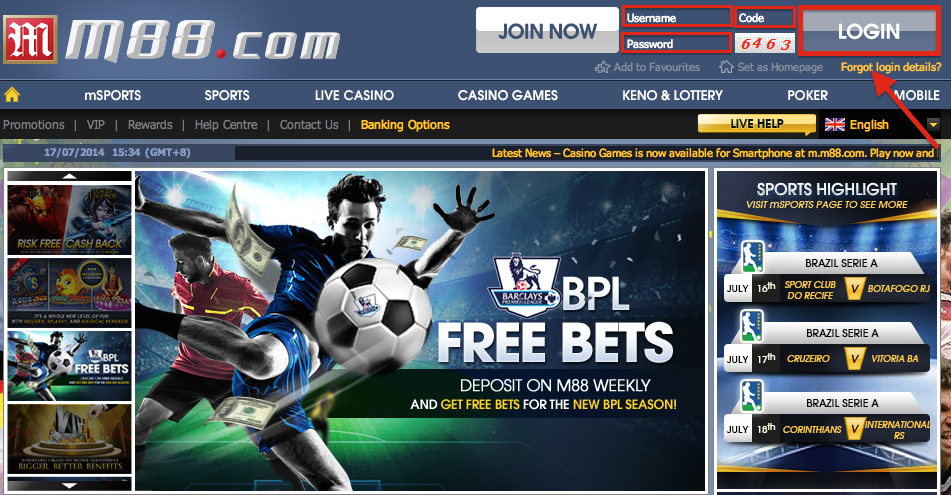 After entering your Username, Password, and 4 digit Code, click "LOGIN" to continue.
(2)Click on mSPORTS to access the sports betting screen (a new window will open)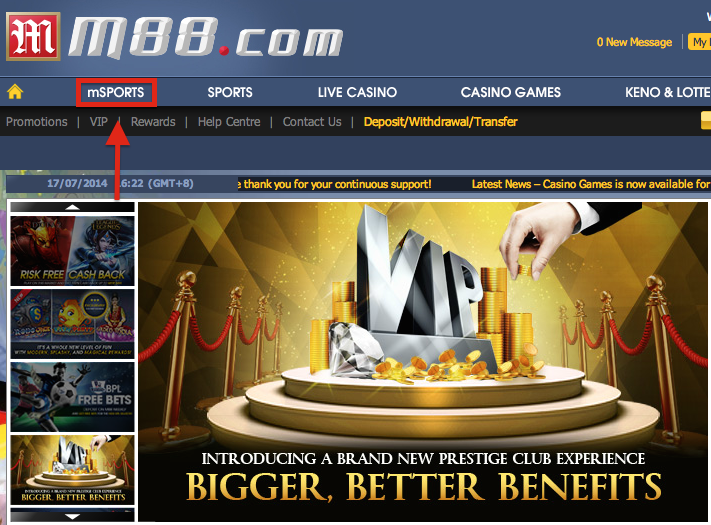 Note that M88 offers two sports betting platforms: mSPORTS and SPORTS. The difference between them is mSPORTS is M88's own sports betting platform while SPORTS is contracted out to a third party provider. Even though games/matches offered are for the most part the same, the difference lies in that there is the potential for issue resolution and payouts to be conducted in a faster manner in mSPORTS compared to SPORTS. As a result, we suggest you to visit mSPORTS first to check on the games/matches offered prior to SPORTS.
(3)Select the game/match that you would like to bet on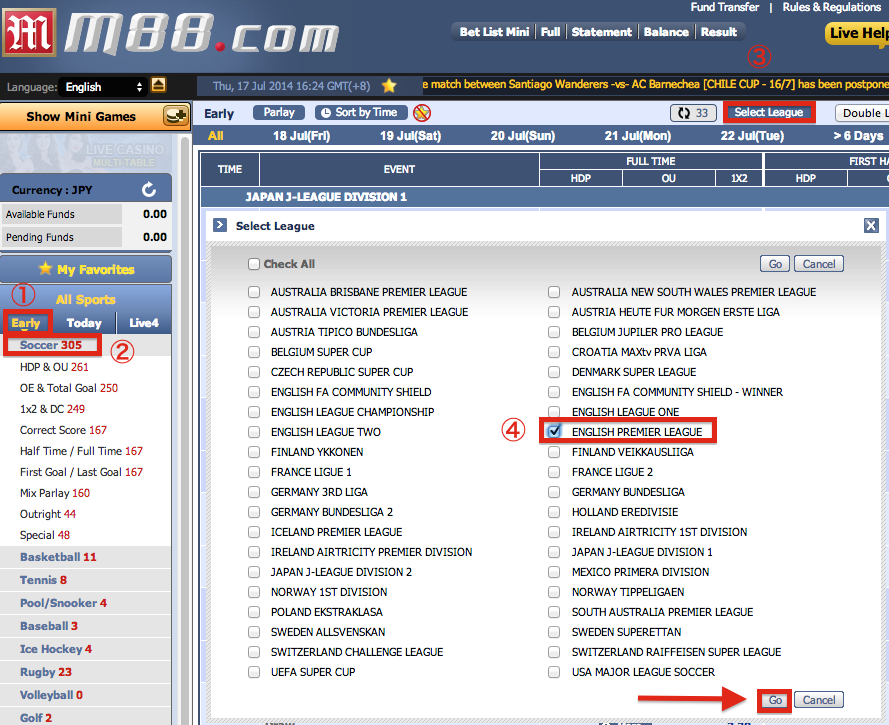 In this example, we will show you how to place a bet on an English Premier League soccer game. First, click on "Early" to wager on games/matches that will be held in the future. Next select "Soccer" from the list of sports on the left-hand side of the screen. Then click "Select League" followed by inserting a check mark next to ENGLISH PREMIER LEAGUE and click "Go".
(4)Select your bet type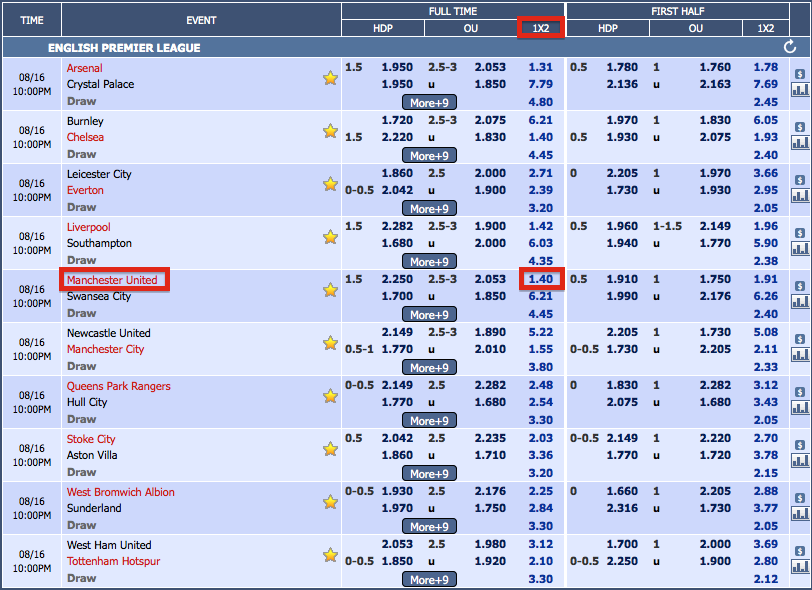 One of the easiest to understand bet types is "Full Time 1X2" (also known as Match Betting or Money Line). A Full Time 1X2 bet means you pick which team you think will either win or tie. In our example above, we have three choices by either picking 1 – Home) Manchester United to win, 2 – Away) Swansea City to win or X – Draw) Manchester United to tie Swansea City. In this example, we will pick Manchester United to win, therefore we will click on the odds 1.40.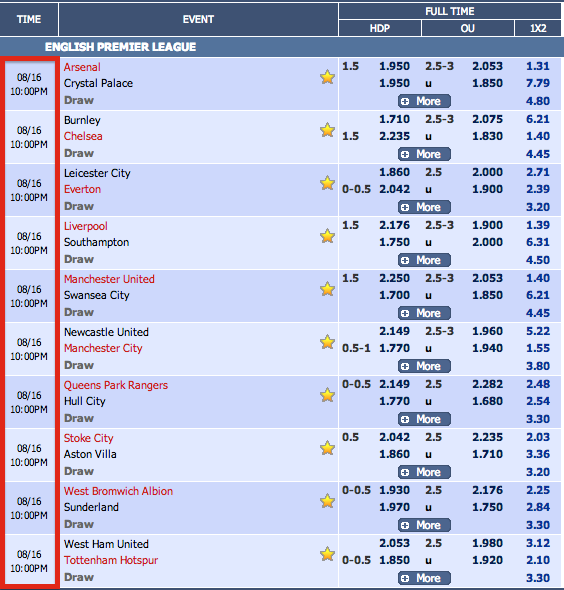 ※ Note the date and time of the match in the left-hand side of the screen. By default the date and time are displayed as GMT+8 based on the location of M88's servers. The time zone display setting cannot be changed.
(5)Enter your bet amount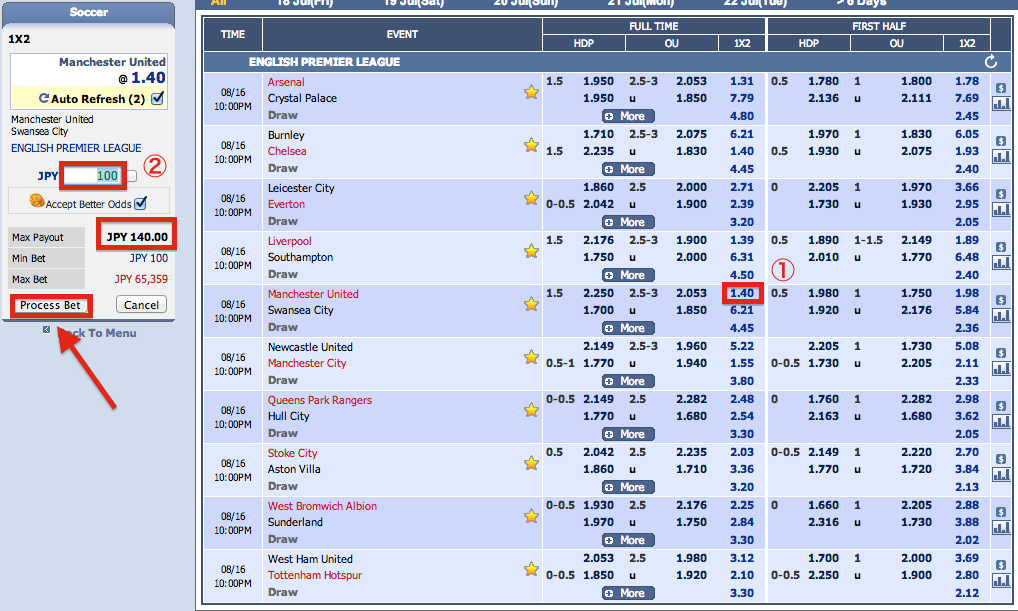 After clicking the odds that you would like to place a bet on, your bet selection will show in the bet slip located on the left-hand side of the screen.
Once you enter your stake (the amount of money that you would like to bet), the amount of money (stake + profit) that would be returned to you should you win on the bet will be shown automatically under "Max Payout".
Once you have entered the stake for your bet(s), next click "Process Bet" to finalize your bet(s).
※ Other Bet Options
If you refer to the screenshot below, you will see "+ More" at the bottom of the game's odds. If you click on this button, all available bet types will be shown to you for this particular game.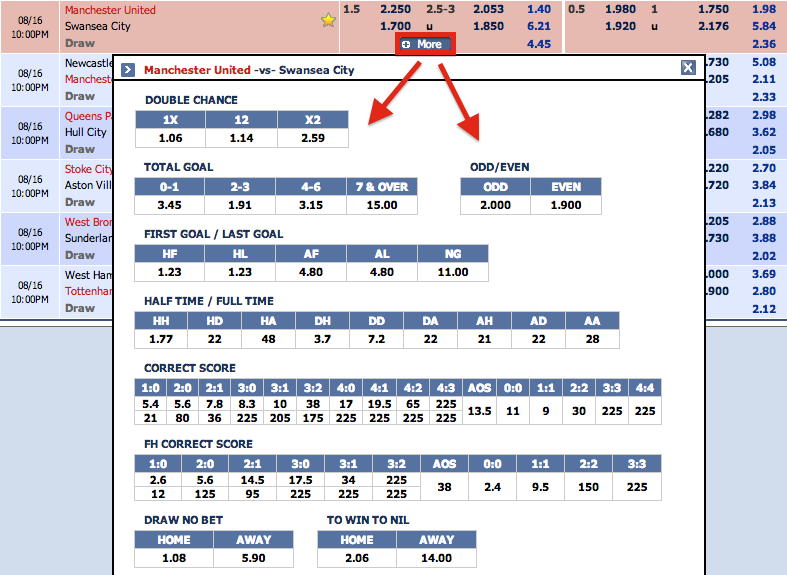 Summary

Article Name
Author
Description
Looking to make a wager at M88? View here for a step-by-step guide. Plus, learn how to register, deposit, and withdraw your money/winnings.