(1)Log into Pari-Match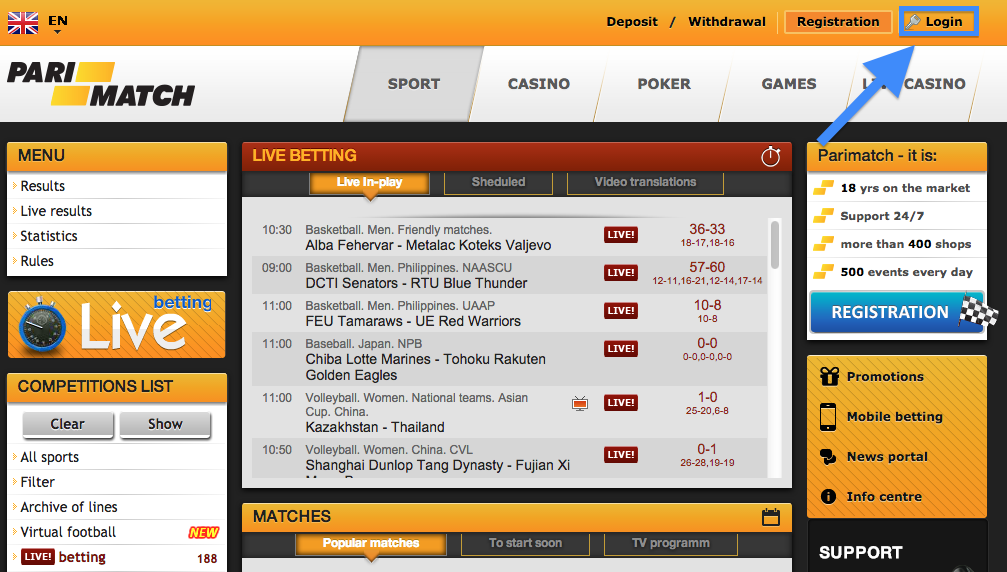 First click on "Login". On the next screen as shown below enter in your Account Number and Password and click "OK" to continue.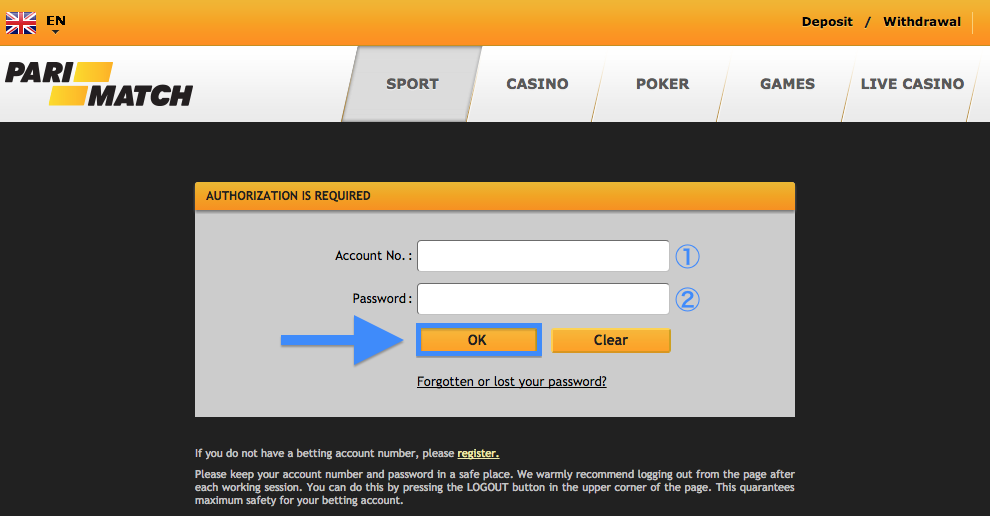 (2)Select the game/match that you would like to bet on
In this example, we will show you how to place a bet on an English Premier League soccer game. After clicking on "SPORT", click on "Football" located on the left-hand side of the screen. Scroll down the list of Football markets and click on "England. Premier League".
(3)Select your bet type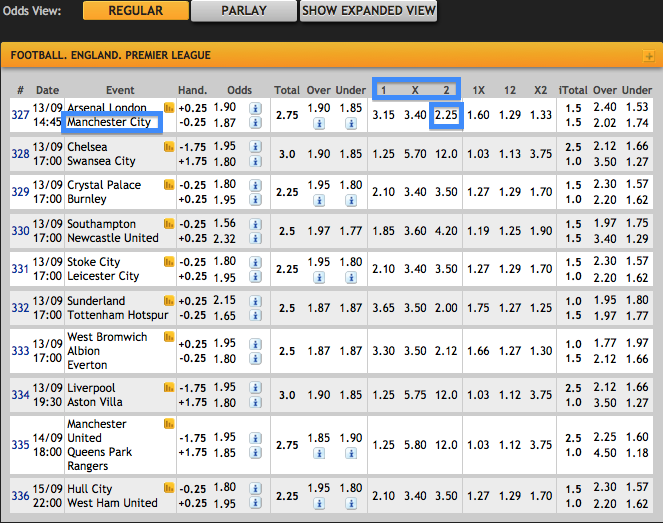 One of the easiest to understand bet types is "1X2 Match Betting" (also known as Full Time Result or Money Line). A 1X2 Match Betting bet means you pick which team you think will either win or tie. In our example above, we have three choices by either picking 1 – Home) Arsenal London to win, 2 – Away) Manchester City to win or X – Draw) Arsenal London to tie Manchester City. In this example, we will pick Manchester City to win, therefore we will click on the odds 2.25.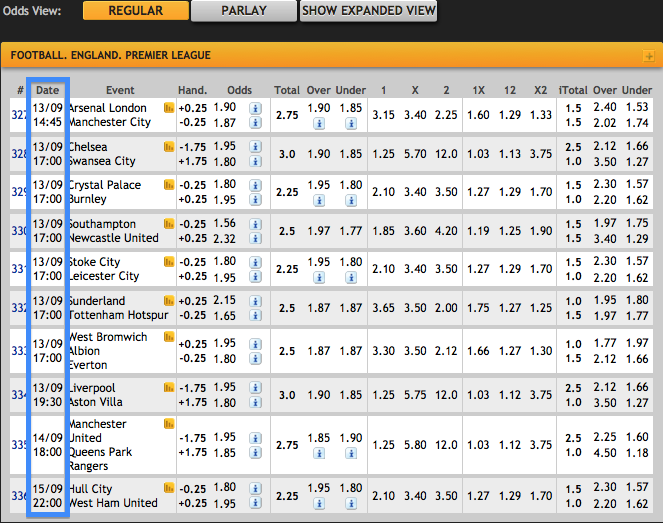 ※ Note the date and time of the match to the left of the odds. By default the date and time are displayed as Eastern European Time (EET), which would be GMT+3 during March/April to October/November and GMT+2 during October/November to March/April. The time zone display setting cannot be changed.
(4)Enter your bet amount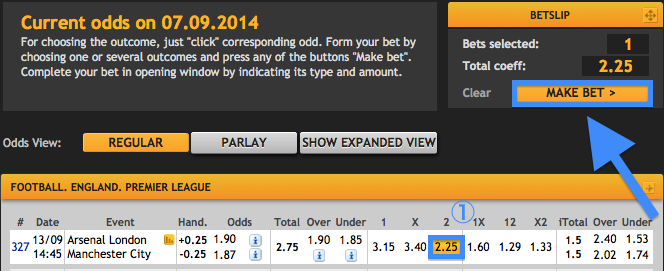 After clicking the odds that you would like to place a bet on, your bet selection will show under "Bet Slip" located on the right-hand side of the screen. To review your bet and enter in your stake, click the yellow "MAKE BET >" button to continue.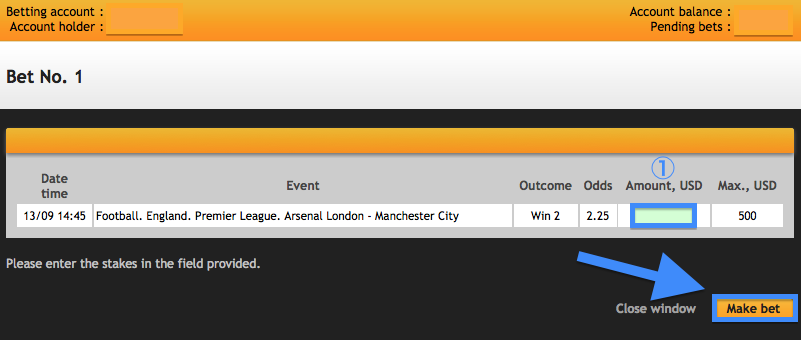 On the following screen, you will be able to enter in your stake (the amount of money that you would like to bet). Note that "Outcome" refers to the type of bet. In this case we selected Manchester City to win so in the 1X2 Match Betting format, Manchester City is "2", which is why it says "Win 2" for the "Outcome".
After reviewing your bet(s), if you don't have any changes to make, click on the yellow "Make bet" button to finalize your bet(s).
※ Other Bet Options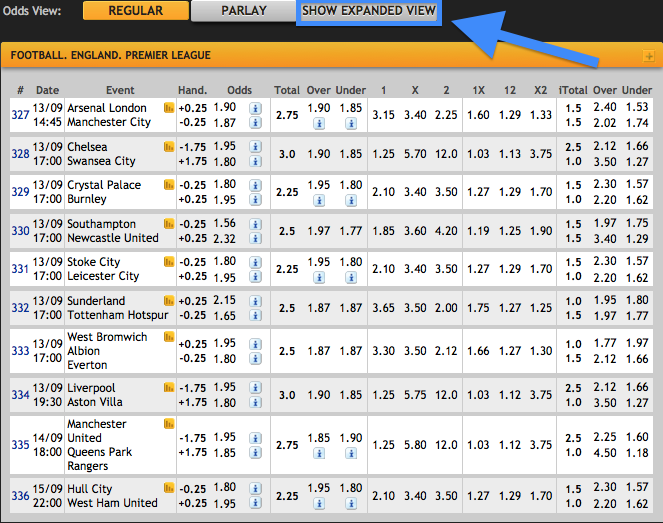 If you refer to the screenshot above, you will see "SHOW EXPANDED VIEW". If you click on this tab, all available bet types will be shown to you for this particular game as shown below.