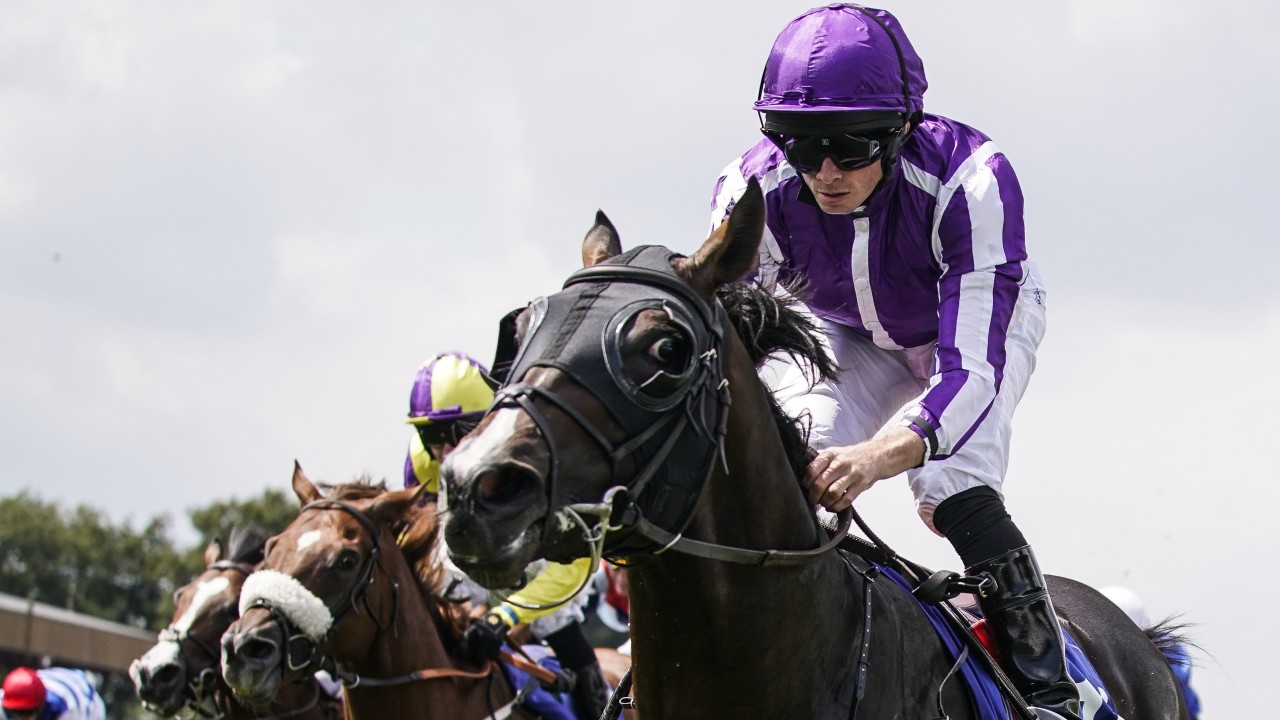 Matchbook is relatively new in the betting game, but they have certainly made a splash with their unique offerings. Matchbook currently offers six different betting currencies, but what helps Matchbook stand out from the competition is their betting exchange. Basically, the difference between a betting exchange and a bookmaker is that the exchange allows fellow bettors to swap or exchange bets with one another. It is person-to-person betting instead of against the bookmaker. This method can allow bettors to achieve higher odds.
Matchbook is the professional sponsor for Brentford F.C. in England and was previously a sponsor of Qatar Goodwill Festival in 2016.
Also offered are odds in six different display formats: American, Decimal, Hong Kong, Indonesian, Malay, and Percentage. Matchbook incorporates elements of Betfair and Smarkets commission structure, meaning Matchbook's commission model is a rate of 1% regardless of winning or losing a bet.
If you're new to this betting format, make sure you brush up on the Sport rules and regulations. It is mostly information you should know or be aware of, but it doesn't hurt to know all the rules on the sport you are placing bets on.
Sportsbook

Matchbook doesn't have the largest list of sports available, but there is a good chunk to wager on. Like usual, the popular sports of baseball, basketball, American football and football are all open to be bet on. However, ice hockey is not apart of that group.
The list isn't the most extensive I have seen, but there should be enough for users to stay interested. Matchbook offers sports that may not be available on other sites, like Gaelic Football, Hurling, and Australian Rules football. One thing I do like about the sports offered is that Matchbook has some of the most popular sports in the world, so you shouldn't be disappointed in their selection.
Another stage of their betting is Colossus Betting. Matchbook can already give you better prices on sports, so the addition of Colossus betting is another positive for their sportsbook.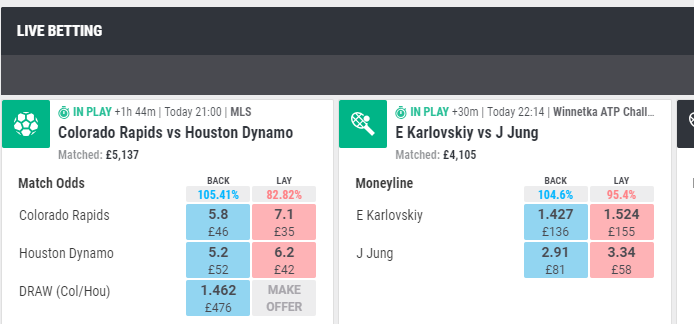 Live Betting
Matchbook offers Live Betting, which is another plus for the company. We continue to see more and more websites offer live betting, as it increases in popularity.
However, the layout of the live betting section isn't very user-friendly. Different sports are all over the place. I think it would be a huge improvement if Matchbook were to group the sports in their respective categories. It would make the interface a lot cleaner. While I like how they are listing the live bets by time, it would be much appreciated if you could click on a sport and see all available bets that are live or when live betting will begin for a certain game.
Horse Racing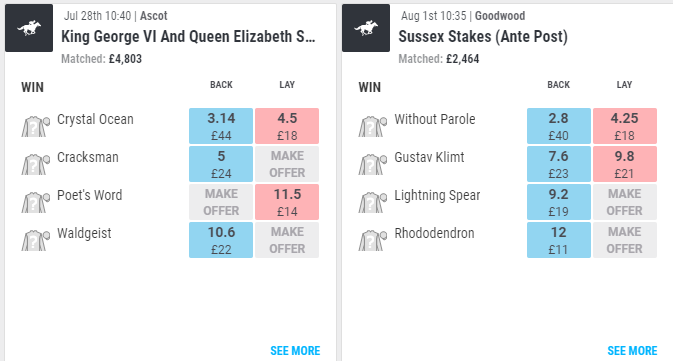 One of the most exhilarating experiences in sports is watching horse racing. The final sprint and push for the line excite fans of all ages.
Thankfully, you can place bets on horse racing on Matchbook. You can bet on Irish horse racing, U.K. horse racing and futures as well. There is a solid selection of betting options, especially for Ante Post, which are the futures.
Nothing gets the heart pumping more than the stretch for a first-place finish and Matchbook has you covered.
Lonely on the Pitch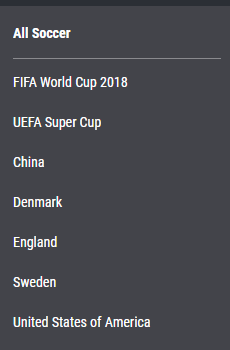 I am sort of disappointed with the lack of football offered by Matchbook. After seeing websites offer football leagues from around the world, it's unfortunate to see so few of football offerings.
Don't get me wrong, Matchbook offers a simple, yet solid list of football leagues and cups, but they are missing a ton that could help the site go a long way. Considering the popularity of football around the globe, it may be in Matchbook's benefit to continue to add leagues from all over the world. Check back when leagues are in session – Matchbook may be wanting to keep their tabs clean with what they are only offering at the current time. If that is the case then Matchbook should have an indicator as to what leagues/cups are offered and are currently in play.
The Extras

If you're not feeling up for placing wagers on sports, Matchbook has other games available for their users to place bets and win money. They have a great list of games in their casino that should satisfy all users.
Their casino is really solid. From blackjack, roulette to poker, Matchbook has all the classics available. You can also play in their live casino that is another positive element to their site.
Aiming for a more relaxed method of gambling? Well, Matchbook has that as well. If you don't want the pressure of the live casino, you can try your luck with their slots. With 75+ slot games available, you'll be entertained for a very long time.
Matchbook continuously adds games to their casino section, so it would be worthwhile to check out that section of the site on a regular basis.
Help Center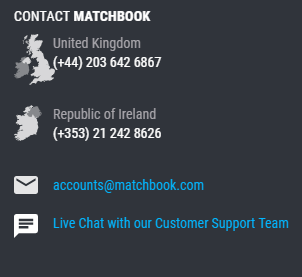 Matchbook's help center is one that should be uniform across all sites. They offer an FAQ section and live chat. This means that users can get answers as quickly as possible without having to wait for an e-mail response or chat on the phone. However, if you want to interact with a human on the phone Matchbook offers that service as well as providing their e-mail at the bottom of the site.
Conclusion
While I think it would go a long way for Matchbook to offer more sports and leagues, they still have a decent selection available. Better odds are always on the table that will certainly catch the eyes of bettors from around the globe. Matchbook's sportsbook doesn't have the depth of other sites, but there should be a sport that interests you.
I think their casino and game section is great. There are tons of slot games available and you can't go wrong with their casino. Their selection is massive and should leave all visitors satisfied.
Overall, I think there may be stronger bookmakers in the world but Matchbook is not a poor choice by any stretch. They definitely get the job done, but they wouldn't be at the top of my list. Still, with Colossus betting and better odds on popular sports, you shouldn't leave disappointed.
Summary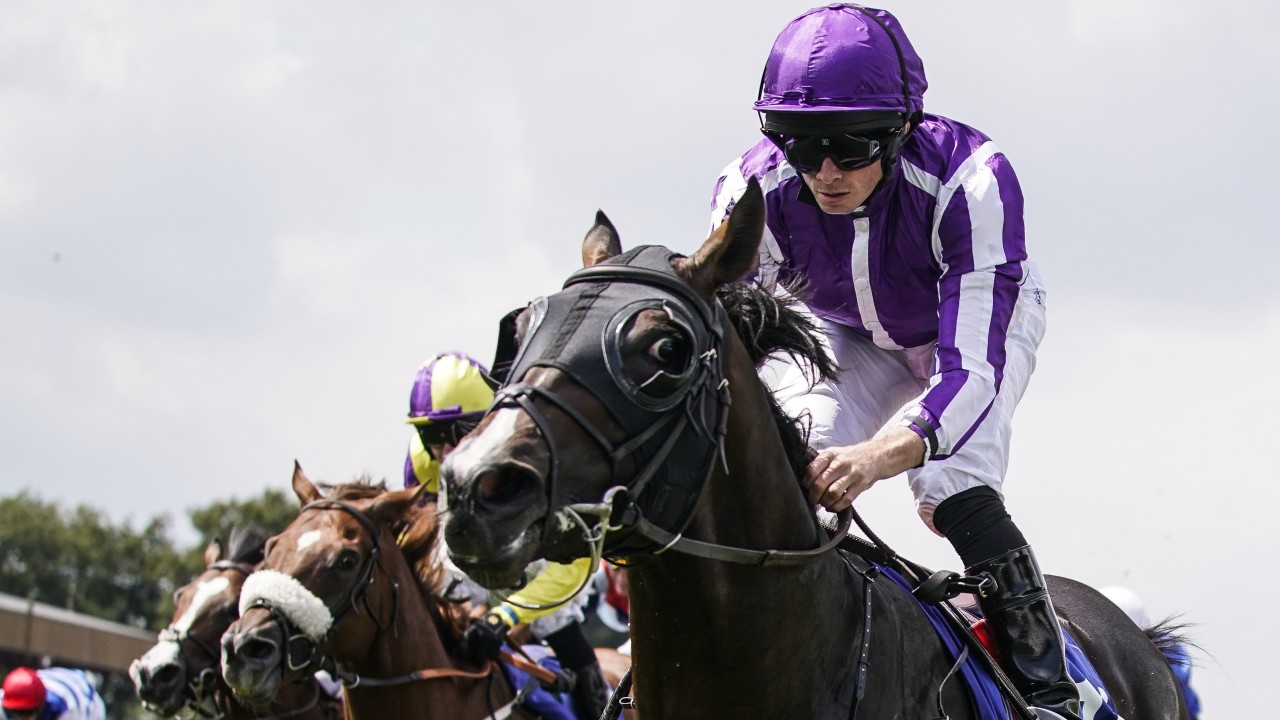 Article Name
Author
Description
Looking for a bookmaker alternative? Betting exchange Matchbook allows you to be the bookie!
P.S.:
Want to know
1)
which online bookmakers offer the best odds so I can maximize my winnings on bets,
2)
which online bookmakers process withdrawal requests the fastest so I can receive my money ASAP,
3)
which online payment gateways offer the lowest transactional fees & highest limits,
4)
which online bookmakers accept US-based players, and
much more
??
Download the ultimate resource covering the online bookmaker industry by clicking on the green button below.

P.P.S.:
Bookmaker Info is now in
Español
,
Chinese
&
Indonesian
!! If you have any Spanish-speaking, Chinese-speaking or Indonesian-speaking friends who are interested in online sports betting, by all means feel free to let them know about our sister web sites:
Spanish:
http://bookmaker-info.com/es/
Chinese (Simplified):
http://bookmaker-info.com/cn/
Chinese (Traditional):
http://bookmaker-info.com/tw/
Indonesian:
http://bookmaker-info.com/id/

☆
【Want up-to-date sports betting odds & news delivered straight to your inbox?】
Send a blank email w/o subject line to:
bookmaker@getresponse.net
【Useful Links】
・
Bookmaker 101: The Basics
・
Step-by-Step: How to Register → Bet → Withdraw
・
Sports Betting Lingo: A-to-Z
・
Current Bookmaker Promotions
・
Betting Picks, Strategies & Tips