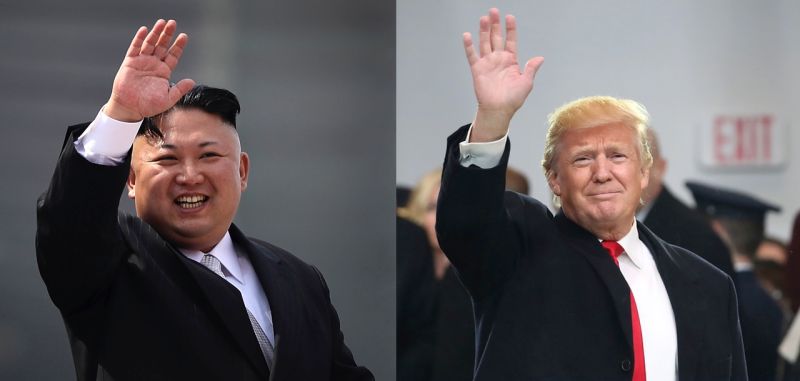 The online bookmaker in our spotlight this week is Paddy Power. Founded in 1988 in Dublin, Paddy Power is not your typical bookie. I say this because I am really impressed by the plethora of political bets that are available.
But before getting to the political bets, I want to highlight what Paddy Power has to offer to the world of online gamblers.
Call or Text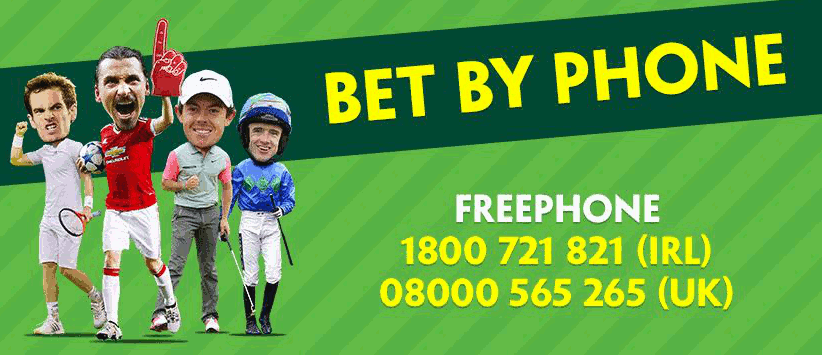 I was surprised when I saw this banner because it is 2017 and I can't imagine having the need to make a bet over the phone. But then again, I do not represent every person on the planet and there are bettors of all ages and if some people prefer making a bet over the phone then more power to them.
Actually, Paddy Power provides the convenience of betting by phone because there are times when people might be away from their computers or are in a situation when using the Internet is not an option.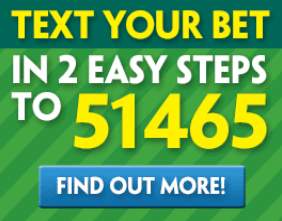 I remember the days when I used to make phone calls but lately it is all about texting.
Paddy Power really knows what the bettors want and having the luxury of placing bets by texting is beyond convenient.
When texting your bet, all you have to do is include your stake, bet type, and selection.
After that you'll receive a receipt and there are no limits on the bets you can place!
The Paddy Card

Well it isn't actually called the Paddy Card but instead it is the Cash Card PPlus.
If you have a Paddy Power account, all you do is apply, activate, and get instant access to your winnings after you win/withdraw.
You can buy everyday items with your Cash Card and it is safe and secure.
I really like what Paddy Power is doing with this Cash Card because the way I see it, you can just place a bet on your favorite football team and after the match you can use the earnings to buy some fish and chips to celebrate!
Novelty Bets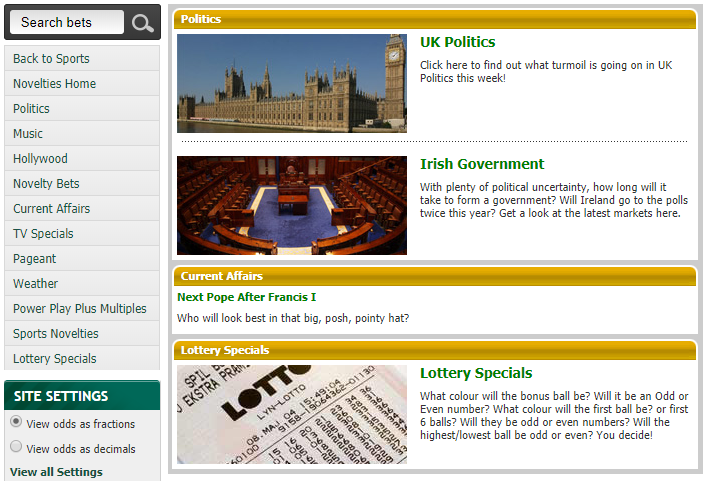 On the main page, Paddy Power has quick links that allow you to bet on the most popular sports such as English football, horse racing, greyhounds, basketball, American football, etc.
But the key is to scroll down to A-Z Betting and look for "Novelty Bets."
Once you click on Novelty Bets you are entering a world of betting that you never could have imagined. Remember there is no turning back once you access the Novelty Bets!
Who Will Be the Next James Bond?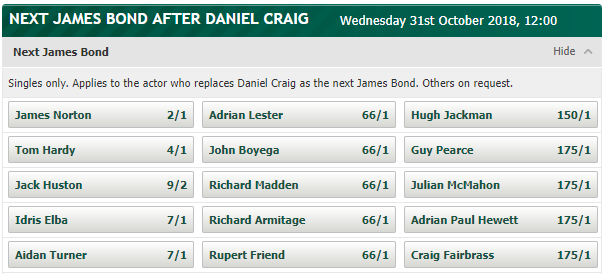 Yes, believe it. You can place a wager on who you think will be the next James Bond after Daniel Craig. If you are a movie buff you've got to love this. Check out the Hollywood section of Paddy Power's Novelty Bets and you can also place a wager on which film will win Best Picture at the Oscars.
I don't know about everyone else, but I would like to see Hugh Jackman as the next James Bond but on two conditions: keep the sideburns and the Australian accent!
White Christmas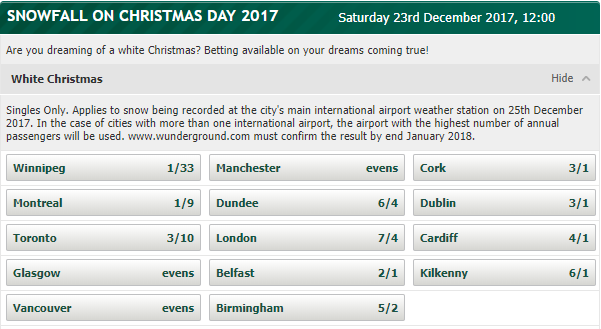 If you are a big fan of the weather or you just have a knack for making predictions then place a wager on the weather. There are many times when it doesn't snow on Christmas even though you really want it to snow so badly.
Paddy Power seriously has all the bets lined up. You can even place a wager on Ireland running out of salt for its roads. Currently the odds are 5/1.
Donald Trump

I had to see it to believe it. Not only is there a politics section on Paddy Power but there is a sub-section for Donald Trump.
You can place a wager on Trump resigning or getting impeached during his first term in office and you can place a wager on an airport being named after Donald Trump in Russia. Currently the odds for that happening are 66/1 but you never know what the future holds.
Perhaps there needs to be a sub-section for Donald's wife. Will Melania steal another one of Michelle Obama's speeches? My odds say very likely.
North Korea

While on the topic of elected leaders, I thought it would be a great idea to share the North Korea specials. It is difficult for me to see Kim Jong-un opening a Paddy Power store in North Korea but an NBA regular season game in North Korea? Just call Dennis Rodman.
Four More Years

It appears that Vladimir Putin is heavily favored to win the 2018 Russian Presidential Election, but you never know. Maybe Putin might decide that he is tired of politics and give Zhirinovksy and Zyuganov a chance to govern the Russian Federation.
Brexit Specials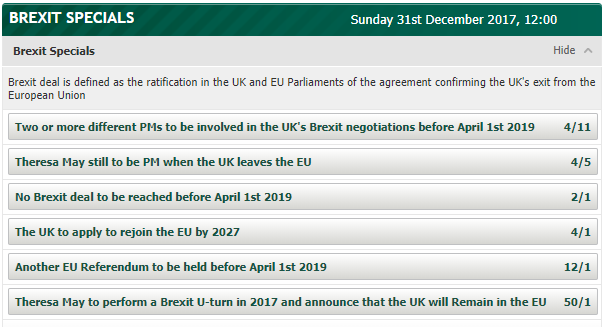 United Kingdom exiting the European Union made headlines all over the world, not only in the UK. There are bound to be some kinds of referendums in the coming years and that is why you must open up an account at Paddy Power if you want to learn more about all the special bets that are available.
If you are constantly watching BBC, CNN, Fox News Channel or listening to political news on satellite radio then it is very likely that you already have the inside scoop on political bets. What are you waiting for? Open an account at Paddy Power!
Another Trump Special
In all honesty it is very difficult for me to find any negatives about Paddy Power because of all the special bets that are available.
But one possible negative in particular involves Donald Trump.
In a hypothetical situation, what happens if Trump decides to back Taiwanese Independence on his Twitter account but one day later denies it on national television?
A Plus for the Non-Math Majors
I was not a math major at university and I am sure there a few more people that hate doing math, but Paddy Power has you covered with the Bet Calculator!
If you are on the fence about placing a wager and want to know what your potential earnings can be then don't hesitate to use the Bet Calculator.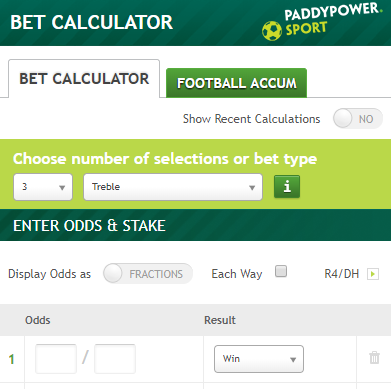 Okay sports bettors, I hope I did a good job in convincing you to check out Paddy Power. In-play betting is available and you can even place bets on chess, fishing, pool, rowing, sailing, snooker, squash, and table tennis.
The odds can be viewed in fraction or decimal form and a help center is always available online or by phone.
Get to Paddy Power as soon as you can and enjoy feasting your eyes on another Trump Special.