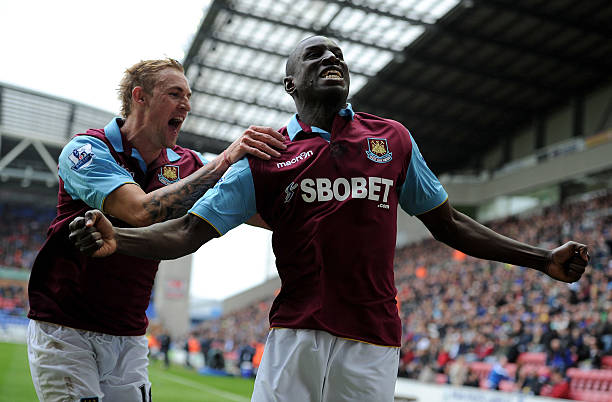 For this week's online bookie review, we will be focusing on SBOBET. Founded in 2004, SBOBET is recognized as one of the top Asian bookmakers and it holds a gaming license in the Isle of Man and in the Philippines.
Start the Year Right

It is strange because I remember seeing SBOBET on the shirt of my favorite football team (Cardiff City) back in 2011 and here I am writing about this famous online bookmaker.
Anyway, when I first got to SBOBET I was immediately intrigued. Let's just say I really like the style and vibe of SBOBET. This site is available in eleven different languages and although it is a top bookie in Asia, it is also very popular in Europe.
Take advantage of the promotions while you can and there is already a promo code for you!
Why Choose SBOBET?

You can always remember SBOBET by breaking things down into three simple letters: T-V-S.
When you bet with SBOBET, you can be assured that you are accessing a secured and protected site. The bottom line is that if you need help, you will get it because it is available 24 hours a day, 7 days a week.
In terms of value, SBOBET offers the best value by way of highly competitive odds and gives you the best -valued Asian Handicapped odds offered by any sportsbook.
We all know that time is valuable and because of that SBOBET has instant deposits and fast payouts to make sure you don't have to deal with any hassles.
The Home of the Asian Handicap

It was already mentioned earlier, but it is important to mention again. SBOBET has the best variety of Asian Handicap wagers available and if you are a big football fan who hates draws then you need to sign up at SBOBET as soon as possible.
The Asian Handicap eliminates the possibility of a draw and it creates excitement whether you are betting on the favorite or underdog.
It is possible that you might be confused about how exactly this whole Asian Handicap thing works, but once again SBOBET has got you covered because help is always available. Examples are provided to help you become an expert with Asian Handicapping.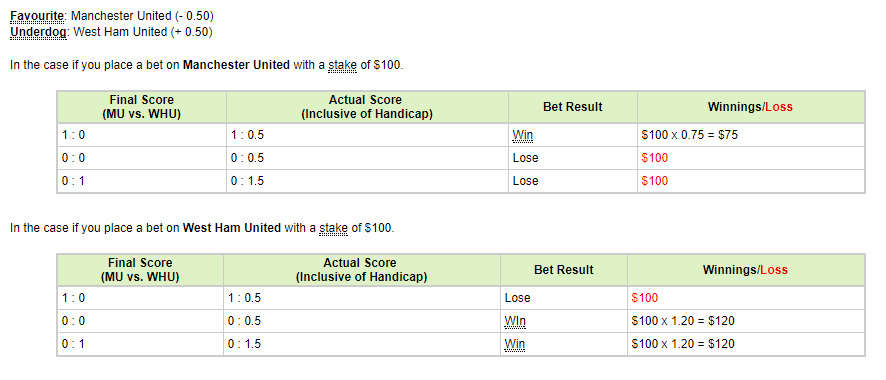 We all know that everyone has different styles of learning. Some people like to see screen shots and read while others enjoy watching videos. SBOBET knows it must meet the needs of all learners and if you are still having trouble understanding the Asian Handicap, I'm sure an instructional video will help!
The Main Menu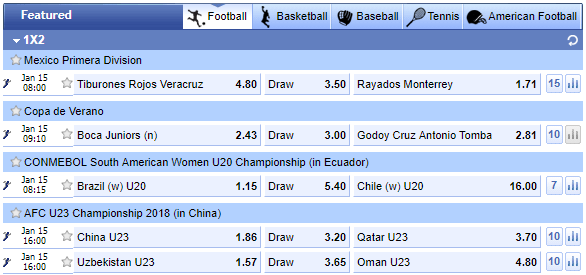 SBOBET has excellent organization and at the main menu you already have plenty of sports and games to choose from for placing your next wager. The bottom line is that SBOBET knows what is going on in the sports world.
Right now, baseball is in its offseason in the United States but there are plenty of professional baseball games being played in the Mexican Pacific League.
No matter where you look, you will always find tennis tournaments and at SBOBET you can place wagers on your favorite tennis players whenever you want!
Straight To The Point!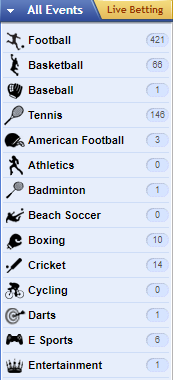 We all know that time is of the essence and we all have busy schedules and plenty of things we need to take care of on a daily basis.
For all I know you might be big on cycling but when you go to an online bookmaker don't you think it is a waste of time when you get to a website, click on the link of a certain sport only to see that there aren't any available wagers at that moment?
I know it might just be a few seconds of your time to find out but when you start adding this all up, you may be surprised by how much time actually was spent. Trust me!
SBOBET likes to keep things real and get right to the point.
If there aren't any available bets for beach soccer, you will know immediately, and you won't have to waste your time.
Besides the most popular sports and the ones listed on the left, other sports you can bet on are field hockey, futsal, Gaelic football, golf, handball, hurling, ice hockey, lacrosse, mixed martial arts, motor sports, Olympics, pool/snooker, rugby, squash, table tennis, volleyball, water polo, and winter sports.
World Cup Specials
The 2018 World Cup in Russia will be here before you know it but now would be the perfect time to put your money where your mouth is by starting to make your predictions.
How far do you think Brazil will go in the 2018 World Cup?
We all remember that embarrassing 7-1 loss to Germany in the 2014 semifinals, but do you think Brazil is poised to come back and make a statement?
Get to SBOBET as soon as you can and check out all the special bets that are available for the 2018 FIFA World Cup.
Get to the Track!

At SBOBET you can bet on international racing events from the United Kingdom and Ireland. Live streaming is available on SBOBET and you can place bets on horse racing, harness racing, and greyhound races all over the world!
All daily racing specials are available and SBOBET offers all the markets you need.
If you miss out on a certain race, no problem as SBOBET has got you covered with Virtual Racing!
I Love My Calendar Girls
Maybe you didn't need another reason to sign up for SBOBET but now you definitely have another reason.
The SBOBET calendar is available to download for free and you will also know when to look out for matches in the English Premier League, Bundesliga, La Liga, and Serie A.
The bottom line is that it is a lovely calendar and it already has the important dates circled for you!
Like I said earlier, I really like the style and vibe of SBOBET and the calendar is definitely the cherry on top!
Get to SBOBET and sign up as soon as you can!