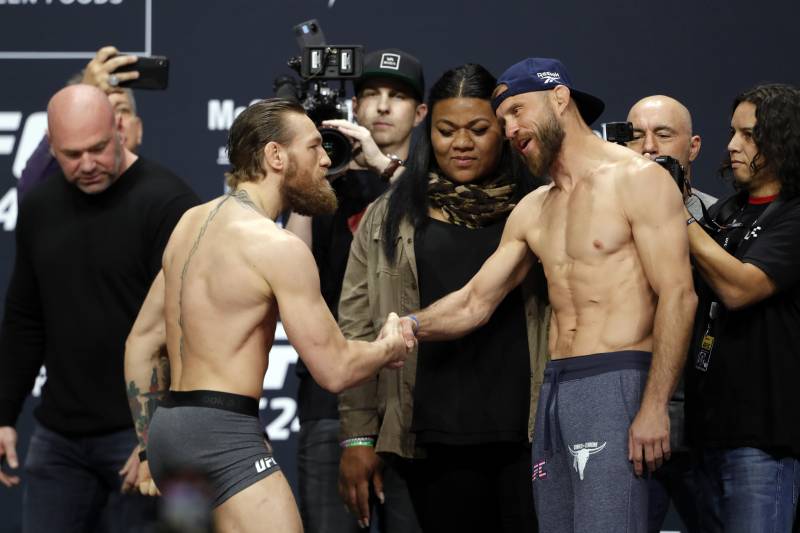 UFC's first pay-per-view of 2020 should be a slobber knocker as Conor McGregor and Donald Cerrone step in the octagon. Fans have been waiting for this contest for months, so this feels like a late Christmas present to MMA fans.
Cowboy Cerrone enters tonight with a record of 36-13, while McGregor is 21-4.

※ Current Odds Date & Time: January 18th, 2:00 P.M. (EST)
Online bookmaker BetOnline has McGregor as the favorite at -320.

McGregor says he has something to prove tonight. After getting clobbered by Khabib Nurmagomedov, McGregor says he is in good shape for tonight's fight. In Conor's last four fights, he has gone 2-2, with another loss to Nate Diaz. McGregor won back-to-back fights, with one win over Diaz and another over Eddie Alvarez.
This will be McGregor's first fight since the loss to Khabib, which took place on October 6, 2018.
Cerrone has lost his last two bouts, so it will be interesting to see if he can bounce back against one of the sports' best athletes. In Cerrone's last fight, he allowed 40 strikes in the first round en route to a first-round knockout. Cerrone's last win came against Al Iaquinta, which took place in May of 2019. Could we see a bit of rust from McGregor? Having not fought in 15-months, this is the perfect time for Cerrone to strike. However, this should mean that Conor should we well rested and prepared for tonight's contest.
Is there a different mindset for McGregor entering this bout? The normally boisterous McGregor has been respectful towards Cerrone. Could Conor be changing and maturing?
Cerrone is a workhorse and tonight's fight is arguably the biggest of his career. With a lot of fights under his belt, facing off against McGregor could be a career changer for Cowboy.