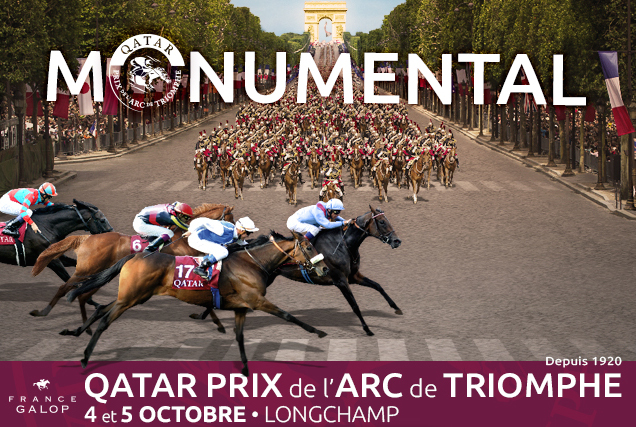 The annual Prix de l'Arc de Triomphe held at Longchamp Racecourse in France is set to take place in just two days on Sunday, October 5. With all the excitement brewing in France, will this finally be the year a Japanese horse takes home all the glory after finishing in 2nd place the past two years? Can Trêve pull off a mild upset in winning back-to-back titles? Or will Taghrooda run the table?

The gates at the 93rd rendition of the Prix de l'Arc de Triomphe (G1, 2,400 m, Turf) will open on Sunday, October 5 at 2:30 p.m. (GMT). In this world class race, who is the early favorite to claim victory at Hippodrome de Longchamp? Let's take a look at who British bookmaker (sportsbook)「William Hill」is slating to capture the crown.
【Prix de l'Arc de Triomphe Winner Odds】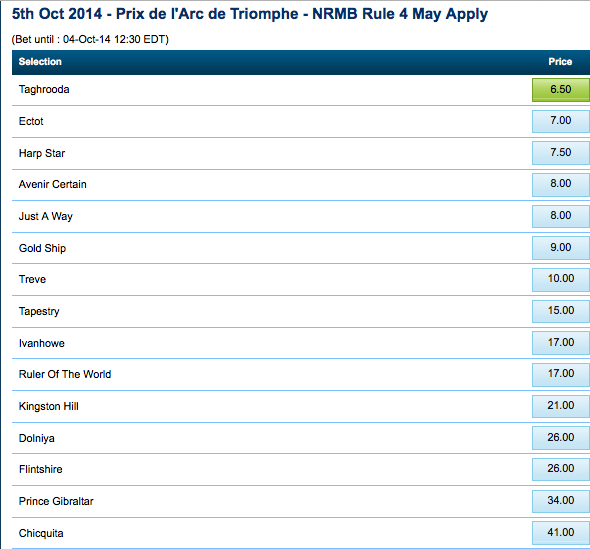 ※ Current Odds Date & Time: October 3, 1:00 p.m. (GMT)
The trio from Japan (Harp Star, Just A Way & Gold Ship) are all in the top 6 at present just barely behind current favorites Taghrooda and Ectot. Following up his magnificent performance at the Dubai Duty Free (G1, 1,800 m, Turf) on March 29 of this year, can Just A Way (5 year old male), ridden by jockey Yuichi Fukunaga, blow past the field in a commanding fashion once again?
【2014 Dubai Duty Free (Winner: Just A Way)】

Odds are surely in his favor with him winning his 3rd G1 race at the Yasuda Kinen (Yasuda Memorial) (G1, 1,600 m, Turf) held on June 8. With him being well rested since his triumph at the Yasuda Kinen, it wouldn't be a surprise by any stretch of one's imagination if he can do it again at Longchamp especially with 5-time G1 race winner on foreign soil in jockey Yuichi Fukunaga taking the reigns.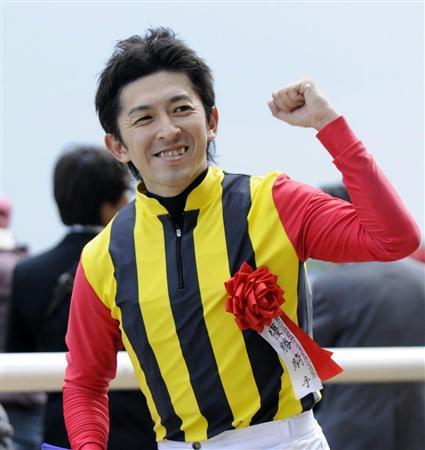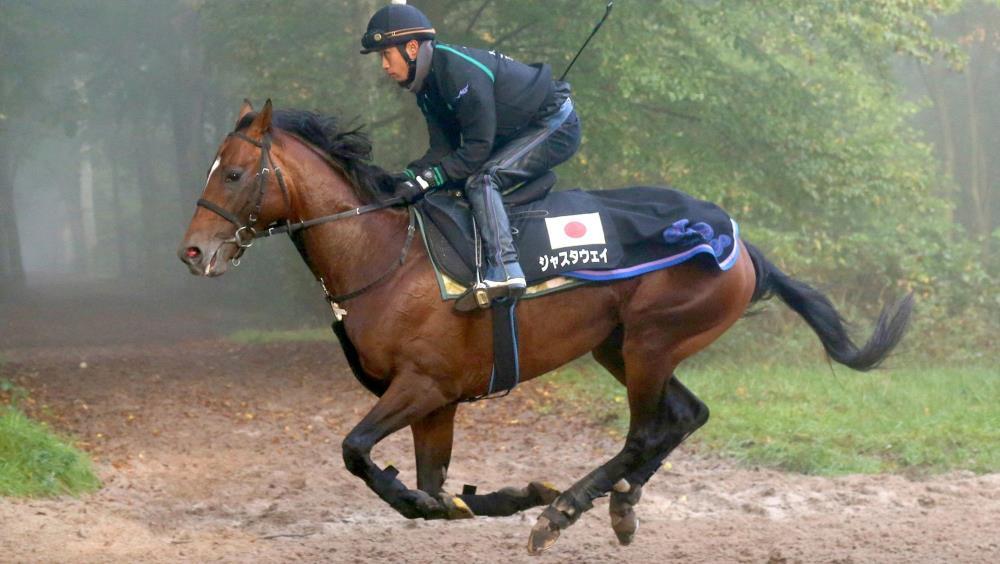 However with that said there are some concerns with Just A Way. First off, Prix de l'Arc de Triomphe is a long course (2,400 m). Significantly longer than the courses where Just A Way has won (1,600 m – 2,000 m). It remains to be seen how this will affect him. Note that the last time he ran a race 2,400 m, it was back in 2012 during the Japan Derby when he finished 11th. The other major concern is in relation to the long break (4 months) he has had. During the past 20 years, the longest break between races a horse had that won the Prix de l'Arc de Triomphe was Lammtarra in 1995. Lammtarra's break was 2.5 months, which is significantly shorter when compared to Just A Way's 4 month layoff.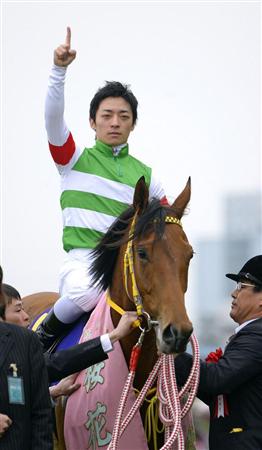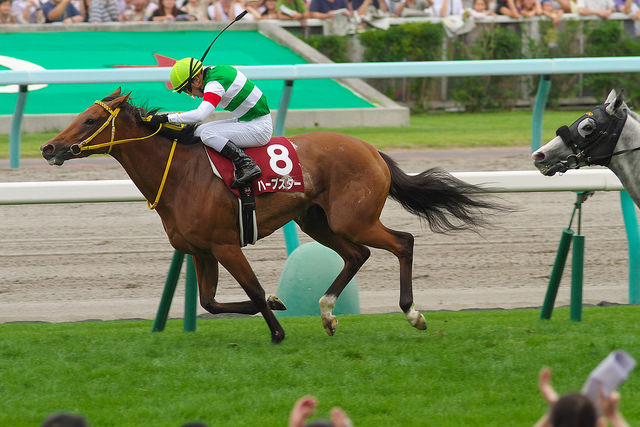 Resting in 3rd for now is Harp Star (3 year old female) ridden by Yuuga Kawada. Yuuga Kawada is no stranger to Harp Star guiding her to a win at the Oka Sho (G1, 1,600 m, Turf), a 2nd place finish at the Yushun Himba (Japanese Oaks) (G1, 2,400 m, Turf) and another victory at the Sapporo Kinen (Sapporo Memorial) (G2, 2,000 m, Turf), which was recently held on August 24. It should be noted that at the Sapporo Kinen, Harp Star coasted to victory over 2nd place finisher – Gold Ship.
【2014 Sapporo Kinen (Winner: Harp Star)】

In 7 races with 5 victories thus far, it is no wonder why Harp Star is the third favorite in this year's Prix de l'Arc de Triomphe. Add to it that the 3 year filly's carrying weight is limited to 54.5 kg while Just A Way and Gold Ship are regulated to 59.5 kg. This 5.0 kg difference is without a doubt an advantage. An advantage that Trêve capitalized on during her victory as a 3 year old in last year's race at Longchamp. As an offspring of the legendary Deep Impact, Japanese horse racing fans can be quite confident that Harp Star will make its presence duly known at this year's Prix de l'Arc de Triomphe.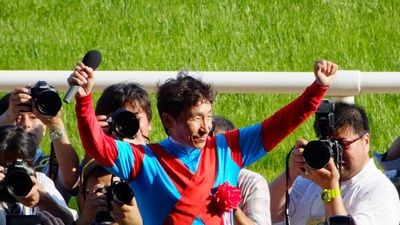 But let's not forget about Gold Ship (male) with 5 G1 victories under his belt. With Harp Star and Just A Way gaining much of the media attention, the potential for Gold Ship to through a wrench into the race with a strong performance can't be underestimated. Going back to June 29th of this year, he became the first horse ever to repeat as winner of the Takarazuka Kinen (Takarazuka Memorial) (G1, 2,200 m, Turf). Ridden by experienced jockey Norihiro Yokoyama, one shouldn't count out Gold Ship from landing on the podium this weekend.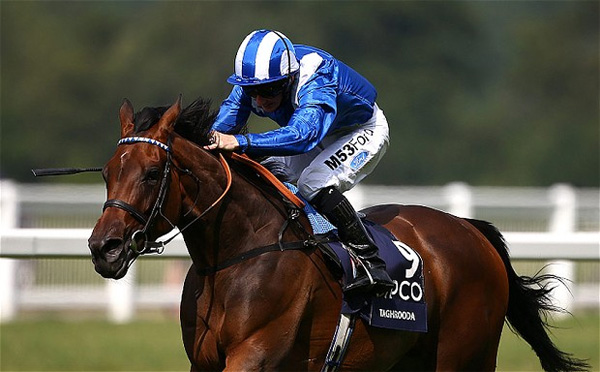 Now placing our attention to fan favorite Taghrooda (British 3 year old female) ridden by Paul Hanagan, what can be said? Taghrooda's credentials include taking this year's Oaks Stakes (G1, 2,423 m, Turf) and the King George VI and Queen Elizabeth Stakes (G1, 2,400 m, Turf) by dominating the field. Few will be surprised if Taghrooda can't pull out the victory this weekend.
【2014 Oaks Stakes (Winner: Taghrooda)】

With Taghrooda being labeled the "Queen of England", let's cross the English Channel to briefly introduce the "Queen of France" in 3 year old Avenir Certain. Ridden by none other than Christophe Patrice Lemaire, Avenir Certain has an unblemished record winning 6 times in 6 tries including Poule d'Essai des Pouliches (G1, 1,600 m, Turf) and Prix de Diane (French Oaks) (G1, 2,100 m, Turf), both of which were held at Longchamp. Having never won Prix de l'Arc de Triomphe, hometown favorite Christophe Patrice Lemaire has his eyes set on pleasing the French contingent this weekend in France.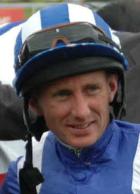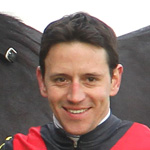 To round out the favorites we have Ectot (French 3 year old male) ridden by 11-time Japanese Racing Association (JRA) winner Gregory Benoist. Being injured earlier this year hasn't deterred the「William Hill」oddsmakers from placing him 2nd. I think with him winning the Prix Niel (G2, 2,400 m, Turf) at Longchamp racecourse last month has something to do with him being rated so high. With definitely some good genes, can Ectot follow in his father's (Hurricane Run) footsteps in winning both the Prix Niel and Prix de l'Arc de Triomphe?
Of the remaining horses in the field, Trêve (last year's champion) and Ruler of the World are on the outside looking in. With experience on their side, they do have a shot however the large contingent of 3 year olds with their reduced carrying weight does make me believe that Trêve and Ruler of the World's chances are slim at best.
With action just 48 hours away, all eyes will be on France come Sunday!
【2013 Prix de l'Arc de Triomphe (Winner: Trêve)】