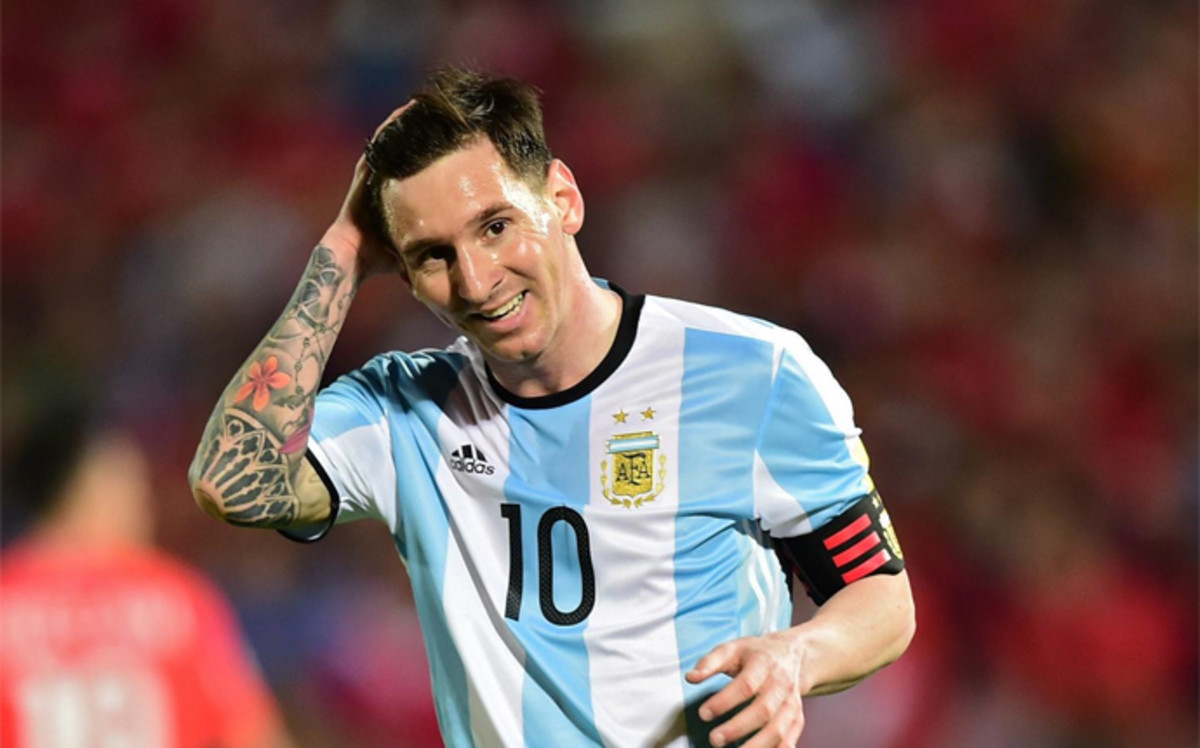 The 2016 Copa America will be the 45th edition of the South American international football tournament. The tournament was first played exactly 100 years ago, in 1916 and therefore, the 2016 Copa America marks the centenary of the competition. This year also sees the celebration of the centenary of CONMEBOL, the South American football governing body and this makes the 2016 Copa America a very special event.
The 2016 Copa America has actually been named the Copa America Centenario, in celebration of the 100-year achievement of CONMEBOL and the tournament itself. The event is also special, due to the fact it is being held in conjunction with another international football body, CONCACAF. Usually, the Copa America is staged every 4 years but an exception has been made to celebrate the 100-year cycle. The tournament will be held in the United States and will feature a total of 16 teams, which is an increase in 4 teams, compared to the usual format. The 16 teams involved are as follows: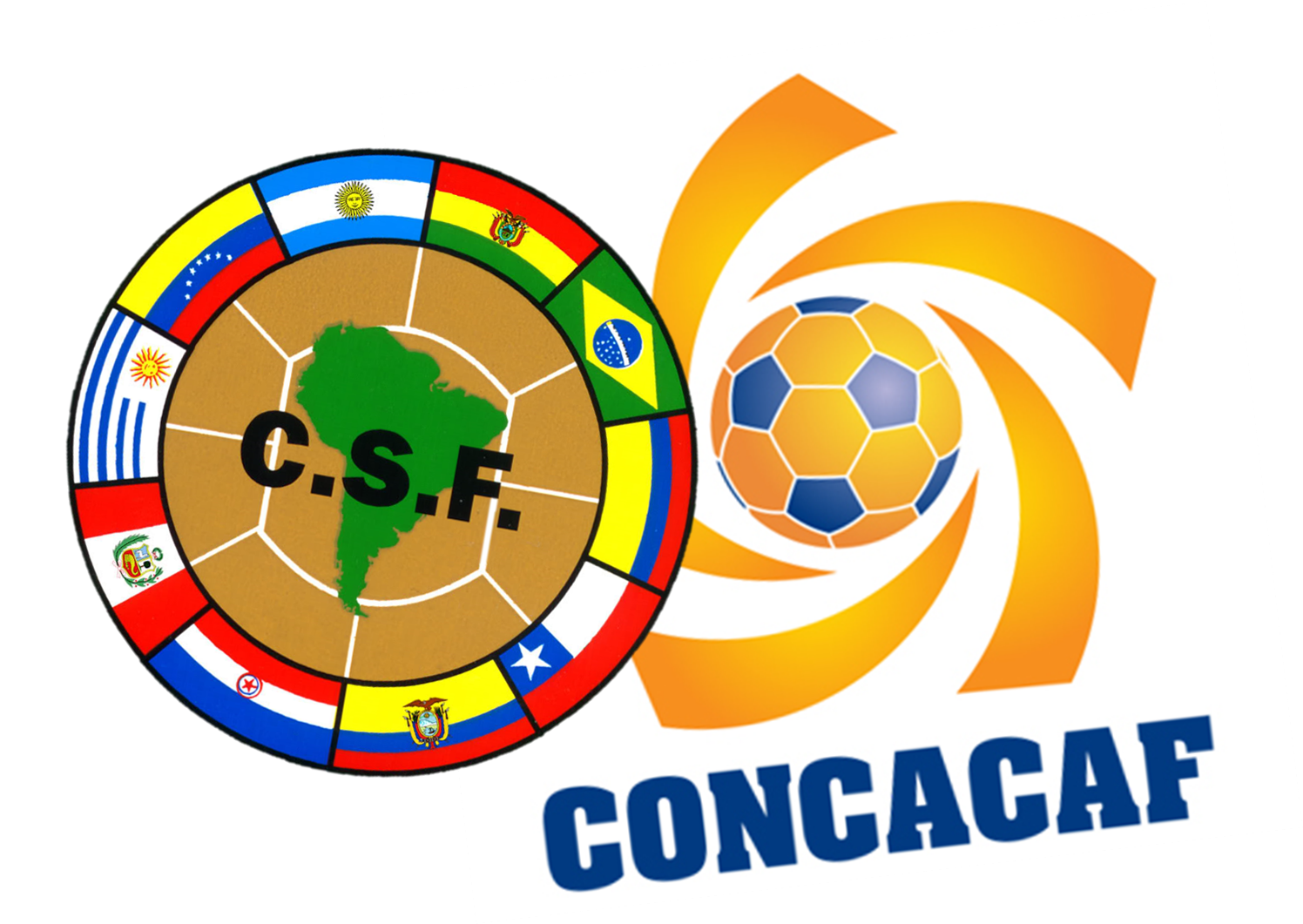 CONMEBOL: Argentina, Bolivia, Brazil, Chile, Colombia, Ecuador, Paraguay, Peru, Uruguay and Venezuela.
CONCACAF: United States, Mexico, Costa Rica, Jamaica, Haiti and Panama.
There will be a total of 10 stadiums used to stage the matches in the 2016 Copa America spread across the United States. The host venues include Seattle, Santa Clara, Pasadena, Glendale, Houston, Orlando, Chicago, Philadelphia, East Rutherford and Foxborough.
The teams have been drawn in to four groups each consisting of 4 teams.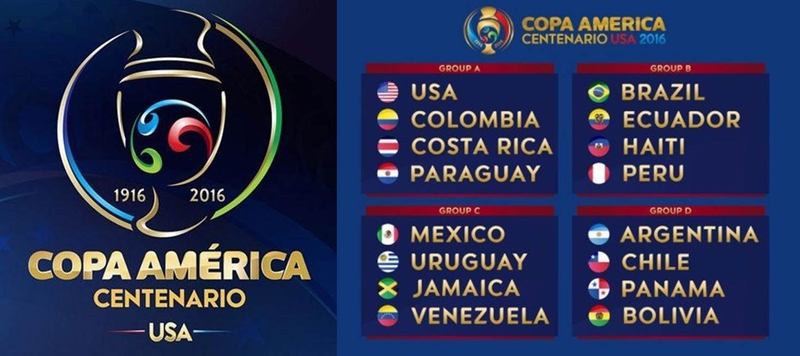 The defending champions going in to the 2016 Copa America Centenario are Chile. They have been drawn in Group D along with Argentina, Panama and Bolivia. Chile parted company with their manager Jorge Sampaoli in January after he guided them through a good 2014 World Cup and to the 2015 Copa America title. The 2015 Copa America final was decided on penalties with Chile coming out on top against Argentina in Santiago.
【2015 Copa America Final: Chile vs. Argentina】

Their form in qualifying for the 2018 World Cup has been a mixed bag with some good wins over the likes of Brazil, Peru and Venezuela but also some defeats including a 3-0 loss in Uruguay and 2-1 home defeat at the hands of Argentina. However, Chile has some fantastic players in their ranks playing at the top of European football with such names being Claudio Bravo, Gary Medel, Arturo Vidal and Alexis Sanchez. Chile is priced at 8/1 to retain their title with 888sport but a more realistic target could be the semi-final and you can get 13/4 odds for Chile to be eliminated at that stage of the tournament also with sportsbook 888sport.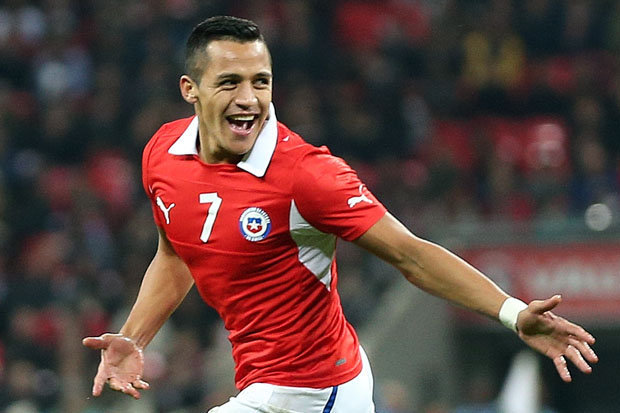 Argentina is expected to come through their group as winners and are 5/9 with 888sport to do just that. Having not won a major trophy with Argentina, time is running out for Lionel Messi to really cement his place as the greatest player the world has ever seen. The last time Argentina won an international tournament was the 1993 Copa America, which shows just how long it has been since they lifted a trophy. Despite that fact, Argentina has been placed as tournament favourites by online bookmaker 888sport at 2/1.
【2016 Copa America Outright Winner Odds】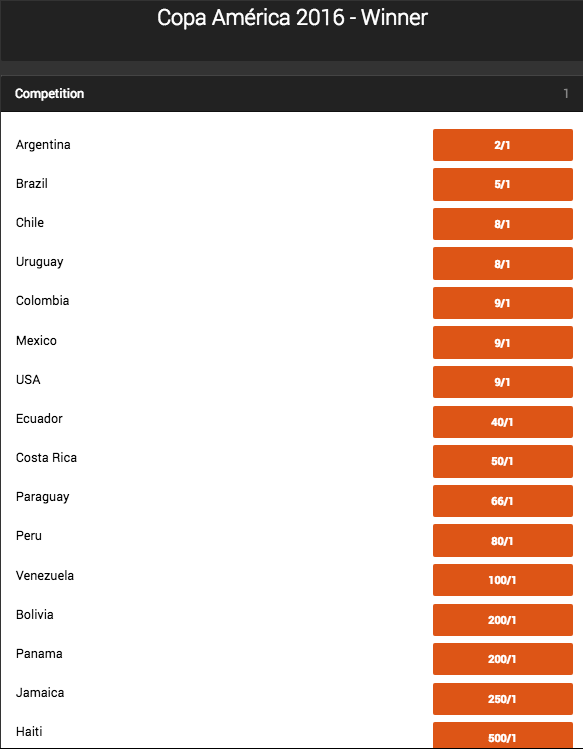 ※ Current Odds Date & Time: June 1, 2:00 a.m. (GMT)
Group A features the hosts, USA, and they couldn't have asked for a much tougher task. Jurgen Klinsmann's team will face Colombia, Costa Rica and Paraguay. The United States has played in the Copa America three times and the best they have achieved is fourth, which was back in 1995. They will have the home crowd on their side and will need to get a positive result in their opening match against Colombia. The USA is a joint 6/4 favourite with Colombia to win Group A but this seems very short especially considering the threat of Costa Rica and Paraguay. USA will need a repeat showing of their match against Argentina in 1995 where they ran out 3-0 winners if they are to make an impact at the later stages of the tournament.
【1995 Copa America: USA vs. Argentina】

Colombia has plenty of attacking talent but has lost a bit of the buzz they produced during the 2014 World Cup in Brazil. That being said, Jose Pekerman's team has the quality to come through this group and is listed at 6/4 odds with 888sport to finish on top of their group. How much further can they go? In the last three major tournaments, Colombia has bowed out at the quarterfinal stage and is 7/2 with 888sport to repeat this performance at the 2016 Copa America.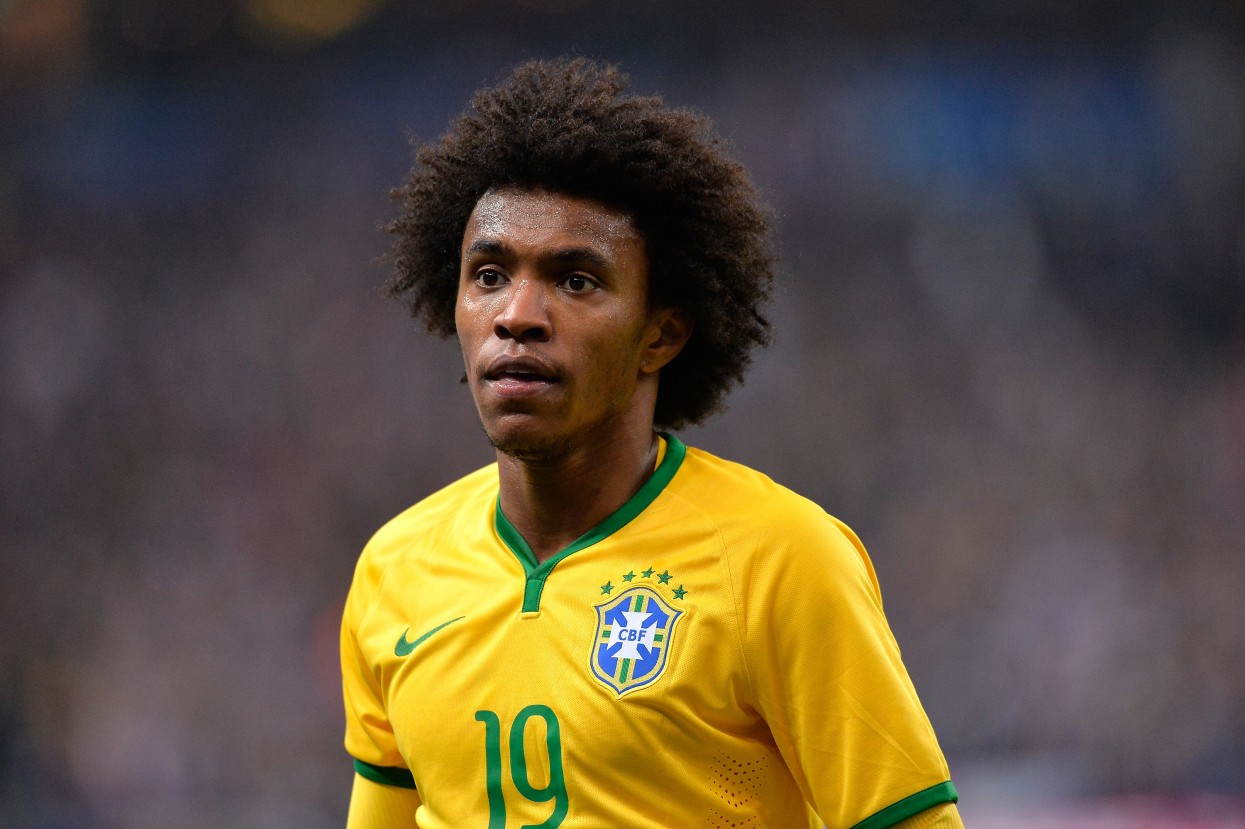 Paraguay has managed to scrape their way through to the latter stages of the Copa America in recent editions but this could be the year that sees them eliminated at the group stage. This can be backed at 7/20 with 888sport. The main reason for this is due to the strength of Costa Rica. With the likes of Bryan Ruiz, Joel Campbell, Keylor Navas and Celso Borges, Costa Rica has a unit of players who came within a penalty shoot-out of making the 2014 World Cup semi-final. They also reached the quarterfinal of the Copa America in both 2001 and 2005. Costa Rica is 6/4 to reach the quarterfinal and 13/2 to get 6 points in their group with 888sport, which can be achieved with victories over USA and Paraguay.
【2016 Copa America Group A Winner Odds】



※ Current Odds Date & Time: June 1, 2:00 a.m. (GMT)
Moving on to Group B and Brazil are sure to progress despite missing players such as Neymar and Douglas Costa. Brazil is not in great form but it's the fact the group is made up of Ecuador, Peru and Haiti, which means they will most likely progress. Ecuador has failed to make it out of the group stages of the Copa America dating all the way back to 1997 but their squad this year has plenty of quality in attack. They are currently sitting in second place in World Cup qualifying and come in to the 2016 Copa America in good form. Ecuador is available at 4/1 with 888sport to make the semi-finals of the tournament, which is certainly not out of the question. Peru and Haiti will be left to battle it out to see who can avoid being in the basement of the group.
Group C features Uruguay, Mexico, Jamaica and Venezuela with Uruguay hotly tipped to come out on top of the group. However, star striker Luis Suarez is struggling to be fit for the group stage and key defender Diego Godin has had a long, hard season with Atletico Madrid culminating in an agonising penalty shoot-out defeat to Real Madrid in the Champions League final. If Godin is 100% fit this will make a huge difference to the chances of Uruguay.
If he is not, Mexico could take the opportunity to finish on top of the group and is on offer at 11/10 with 888sport to do just that. Mexico has a good group of players who since the 2015 Copa America have remained undefeated in 18 matches. The only stumbling block with their progress later in the tournament is the fact they are likely to meet either Chile or Argentina in the quarterfinal and that is where their run could end. Mexico is 5/4 with 888sport to be eliminated in the quarterfinals.
【2016 Copa America Group C Winner Odds】



※ Current Odds Date & Time: June 1, 2:00 a.m. (GMT)
The performance of individual players will be key to the successs of many teams and Argentina will be looking towards Lionel Messi for inspiration. The Barcelona star is a 5/1 favourite with 888sport to finish the 2016 Copa America as the top scorer but it should also be noted that he picked up an injury in a recent friendly match against Honduras. Messi is also yet to finish as the top scorer at a World Cup or Copa America tournament. Therefore, it's wise to look elsewhere despite Messi's obvious talent.
Messi's teammates in Sergio Aguero and Gonzalo Higuain are priced at 8/1 and 9/1 respectively by 888sport but may have to share striking duties during the tournament. Chile's Alexis Sanchez looks tempting at 15/1 but the Arsenal forward has failed to score for Chile in their previous four competitive games. However, with Uruguay teammate Luis Suarez missing the start of the tournament, it could be time for Edinson Cavani to shine. The PSG striker was in good form at the end of the season in France despite being forced to play second fiddle to Zlatan Ibrahimovic throughout. He has also been scoring goals for Uruguay in World Cup qualifying and can be backed at a tempting 9/1 with bookie 888sport to be the 2016 Copa America Centenario top goal scorer.
【Edinson Cavani: 2015-16 Goal Highlights】

A good outside bet for the top goal scorer award is Mexico's Javier Hernandez. The former Manchester United striker enjoyed an excellent season in the Bundesliga with Bayer Leverkusen and if Mexico goes deep in the tournament, it will mainly be due to the goals of this man. Hernandez is on offer at 15/1 with 888sport to finish the 2016 Copa America Centenario as top goal scorer.
【2016 Copa America Top Goal Scorer Odds】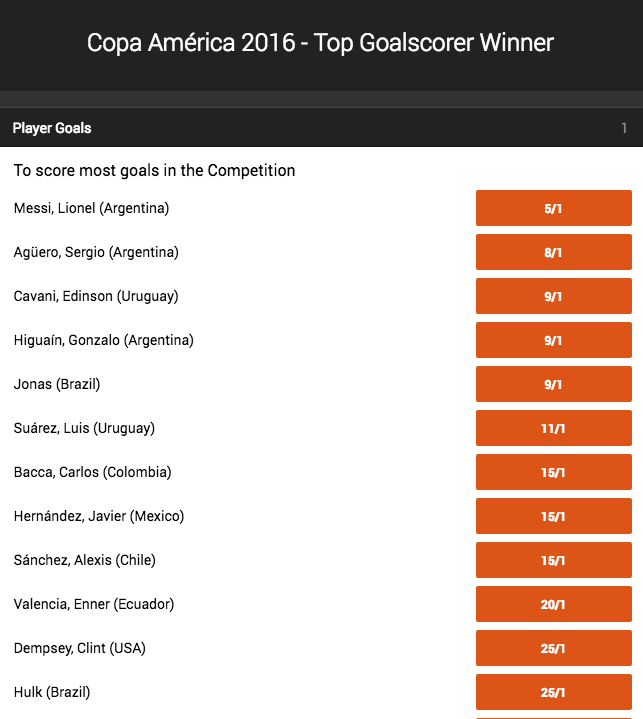 ※ Current Odds Date & Time: June 1, 2:00 a.m. (GMT)
In terms of the tournament winner, home advantage played a part in Chile's victory last year but they also had a very talented team. Unfortunately, the same cannot be said about the United States. Argentina is the clear favourite with 888sport at 2/1 but there is not much value to be had by betting on them and as it's a knockout tournament, they could easily be held and dismissed on penalties.
Surprise packages could include Ecuador and Mexico with Ecuador having the easiest looking route through to the semi-finals at least. At 40/1, Ecuador is a good outside bet for the 2016 Copa America Centenario. The winners of Group C, likely to be either Mexico or Uruguay, will probably face Chile or maybe Panama in the quarterfinals with Brazil as possible opponents in the semi-finals. This is not the toughest route to the final and both teams are in good form with goal scorers in their side. Uruguay can be backed at 8/1 and Mexico at 9/1.
The 2016 Copa America Centenario is going be an exciting tournament with more teams participating than ever before. Despite the injury to Luis Suarez, Edinson Cavani could take the opportunity to shine and bring home the Copa America title for Uruguay.
Now enough of the analysis, it's time to sit back, relax and get ready to watch some exciting football!