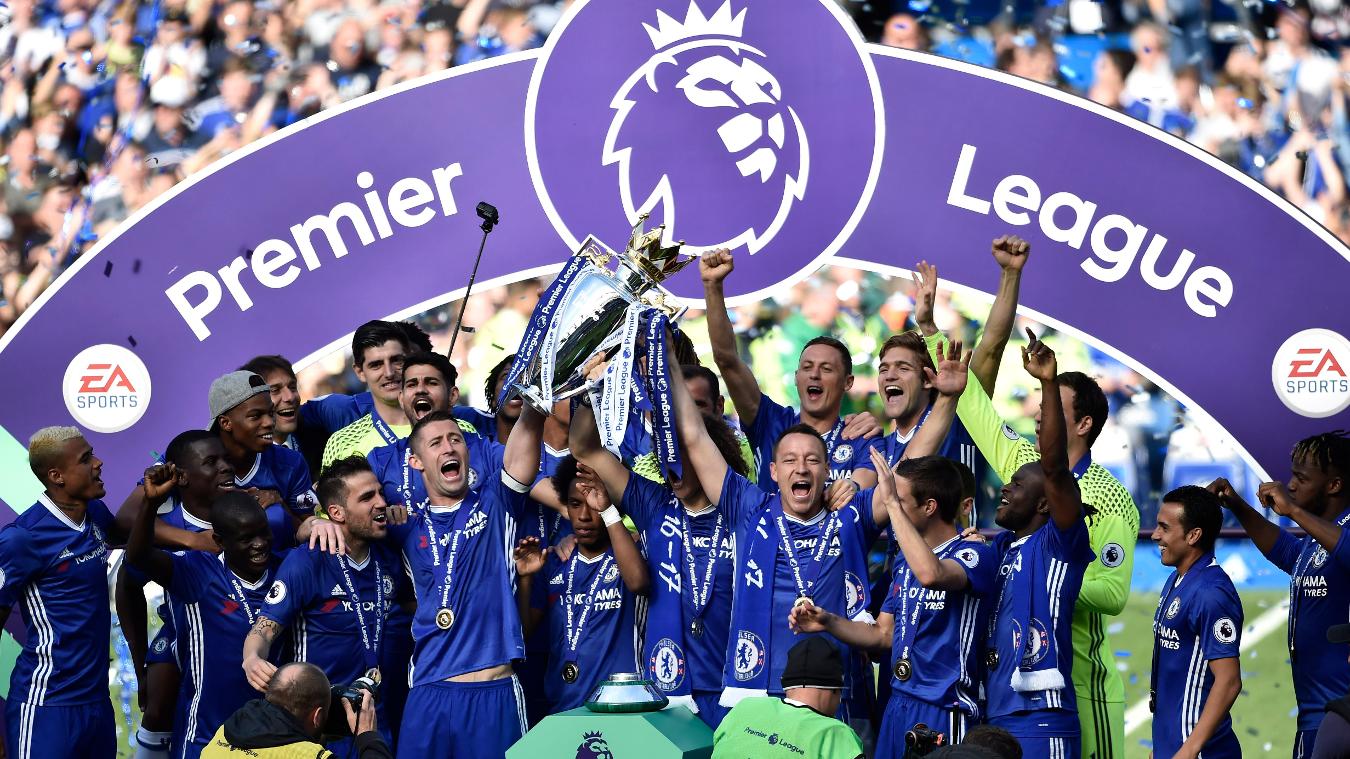 The 2017/18 Premier League season is set to get underway on Friday, August 11th as Arsenal welcomes Leicester City to Emirates Stadium.
This season will see the 26th edition of the Premier League, which started life back in 1992. The same format as last season has remained in place with 20 teams competing for the Premier League title. The only major change is that the shirt sleeves will now feature a sponsor's logo whereas before they only featured the logo of the Premier League.
Chelsea will start the season as defending champions having won the Premier League last season. Antonio Conte led the Blues to the title in his first season in charge at Stamford Bridge, which was a major contrast to the previous season.
Chelsea finished the 2016/17 season 7 points clear of second place Tottenham Hotspur and 15 points clear of third place Manchester City.
2016-17 Chelsea FC's Best Goals

Defending a Premier League title is much different than anything else and Chelsea will find teams are looking out for them this season, and as a result will be raising their game to defeat them. Not since Manchester United in 2008/09 has a team successfully defended the Premier League and online sportsbook
bet365
offers 7/2 for Chelsea to win back-to-back titles.
Having lost Nemanja Matic and possibly Diego Costa, Chelsea has some big holes to fill in their starting XI this season. There is also the added fixtures the Champions League will bring and interestingly, after each of their first four Champions League games, Chelsea will play Arsenal, Manchester City, Manchester United and Liverpool in the Premier League. It's a tall order to ask.
If things start going wrong at Stamford Bridge, will the players respond positively or negatively? If what happened under Mourinho is anything to go by, it may be the latter.
2017-18 English Premier League Outright Winner Odds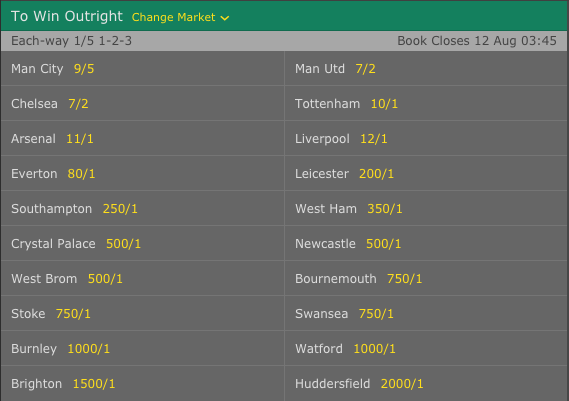 ※ Current Odds Date & Time: August 9, 3:00 p.m. (GMT)
Latest Odds: English Premier League (courtesy of bet365)
The biggest threat to Chelsea according to the bookmakers this season is Manchester City, who is a 9/5 favourite with bet365 to be holding the Premier League trophy aloft come the end of the season.
Winning a major trophy must be the minimum requirement for Pep Guardiola this season. The Spanish coach failed to bring any silverware to the club last season and has spent heavily in the summer transfer window. There has been much talk over the amount of money spent on the full-back area of the team but this is a crucial position in the way Guardiola likes to play.
If Sergio Aguero and Gabriel Jesus can remain fit for most of the season, this Manchester City squad looks capable of winning the 2017/18 Premier League title. You can also get 11/1 for Manchester City and Chelsea to be the top two teams this season.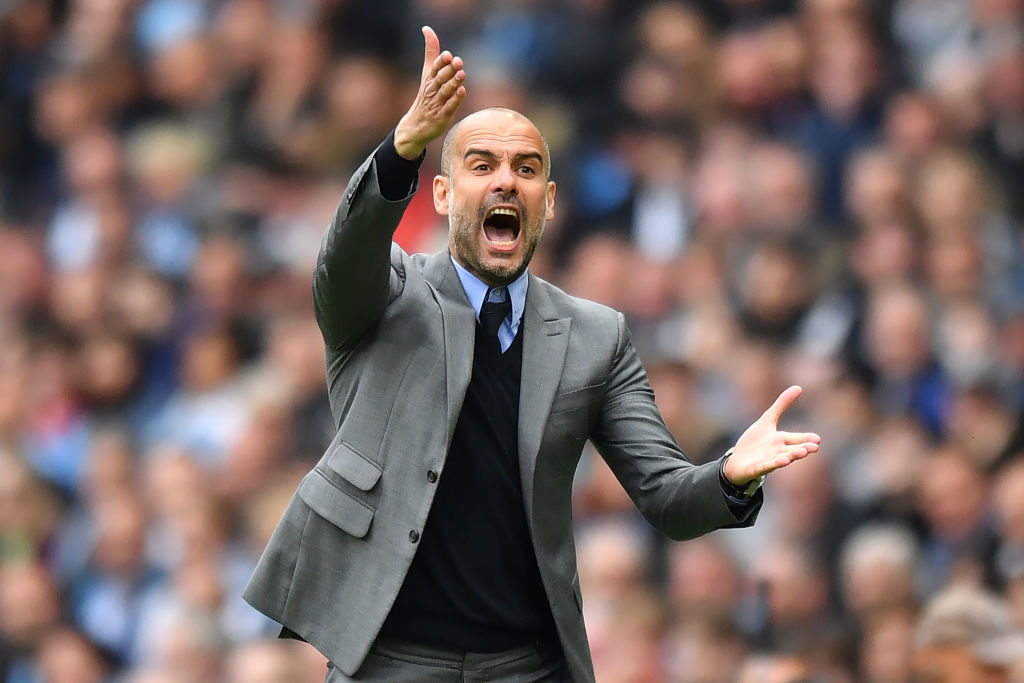 Jose Mourinho and Manchester United will hope to have something to say about that. The Red Devils have been busy in the transfer market and have brought in Romelu Lukaku, Nemanja Matic and Victor Lindelof.
However, it's hard to forget the disappointing 2016/17 campaign, which saw Manchester United finish 6th in the Premier League, one place lower than under Louis van Gaal the previous season.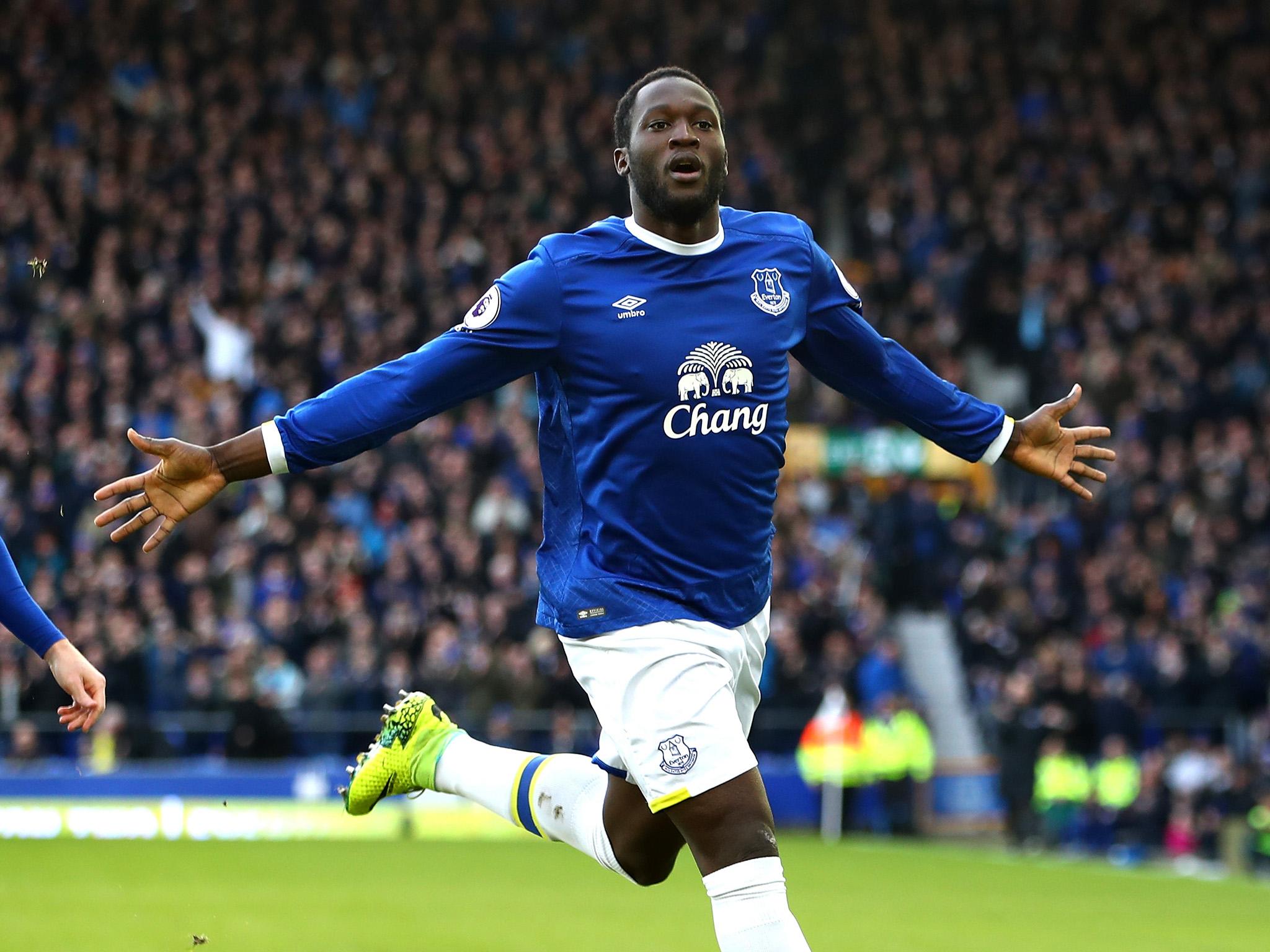 Scoring goals was a real problem and there is great pressure on the shoulders of Lukaku to get goals this season. The Belgian will need to score early if he is to find the confidence and belief of being Manchester United's main striker but will need help from midfield. Paul Pogba will have more freedom with the addition of Matic but question marks remain over the rest of the squad.
Manchester United is 7/2 to win the 2017/18 Premier League title, which considering the way they performed last season seems a little short.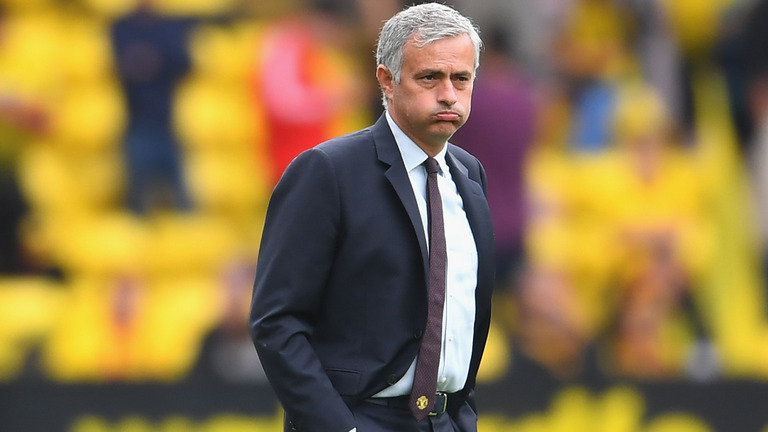 Arsenal has spent big on Alexandre Lacazette and if the Frenchman can deliver, Arsene Wenger will be hoping to break back into the top four and qualify for the Champions League. However, with much the same squad as last season and Thursday night football in the Europa League to contend with, the title still looks out of reach for the Gunners and the odds of 11/1 with bet365 suggest the same.
A finish in the top four is probably a better bet for Arsenal at 10/11 but they will have a battle on their hands with Liverpool.
2017-18 English Premier League To Finish in Top 4 Odds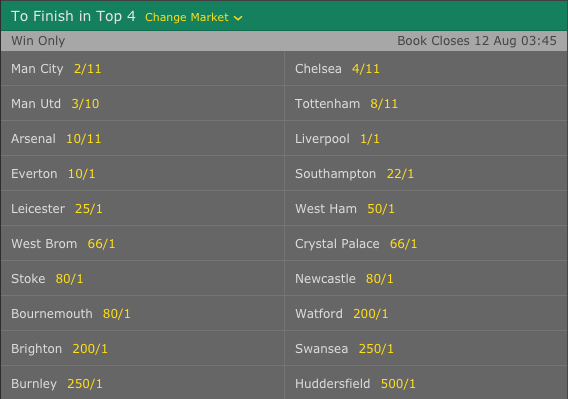 ※ Current Odds Date & Time: August 9, 3:00 p.m. (GMT)
Jurgen Klopp has struggled to attract the number of signings he was hoping for over the summer and Mohamed Salah from Roma remains their biggest deal. Liverpool is still working on a transfer for defender Virgil van Dijk but is also trying its best to hold on to Philippe Coutinho.
Barcelona has shown a strong interest in the Brazilian, who has reportedly stated his desire to leave the club if a deal can be agreed. This will be a huge blow to Liverpool, who was likely to come up short in the title race anyway at odds of 12/1 with bet365. Liverpool may even find a top four place difficult to secure this season especially if they reach the group stages of the Champions League.
Liverpool is 4/5 with bet365 to finish outside the top four in the Premier League this season.
2016-17 Philippe Coutinho Highlight Reel

Tottenham Hotspur enjoyed another fantastic season under Mauricio Pochettino last time out and finished second in the Premier League.
They have kept hold of both Harry Kane and Dele Alli which is key but the loss of White Hart Lane could prove to be their biggest stumbling block. Tottenham has struggled at Wembley in European competition and one glance at what happened to West Ham when they made a stadium move last season is unlikely to lift their spirits.
Tottenham has a team capable of winning the Premier League and at 10/1 with bet365 would make a great bet but for the fact they are playing home games at Wembley.
2017-18 English Premier League To Be Relegated Odds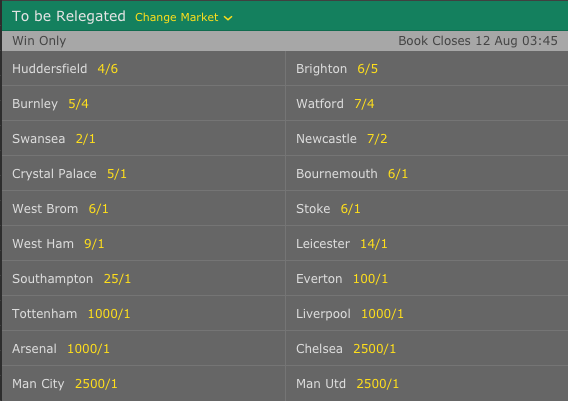 ※ Current Odds Date & Time: August 9, 3:00 p.m. (GMT)
Looking towards the bottom end of the table and Huddersfield Town is going to find life tough in the Premier League this season. The last three seasons has seen the team promoted via the Championship playoffs only to be relegated the following season and Huddersfield is 15/18 to finish bottom of the Premier League.
Brighton and Hove Albion may put up a stronger fight having come close to winning promotion for some time. However, without a striker who can score at least 10 goals in the top-flight, they are going to struggle and can be backed at 6/5 with bet365 to be relegated.
Interestingly, in six of the last eight Premier League seasons, the team finishing 17th in the league the season before has been relegated. This puts Watford in danger and having changed their manager several times in recent seasons, the Hornets make a good bet at 7/4 to be relegated.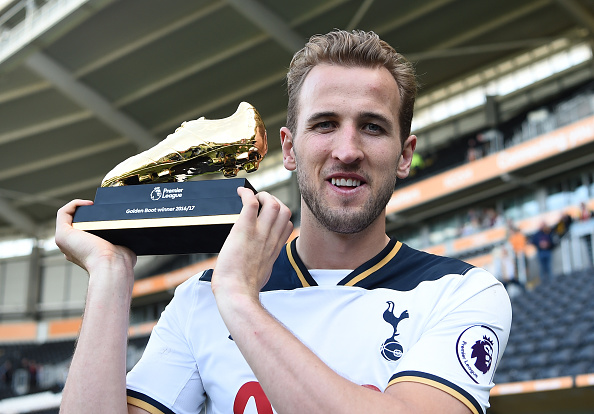 The top goal scorer market is always interesting and Harry Kane leads the way at 3/1 with bet365. The England international has topped the goal scoring charts for the last two seasons and will be close again this time.
Romelu Lukaku finished second last season and will aiming to add to his tally of goals at Manchester United. If he can score some goals in the first few games of the season, Lukaku could be a huge threat at Old Trafford and with the right service could at least match his 25 goals from last season. Lukaku is 4/1 to finish the 2017/18 Premier League season as top scorer.
If Sergio Aguero and Gabriel Jesus remain fit, they will score goals this season but may share the burden across the campaign, making their odds of 7/1 and 9/1 not so tempting.
2017-18 English Premier League Top Goalscorer Odds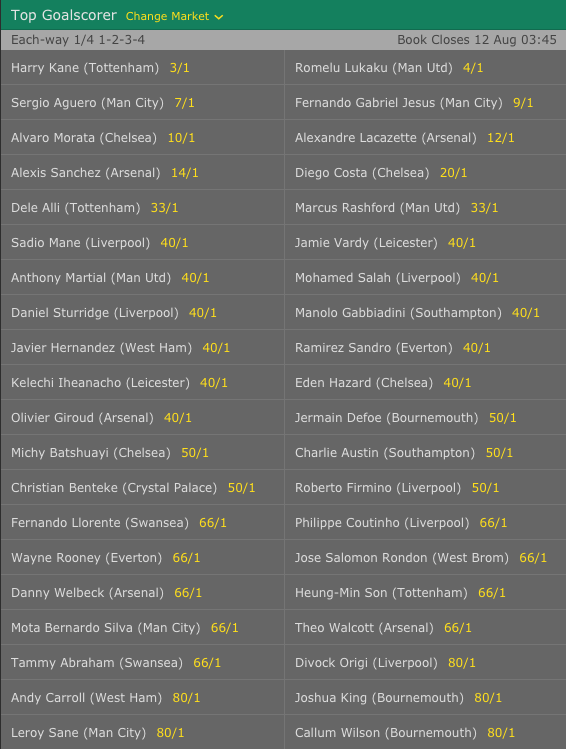 ※ Current Odds Date & Time: August 9, 3:00 p.m. (GMT)
However, with Aguero and Jesus up-front and a supply line of Kevin De Bruyne, David Silva, Leroy Sane, Raheem Sterling and Bernardo Silva, Manchester City looks incredibly strong. If Ederson settles in as the number one goalkeeper, Manchester City has a formidable squad and even if they concede more goals than the teams around them, can still win the 2017/18 Premier League.