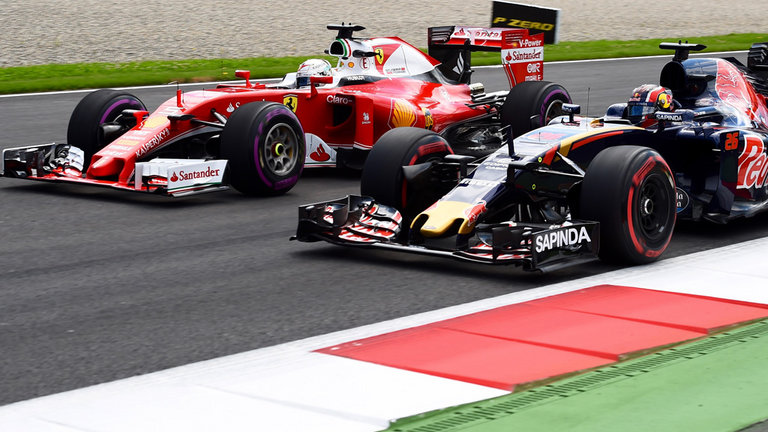 The days of Formula One punters marching mindlessly to the betting window to pluck money down on Mercedes are over. Making calculated bets on auto racing's premier class will once again involve study and handicapping. You can blame the Fédération Internationale de l'Automobile (FIA) for your extra expenditure of brainpower. You know you are in for uncertainty when the Formula One website touts the the 2017 season as "A New Dawn Rises."
The new Formula One rules, set in stone for the next three seasons, to be factored into handicapping are those meant to increase the speed of the race cars by a significant margin – five seconds per lap. The tires, the focus of much complaint in recent years for their rapid deterioration, will be widened by 25 percent to chase faster cornering speeds with heightened aerodynamic grip. The cars are wider as well and also a bit heavier to impart even more downward thrust to the race track.
The FIA is promising potentially the fastest Formula One cars ever and machines that will also be more physical to drive. Whereas lightness was a valued trait in race drivers in the past, this year muscles will be in. Drivers have spent this off-season on social media describing their new training routines to bulk up. So, as the circuit heads to its traditional season opener in Melbourne, Australia how is the betting shaping up for the 2017 Formula One campaign?
At the head of the table once again is British wheel master Lewis Hamilton, listed at even money 1/1 odds at online bookmaker bet365. Hamilton was only 23 years old when, racing for McLaren, he became the youngest Formula One world champion ever in 2008. Since coming to Mercedes in 2013, Hamilton has cemented his place among the greatest open wheel drivers of all time capturing season titles in 2014 and 2015. Last year Hamilton wobbled from the starting line but won 10 of his final 15 races and wound up in second spot for the season, although his 380 points nearly matched his championship season totals.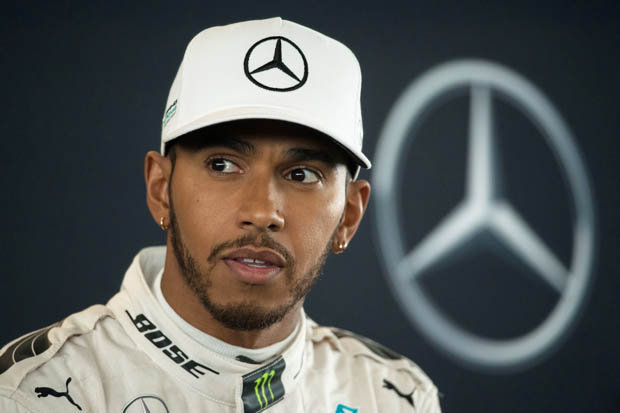 Hamilton and Mercedes showed no signs of slowing down in preseason tests in Spain although the trials are notoriously unreliable for handicapping as teams are often disinclined to show what they have in the garage for the upcoming season. Hamilton's odds have been depressed further by the sudden retirement of Mercedes teammate Nico Rosburg who took the season title on the final day for his first championship after runner-up finishes in 2014 and 2015.
【2017 F1 Drivers Championship Winner Odds】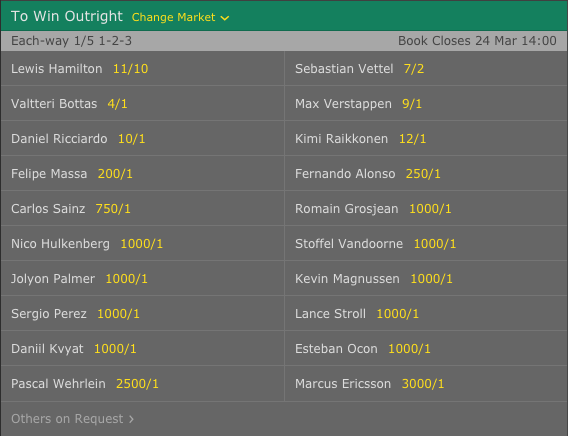 ※ Current Odds Date & Time: March 24, 4:00 a.m. (GMT)
New Mercedes driver Valtteri Bottas slides into the challenge position to Hamilton at 9/2. Despite the low odds, the 27-year old Finnish driver has never won a single Formula One race and piled up only nine podiums in his five-year career with Williams Racing. Such is the power of Mercedes.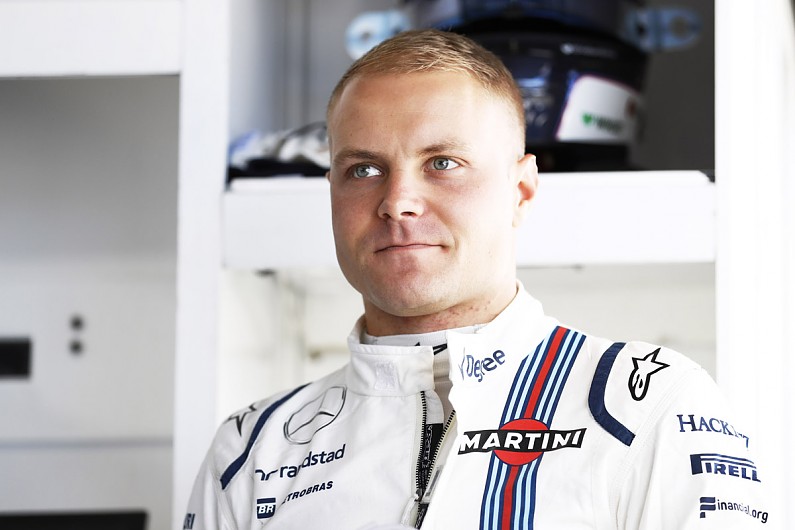 Ferrari was the team turning in the fastest trial times in Spain. If the new rules indeed mark a return to dominance for the legendary Italian racing team the main beneficiary will be Sebastian Vettel, currently second in the wagering. The 29-year old German racing expert won four consecutive season championships with Red Bull Racing from 2010 until 2013, when he set a single season record for points with 397. Times have been leaner for Vettel in his first two years with Ferrari on a three-year contract. Last season he finished fourth in the points standings with no race wins and only seven podiums. Vettel will return backers 7/2 odds for a successful championship run in 2017.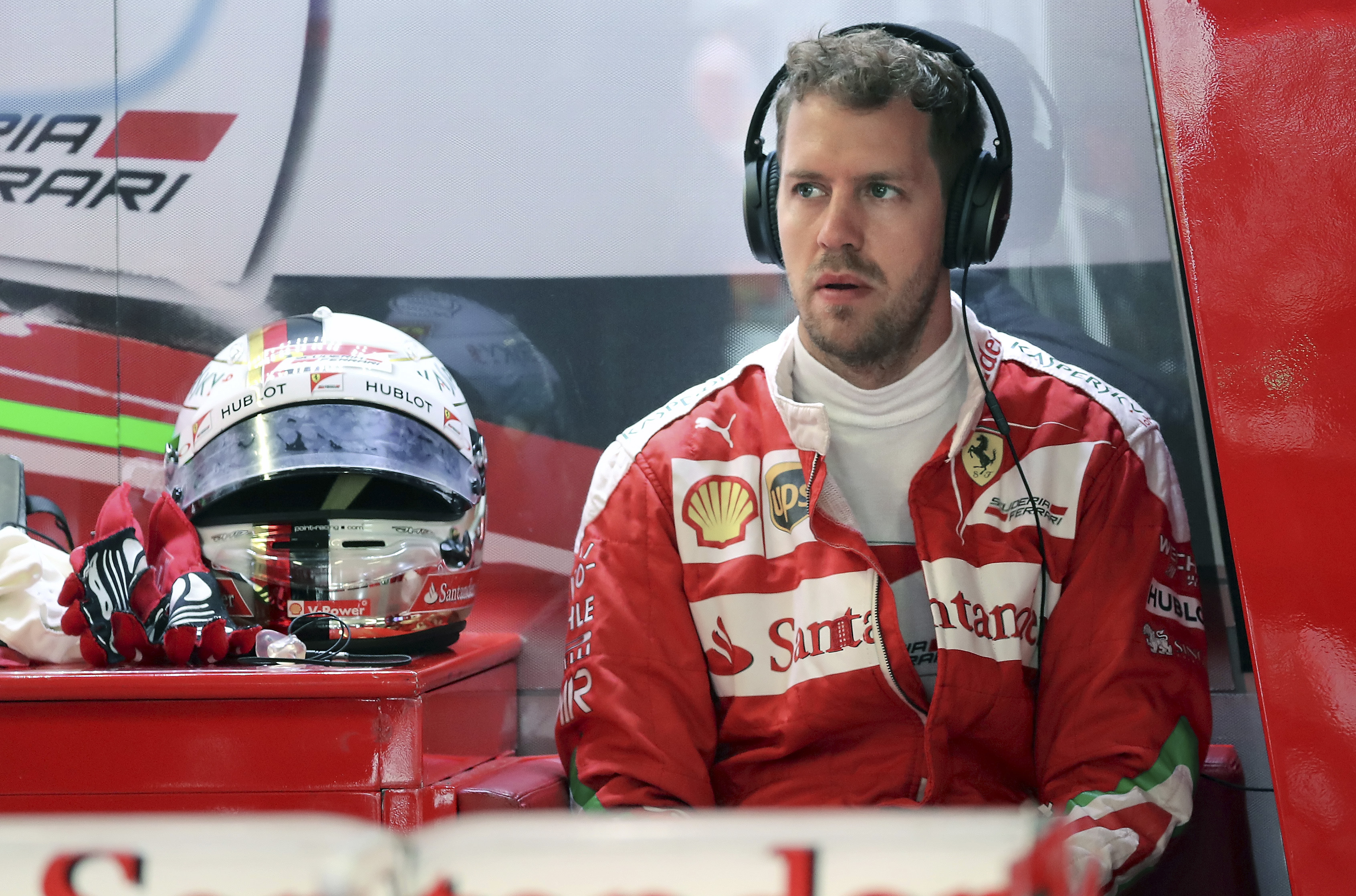 Fastest of all in Spain was Ferrari teammate Kimi Räikkönen of Finland, posted at 10/1. The veteran driver is now 37 years old and a decade removed from his only driving championship in 2007. His last win – in the Australian Grand Prix – is also four years in his rear view mirror. Still, Räikkönen finished in the top six places in 16 of 21 races last season and if Ferrari emerges at the head of the pack in the new technological era that consistency will be rewarded handsomely.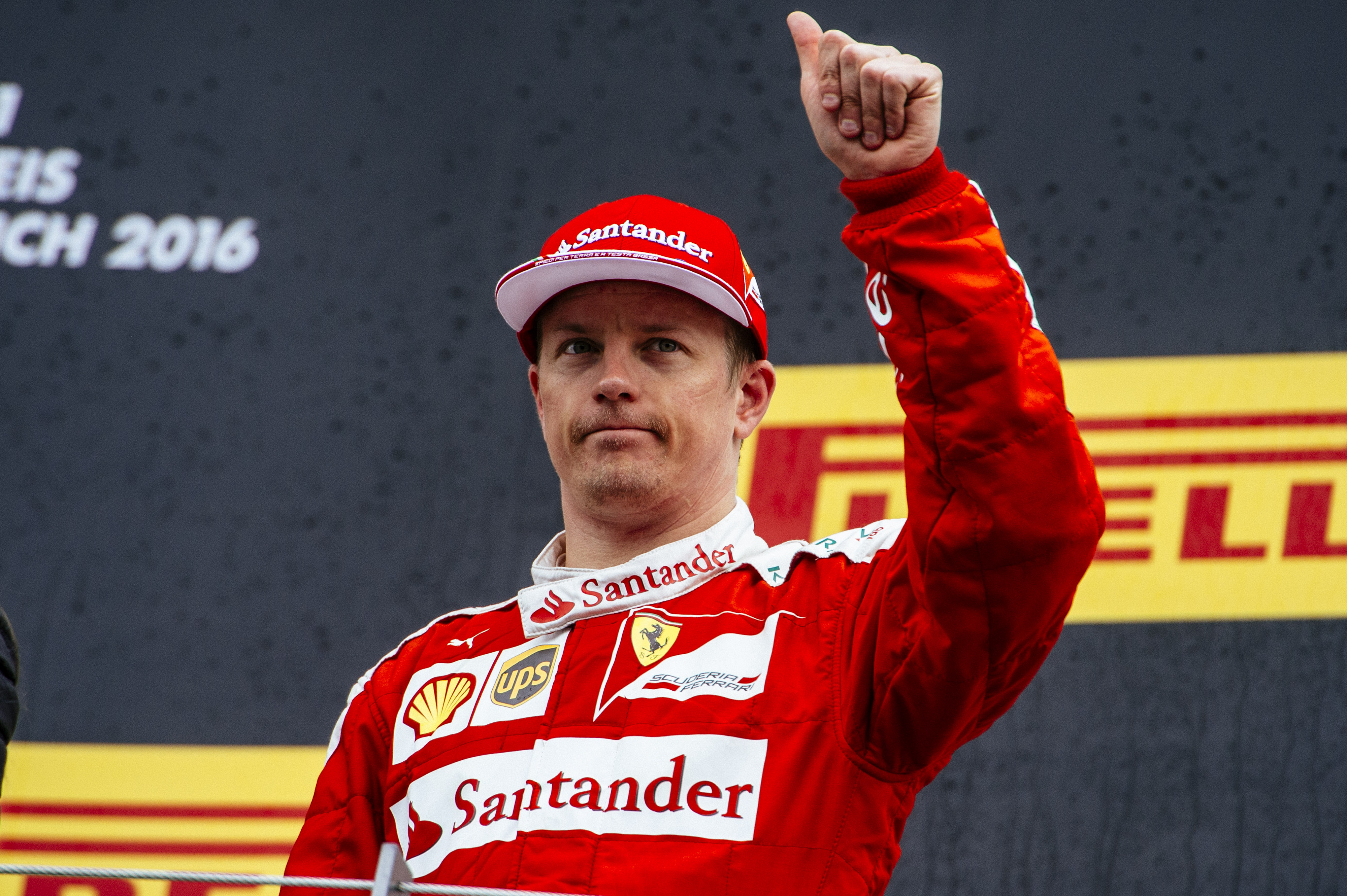 For Formula One bettors tired of backing the same old warhorses there is Belgian-Dutch race driver Max Verstappen. All of 19 years old, Verstappen already has several "youngest ever" achievements under his belt including youngest to compete, youngest to lead a lap and youngest to win a Formula One Grand Prix race, the Spanish Grand Prix in 2016 in his first time elevated by Red Bull Racing to the highest level in the sport. Verstappen finished the season in fifth place overall. He is presently fetching 8/1 odds. Can you add "youngest ever season champion" to his resume? The race track is always a forbidding place for precocious youngsters and Verstappen has already had several dust-ups with veteran drivers taking none kindly to his youthful indiscretions.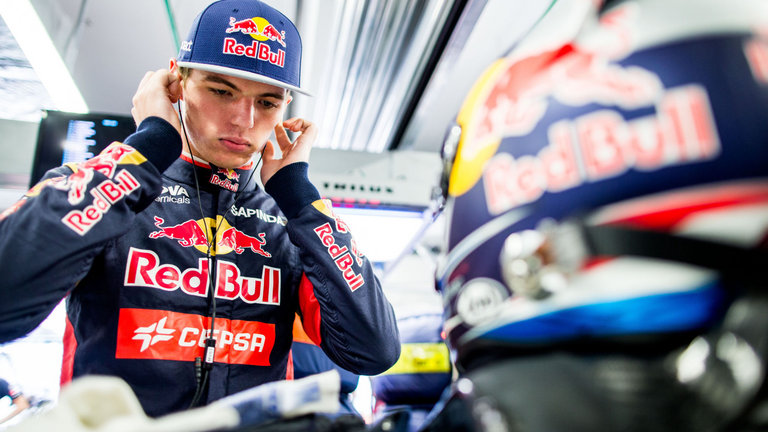 Some of that friction could come with Red Bull teammate Daniel Riccardo who will be entering the season with 9/1 odds. The 27-year old from Perth, Australia has been the mainstay of Red Bull for the past three seasons enjoying a rollercoaster ride with the team. He won three times en route to a third-place overall finish in 2014 but suffered through a desultory 2015 campaign before Red Bull overhauled its Renault Energy engines. The TAG Heuer models provided enough juice for Riccardo to win the Malaysian Grand Prix in 2016 and reclaim the third spot for the season. The Heuer models still seem a step behind Mercedes and Ferrari before the new race rules are fully unveiled, however.
【2017 F1 Constructors Championship Winner Odds】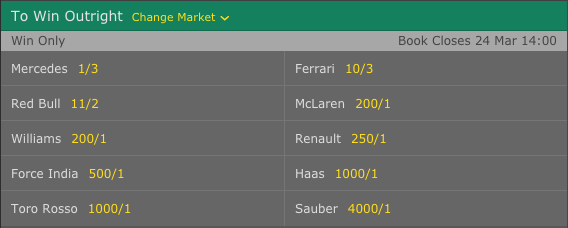 ※ Current Odds Date & Time: March 24, 4:00 a.m. (GMT)
Beyond the top three teams, bet365 sees little to recommend the challenges offered by Williams, Force India, Toro Rosso, Haas and Renault in 2017. Of the remaining drivers Felipe Massa, lured out of retirement to replace Bottas at Williams, is considered to have the best chance of snatching an improbable season title at 200/1.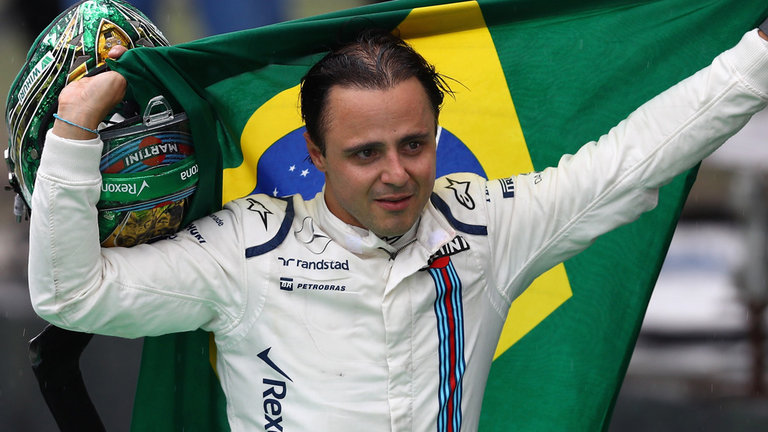 Save