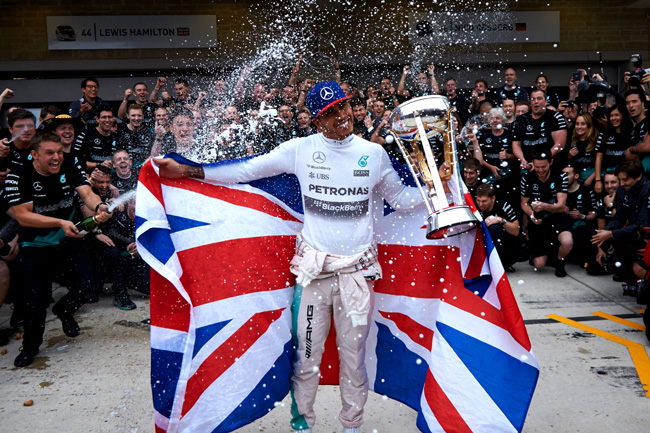 The 2016 Formula One season will start from the 20th of March with Australia as the first Grand Prix destination. 2016 will commence the 67 th season of the Formula One World Championship recognised by the Fédération Internationale de l'Automobile (FIA) – Formula One's governing body.
This year will see teams participating in twenty-one Grand Prix all across the world making it the longest season in the sport's history. The season finale is scheduled in Abu Dhabi starting from the 27th of November where the World Drivers and World Constructors champions will be announced.
Will Ferrari be able to overrun Mercedes this year to win the 2016 Formula One season? Let's take a closer look…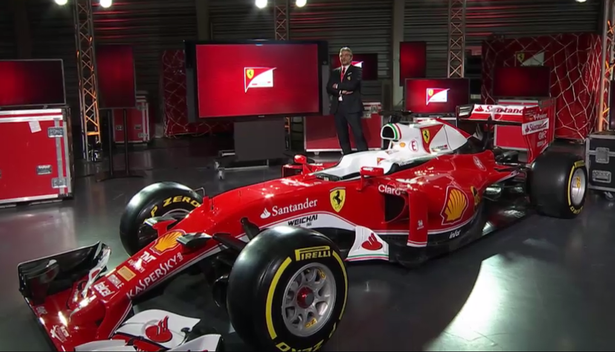 2015 FIA Formula One Season
The 2015 season of FIA Formula One was the 66th edition, which proved to be a resounding win for Mercedes. Claiming the World Constructors championship with 703 points, Mercedes bested runner up Ferrari by an astounding 275 points.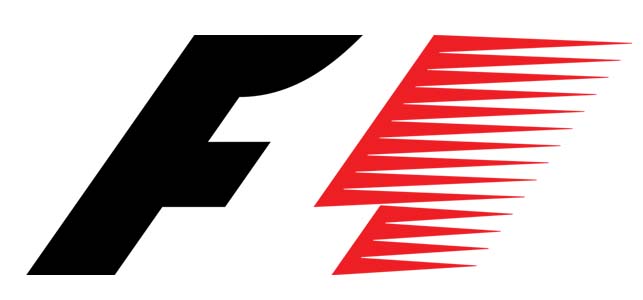 The World Drivers championship was won by Lewis Hamilton, the face of Mercedes, who accumulated 381 points during his impressive driving performance last season. Nico Rosberg, also from Mercedes, was the runner up in winning 322 points while finishing in 3rd place with 278 points was Sebastian Vettel who joined Ferrari in 2015 after leaving Red Bull. Although finishing in 3rd, Vettel was the only racer who seemed to give Lewis Hamilton a run for his money all season long.
A Look Towards 2016
The 2016 season is set to be a bigger event with twenty-two cars participating this season after the entry of Haas F1 Team was announced. Renault, which has taken over Lotus recently, announced they will return to the championship as a constructor following a four-year absence.
The calendar will also prove to be busier as the German Grand Prix and European Grand Prix are returning. A new circuit in Azerbaijan will be the venue for the revived European Grand Prix.
As the defending Drivers champion, Lewis Hamilton is vying for his 4th world championship title after securing his 3rd world championship at the United States Grand Prix in October with three events still remaining on the schedule.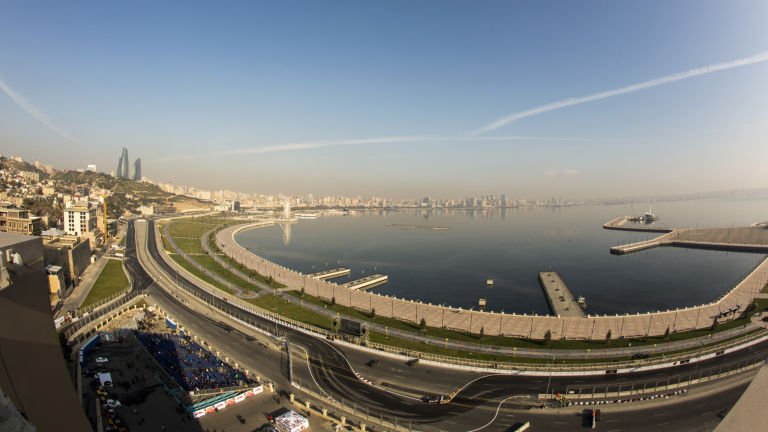 Venue and Tracks
The Melbourne Grand Prix Circuit is the venue for the first Grand Prix of the 2016 season. It is a street circuit south of central Melbourne located around Albert Park Lake. The track is 5.3 km long with 16 turns and a capacity of 80,000. It is one of the most difficult circuits on the season calendar along with Sepang International Circuit in Kuala Lumpur (Malaysia), Circuit de Spa-Francorchamps in Stavelot (Belgium), Marina Bay Street Circuit (Singapore), and Circuit de Monaco, Monte Carlo (Monaco). And as has been the case in recent years, the 2016 season will conclude with its final round at Yas Marina Circuit in Abu Dhabi (UAE).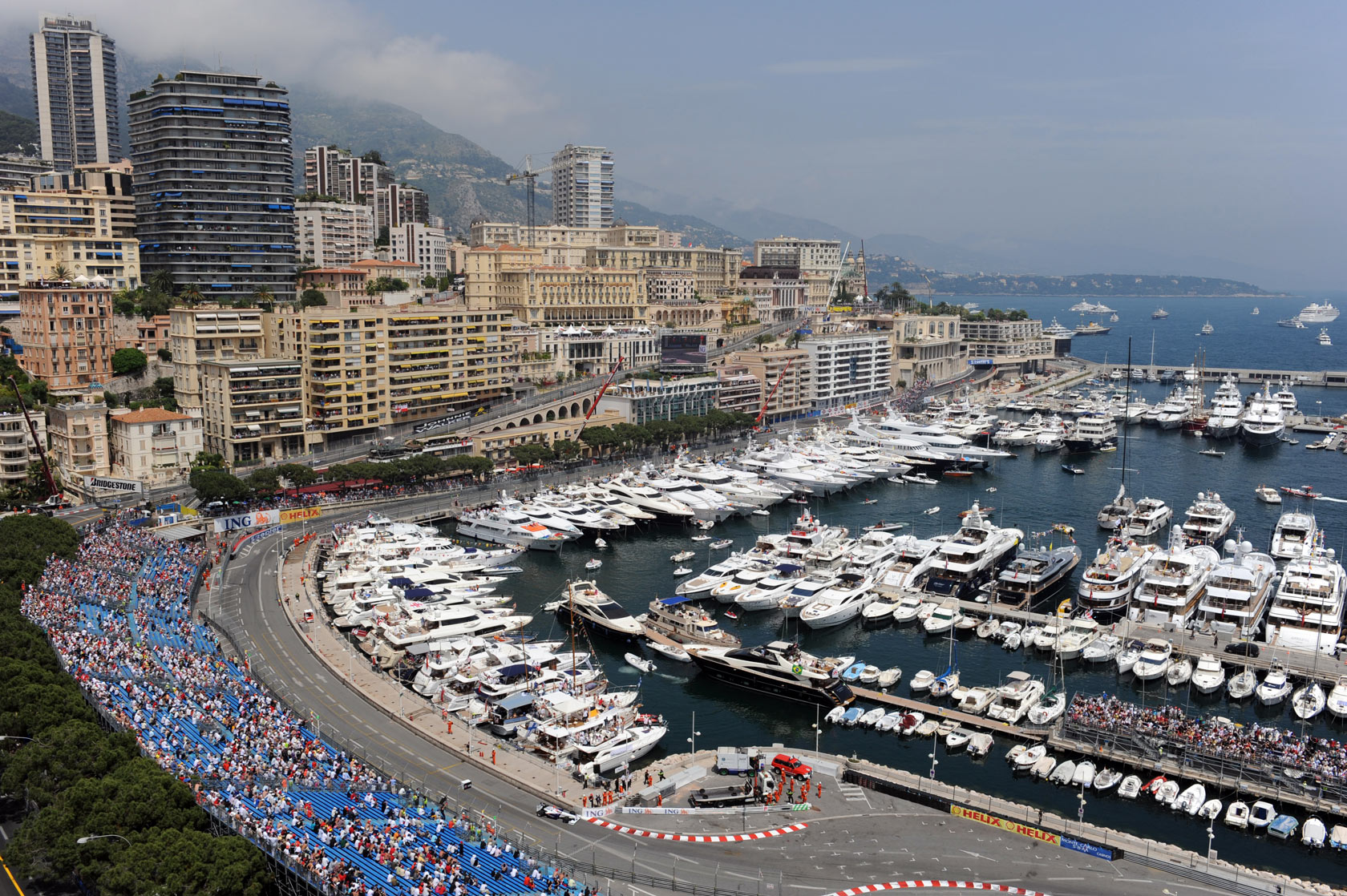 Teams, Racers & News
The critics' voices stating that competition in previous seasons was less than satisfactory due to the various restrictions placed on constructors have been heard. This season regulations have been eased with regards to engine development, which will help competitors like Renault and Honda to come on par with Mercedes and Ferrari. Modifications to the chassis system are now allowed as well so cars will have better control and toughness.
Furthermore, constructors can pit noisier and more powerful cars thanks to the regulations on exhaust systems being eased. Changes have been made to put limitations on radio communication between the driver and the pit crew to ensure the man behind the wheel is more self-reliant than in years past. And Pirelli has introduced new tire compound sets that will be tougher to deteriorate due to overheating which will make the drivers a little safer.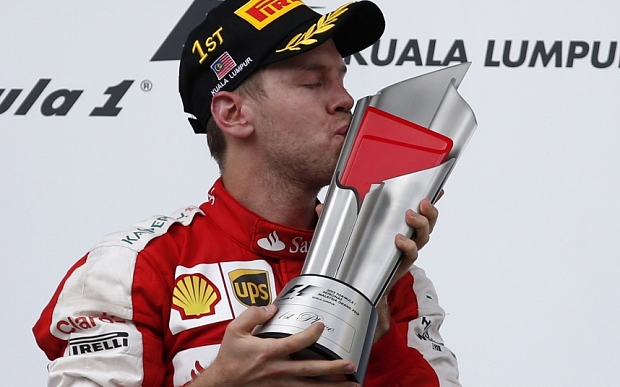 A lot of the attention has been placed on Ferrari of late as the Italian team has introduced some fine upgrades to their racing machines that may see them overpower the German-based Mercedes.
With that said, do not forget that a car is only as good as the man behind the wheel and Mercedes with their star-studded team definitely has an advantage over Ferrari or any other competitor at first glance.
Lewis Hamilton, who joined Mercedes in 2013, has won the past two the Drivers championships with Sebastian Vettel of Ferrari winning the previous year in 2013. With Ferrari's upgraded car, look for Vettel to challenge Hamilton often this season as the two duke it out for top position.
Race Schedule
| Round | Date | Grand Prix | Circuit |
| --- | --- | --- | --- |
| 1 | March 20 | Australian Grand Prix | Melbourne Grand Prix Circuit, Melbourne |
| 2 | April 3 | Bahrain Grand Prix | Bahrain International Circuit, Sakhir |
| 3 | April 17 | Chinese Grand Prix | Shanghai International Circuit, Shanghai |
| 4 | May 1 | Russian Grand Prix | Sochi Autodrom, Sochi |
| 5 | May 15 | Spanish Grand Prix | Circuit de Barcelona-Catalunya, Barcelona |
| 6 | May 29 | Monaco Grand Prix | Circuit de Monaco, Monte Carlo |
| 7 | June 12 | Canadian Grand Prix | Circuit Gilles Villeneuve, Montreal |
| 8 | June 19 | European Grand Prix | Baku City Circuit, Baku |
| 9 | July 3 | Austrian Grand Prix | Red Bull Ring, Spielberg |
| 10 | July 10 | British Grand Prix | Silverstone Circuit, Silverstone |
| 11 | July 24 | Hungarian Grand Prix | Hungaroring, Budapest |
| 12 | July 31 | German Grand Prix | Hockenheimring, Hockenheim |
| 13 | August 28 | Belgian Grand Prix | Circuit de Spa-Francorchamps, Stavelot |
| 14 | September 4 | Italian Grand Prix | Autodromo Nazionale Monza, Monza |
| 15 | September 18 | Singapore Grand Prix | Marina Bay Street Circuit, Singapore |
| 16 | October 2 | Malaysian Grand Prix | Sepang International Circuit, Kuala Lumpur |
| 17 | October 9 | Japanese Grand Prix | Suzuka International Racing Course, Suzuka |
| 18 | October 23 | United States Grand Prix | Circuit of the Americas, Austin, Texas |
| 19 | October 30 | Mexican Grand Prix | Autódromo Hermanos Rodríguez, Mexico City |
| 20 | November 13 | Brazilian Grand Prix | Autódromo José Carlos Pace, São Paulo |
| 21 | November 27 | Abu Dhabi Grand Prix | Yas Marina Circuit, Abu Dhabi |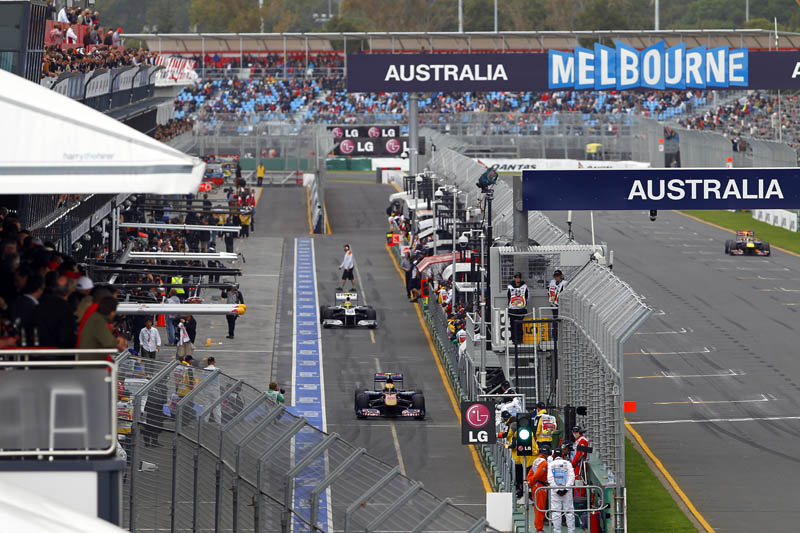 Expectations & Odds
【2016 F1 Constructors Championship Winner Odds】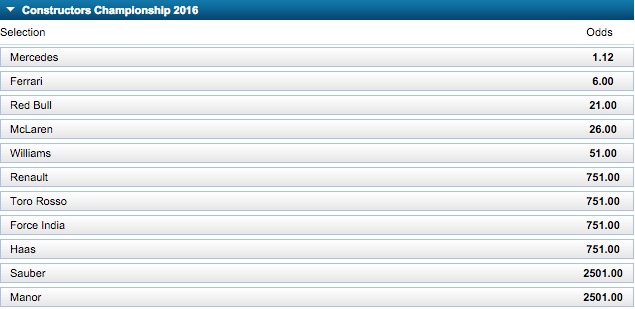 ※ Current Odds Date & Time: March 16, 12:00 p.m. (GMT)

Even though changes were made by the FIA to promote more competition, expectations are high that it will again be a two-horse race – Mercedes and Ferrari, and the predictions courtesy of British bookie William Hill definitely show it as such with Mercedes listed at 1.12 and Ferrari at 6.00.
Looking towards the drivers themselves, as expected, William Hill has it as a three-person race with Lewis Hamilton coming in with odds of 1.57 to Nico Rosberg's 4.00 and Sebastian Vettel's 5.50. Punters looking for some value can do no wrong with Daniel Ricciardo at 67.00.
Will Hamilton and Mercedes make it three in a row? What's your call? The 2016 F1 season commences this weekend!
【2016 F1 Drivers Championship Winner Odds】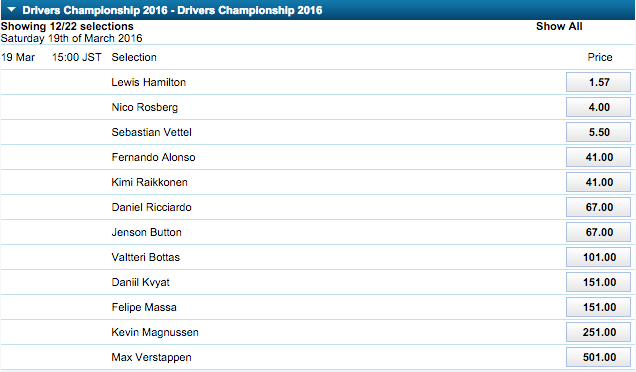 ※ Current Odds Date & Time: March 16, 12:00 p.m. (GMT)