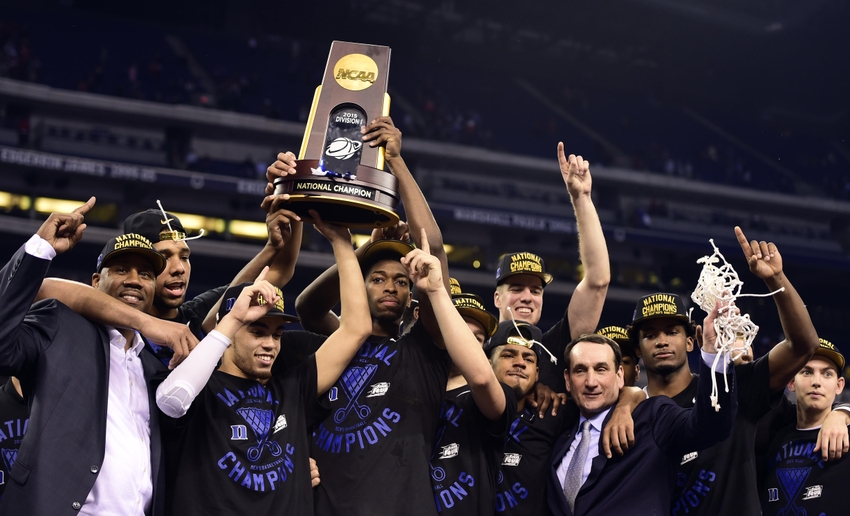 Topsy turvy. We have been hearing it all season, in contrast to 2014-15 when the only college basketball talk was whether Kentucky was the greatest team of all time, forget about the current year. In 2015-16 there have been a near-record six teams reside uncomfortably in the No. 1 spot of the Associated Press poll. Teams ranked in the top five during the year left the court 37 times hanging their heads in defeat – 21 times to opponents that were completely unranked. Teams ranked in the top ten lost 74 games. The team with the likely top pick in this year's NBA draft, LSU with Ben Simmons, was so putrid it did not make the NCAA tournament field and begged off an NIT bid.
So are you ready to put your money down on this crap shoot? Of course you are.
Start by ignoring all the hype that "the tournament is wide open." Yes, as recently as 2014 a No. 7 seed, Connecticut, was cutting down the championship nets but before that, the last team seeded worse than third to win it all was Arizona in 1997. And they were a four-seed. Since that time, 12 teams ranked in the Top 5 preseason poll wound up as the eventual NCAA champion. This year all five pre-season selections are poised to make it as #13: North Carolina and Kansas are top seeds, Kentucky and Duke are four seeds and Maryland is a five seed.
The top-seeded team in this year's tourney is Kansas, and with good reason. Fifteen of the Jayhawks' 29 wins came against Top 50 RPI (Rating Percentage Index) teams. Their only clunker was an 86-67 loss at Stillwater against Oklahoma State in January but that was avenged at Allen Fieldhouse with a 27-point romp. Kansas sends the most complete starting five to the floor each night, led by the consistent output of Frank Mason and Perry Ellis. But that has been the dope on Kansas for the past several years without a payoff. Bookmaker 888sport has made the Jayhawks a tentative +425 favorite to win the championship.
【2016 NCAA Men's Basketball Tournament Winner Odds】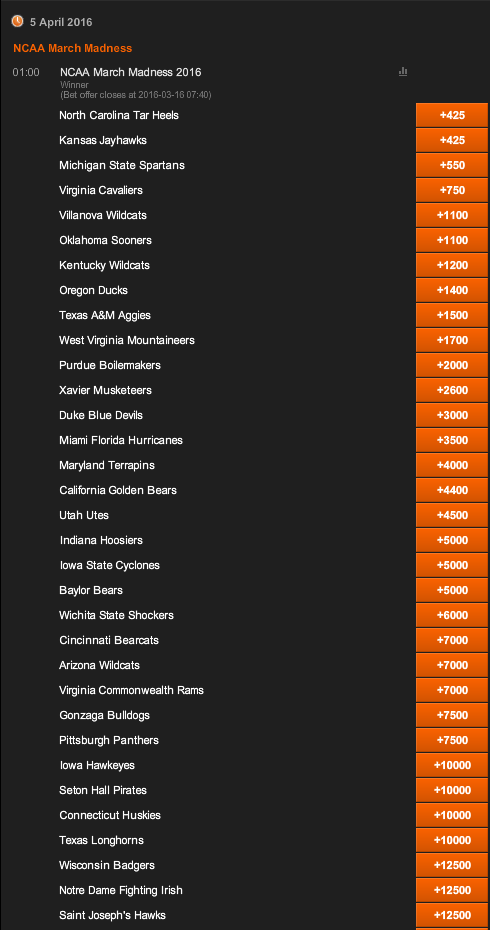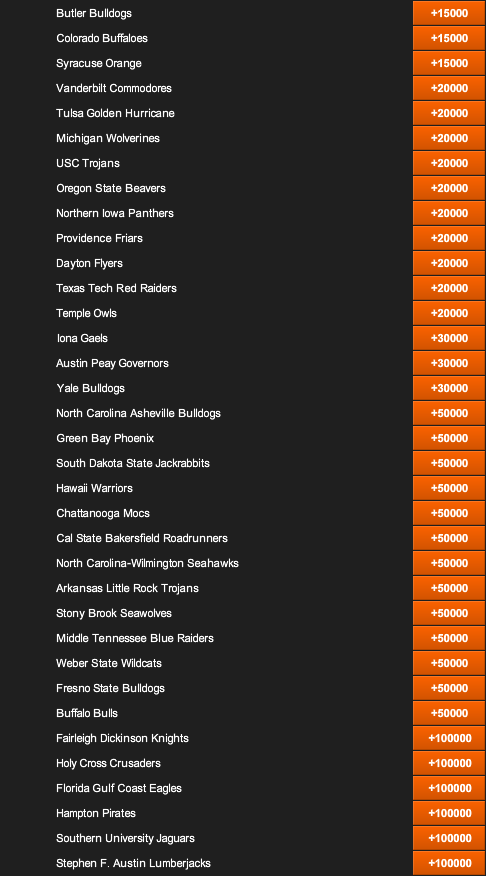 ※ Current Odds Date & Time: March 15, 12:00 a.m. (GMT)
Kansas is lumped into the South bracket with No. 2 seed Villanova (+1100), which had jockeyed with the Jayhawks atop the regular season polls until bowing out in the Big East conference championship finals to Seton Hall. Villanova employs a team concept like Kansas and has similarly been a disappointment come tourney time. The fact that since 2010 a No. 1 or No. 2 seed has been dumped from March Madness on the opening weekend 14 times and six times it has been Kansas or Villanova will likely have bettors scanning the bracket for a team to blow up the South.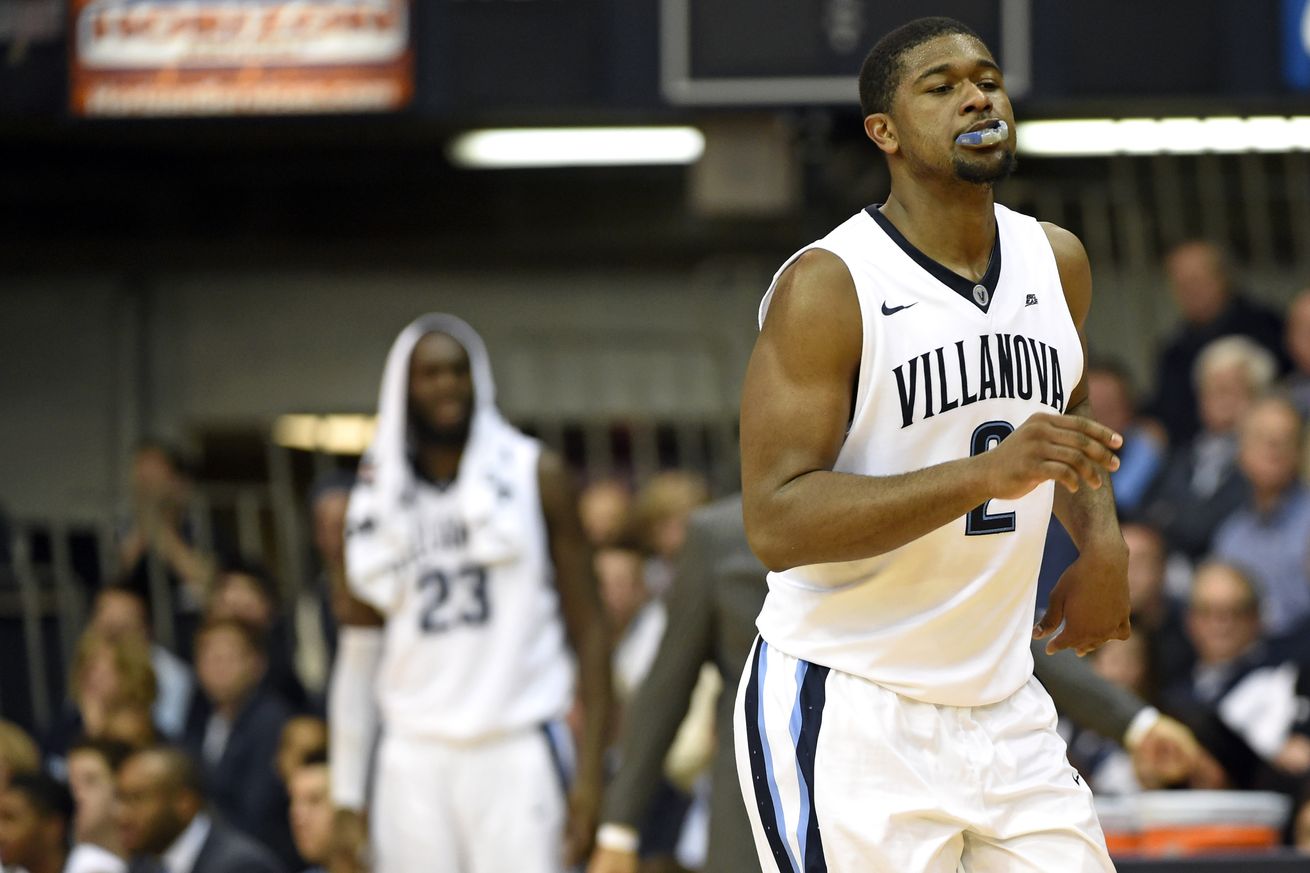 You could do worse than six-seeded Arizona. The Wildcats endured the loss of their four best scorers from last season, battled injuries to key players and still navigated to 25 wins out west. None of its eight losses were by double digits and Arizona took No. 1 West seed Oregon to overtime in the Pac-12 semifinal. Sportsbook 888sport is listing coach Sean Miller and Arizona at +7000.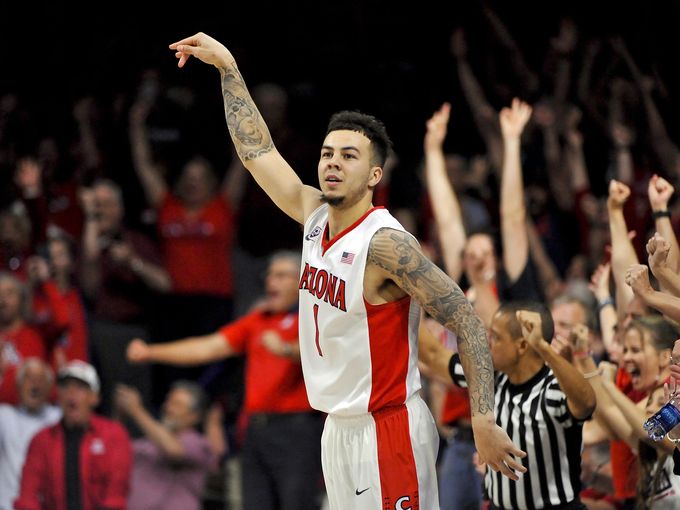 One tried and true trope come tournament time is the "hot team." Look no further than Michigan State (+550) which has reeled off nine straight wins, including three against 20-win Ohio State by 61 combined points. Tom Izzo's vaunted legendary success at tournament time is often ascribed to overachieving but this year the Spartans boast one of the contenders for the Wooden Award for the nation's top player – Denzel Valentine.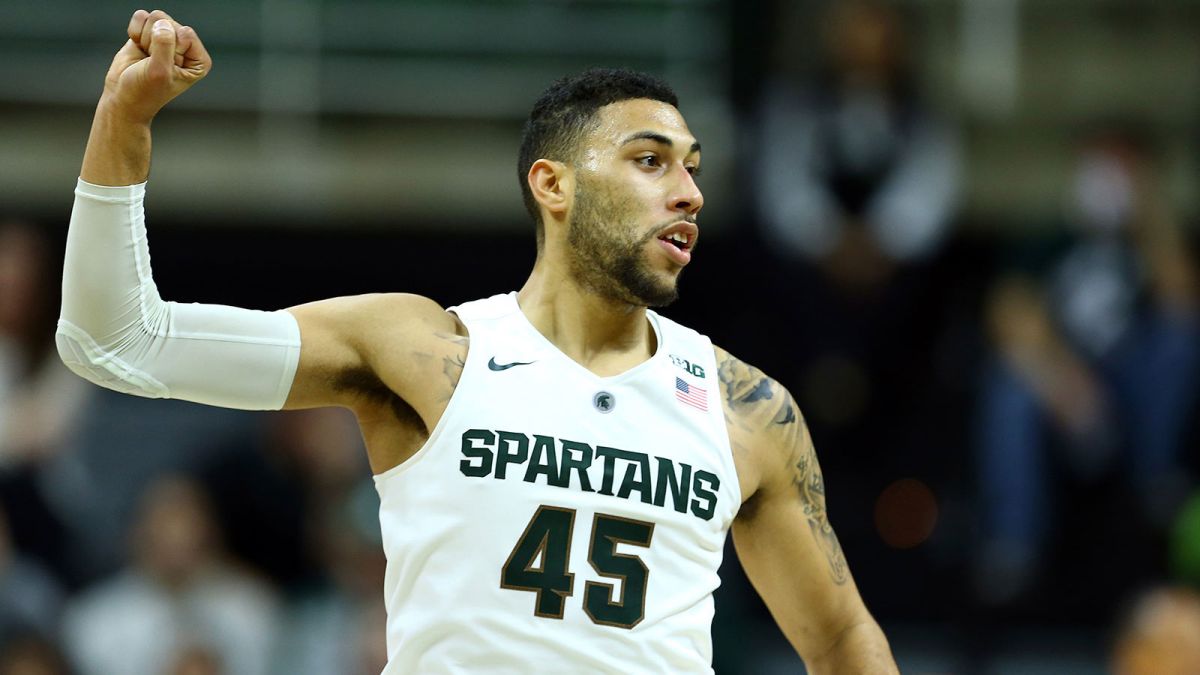 If you are not picky about going all the way back to January to find a last loss, Seton Hall has fired up at the right time. The Pirated dispatched Villanova, ranked number two in the nation, and Xavier, ranked number five, in back-to-back games in the Big East tournament. The Pirates, keyed by Isaiah Whitehead who has poured in over 22 points per game in his last dozen outings, only earned a six-seed and will retrieve an attractive +10000 for backers.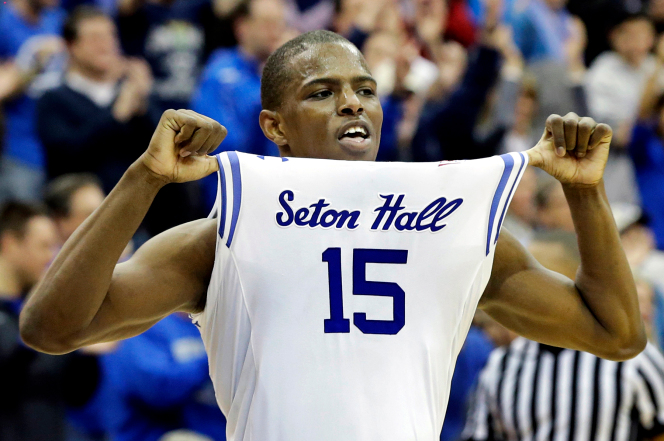 Of course, you can never overlook the teams with the best talent. No team was more loaded coming into the season than North Carolina and while the Tar Heels have sputtered with four losses in the past six weeks, a convincing win in the ACC Tournament secured Roy Williams' bunch a No. 1 seed in the East. Brice Johnson has been a beast at the power forward position and North Carolina can win against any team at both ends of the floor.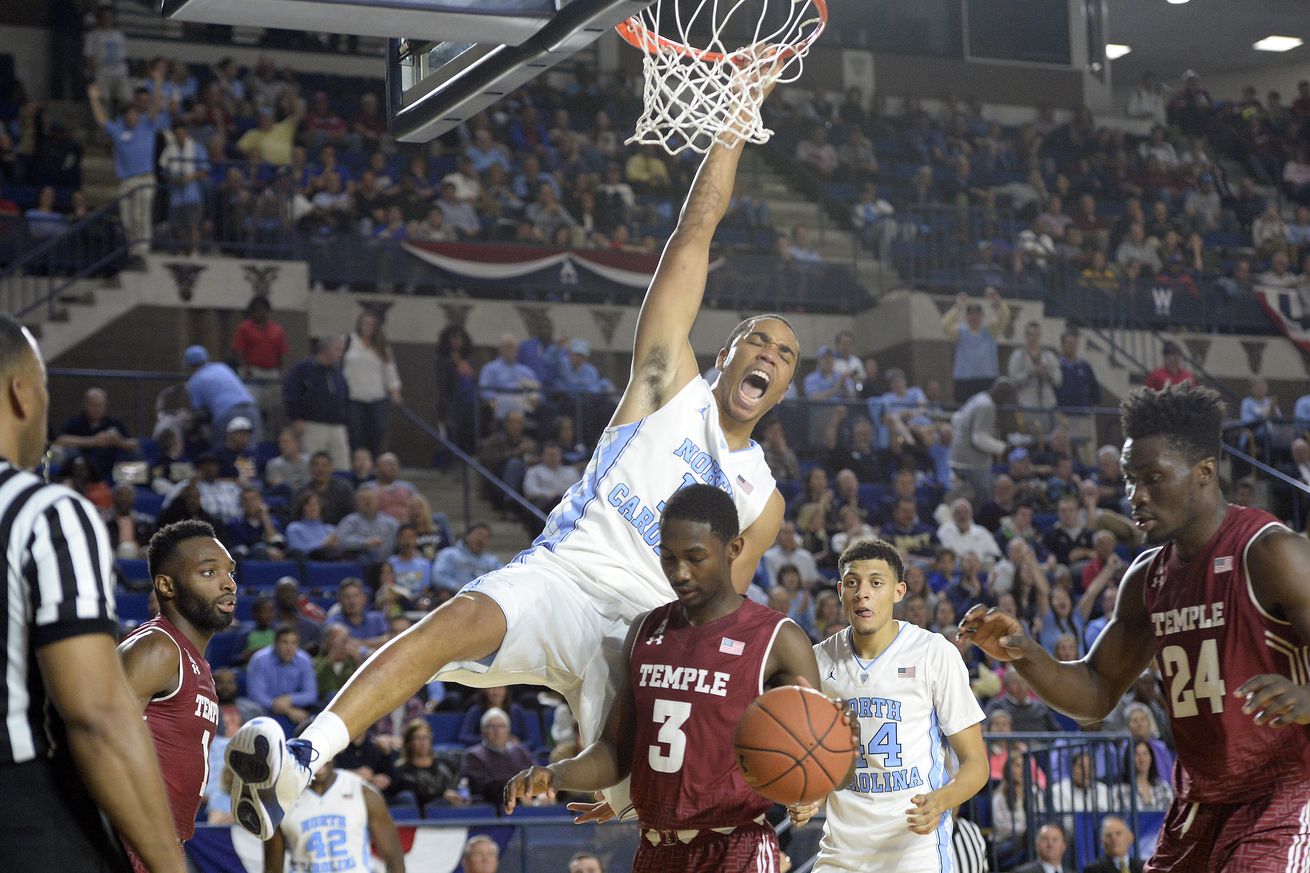 If you are parsing among teams with the most talent, the recruits assembled by John Calipari at Kentucky can never be ignored. Tyler Ulis and Jamal Murray form one of the most incendiary backcourts in the country and the Wildcats are getting healthier and more experienced with each passing game. Gamblers betting on talent will be forced to choose between Kentucky (+1200) and North Carolina (+425) for Final Four predictions as the two are slotted to run into each other early in the East bracket.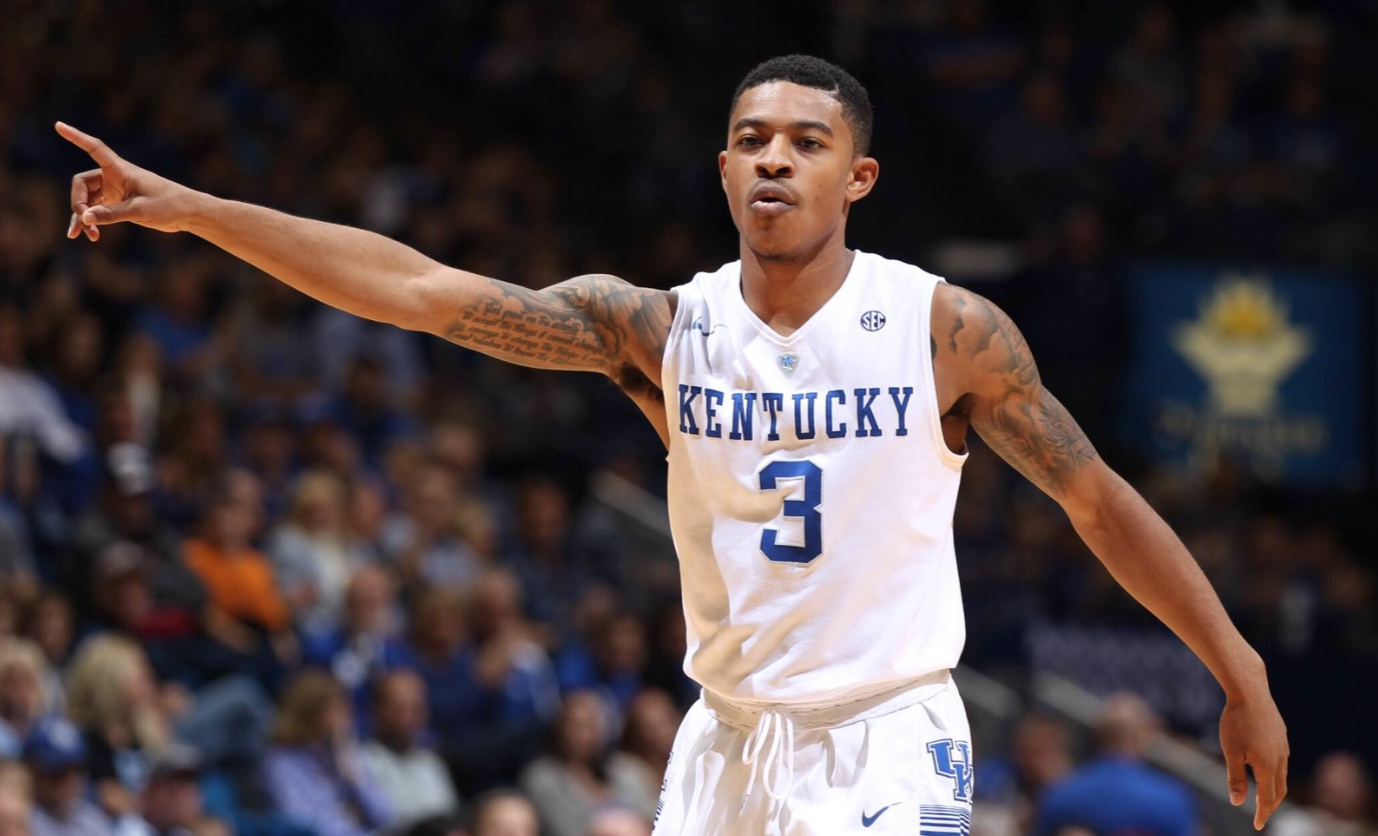 It is an old trope that defense wins championships. Even as college basketball has unveiled a faster, more entertaining product this season with a shortened shot clock and an increase in possessions and scoring, there are contenders who stubbornly cling to a defensive mindset. Chief among them is Virginia which earned a No. 1 seed with its stingy ways. Even when the offense can't find its way out of the locker room, the Cavaliers are a threat to win every night. If Malcolm Brogdon and London Perrantes can just put together six straight offensively average performances, Virginia (+750) will reward its supporters with a hoops title.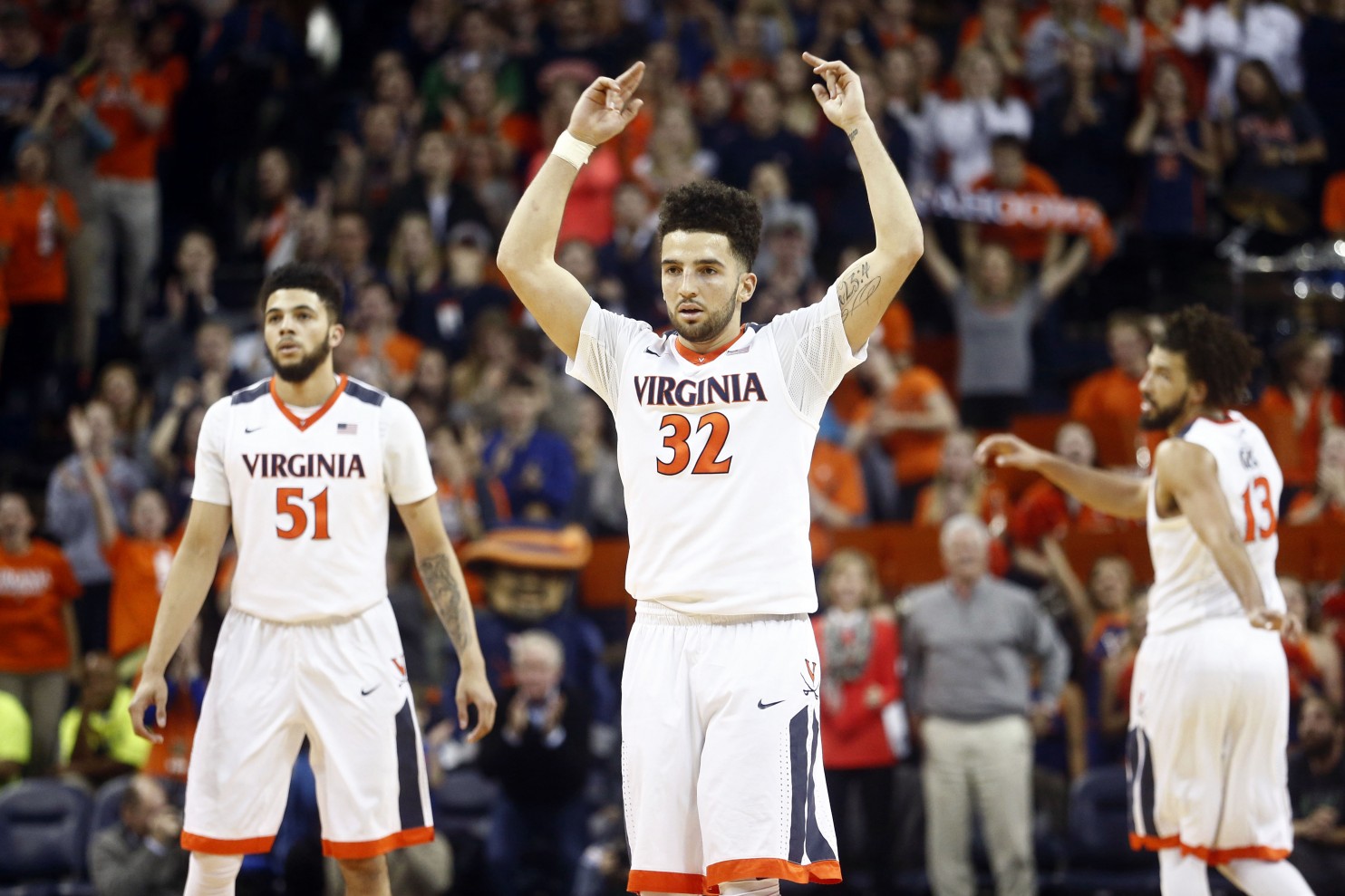 Speaking of defense, there is always the "team that no one wants to play." The West Virginia Mountaineers (+1700) are happy to slip into that role in the 2016 tournament. The Mountaineers press full court, full time and victims this year include Kansas and No. 2 seed Oklahoma. Senior guard Jaysean Paige and running mate Devin Williams toss in enough baskets on the offensive end to cause opponents even more headaches.
And how about that "dangerous team with senior leadership?" You hear about that team every tournament. Could it really be Tulsa, a team that not a single "bracketologist" picked to make the field and was only loved by the selection committee? The Golden Hurricane play seven seniors and one junior who have all played at least three years together. The odds say they will all graduate without so much as a rustling of disturbance (+20000) to the 2016 NCAA Basketball Tournament but long shot players may find early value in Tulsa's "First Four" match-up against the Michigan Wolverines.