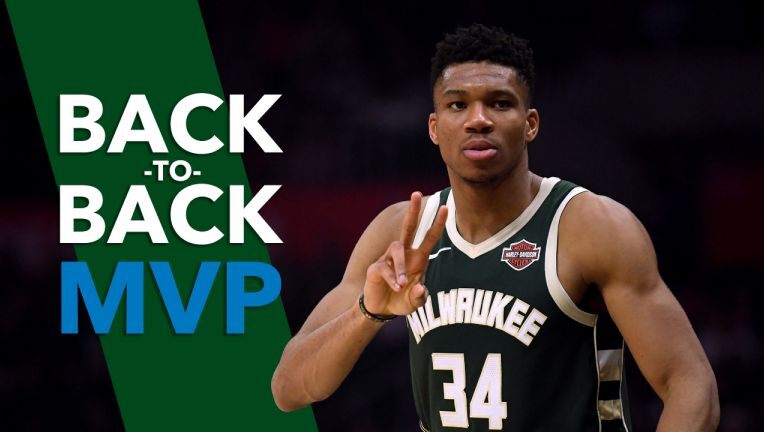 As the NBA season starts to heat up, players, coaches, and bench mobs are beginning to hit their stride. We take a look at which players are emerging as favorites for awards like the MVP, ROY, DPOY, etc.
Most Valuable Player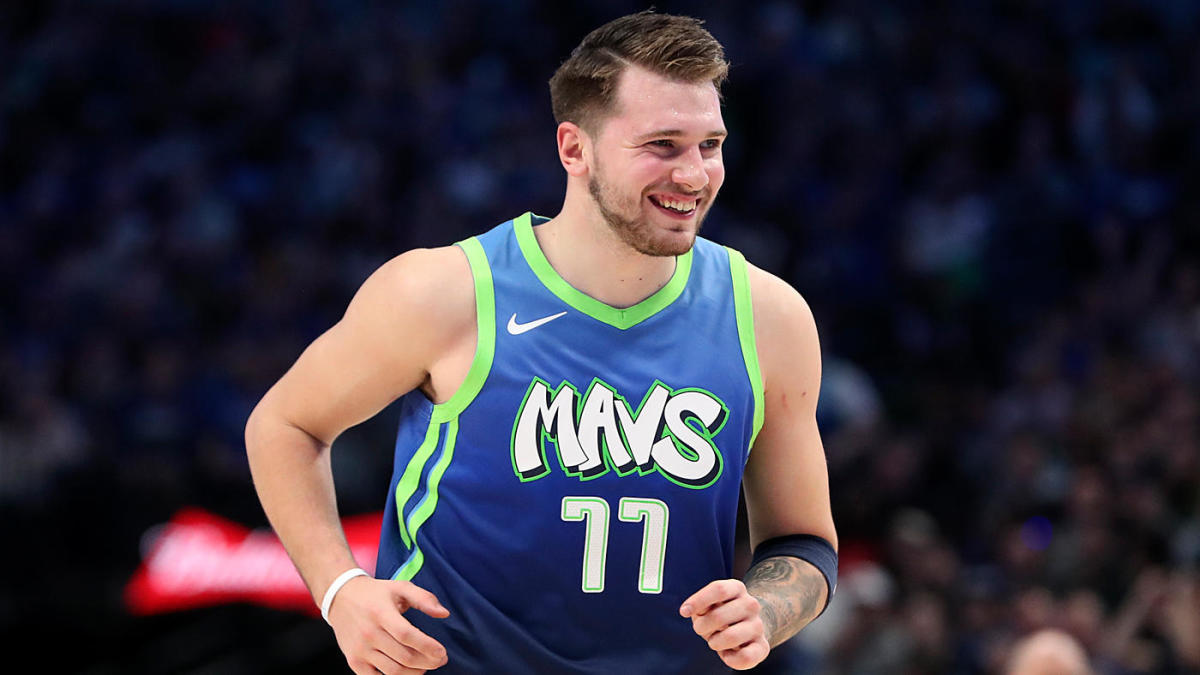 Online bookmaker 10Bet has Luka Doncic as the favorite to win the MVP at +375. Giannis Antetokounmpo and Kevin Durant follow closely behind with +600, and +700 respectively.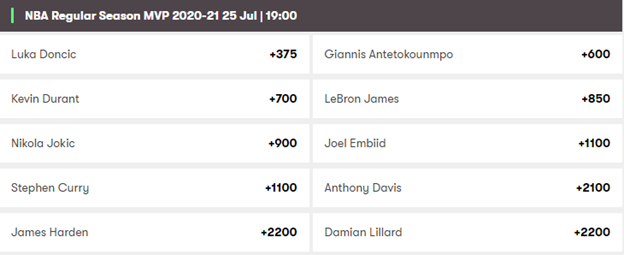 ※ Current Odds Date & Time: January 18th, 12:15 PM (EST)
The Dallas Mavericks, and Luka Doncic have had an up and down season so far sitting at a .500 record of 6-6. However, they're coming off an inspiring season in which Luka completely took over in the playoffs and nearly knocked out a LeBron James' led Laker squad. While other stars have teams that are currently ranked higher (LeBron-Lakers, Durant-Nets, Giannis-Bucks), Luka is the only one of the bunch who is almost single-handedly winning games for his team
A lot of the other players here have far more depth around them and can therefore afford to take more nights off and rely solely on the players around them. Whereas Doncic is the heart and soul of the Mavericks, so they cannot afford to sit him on any given night and simply rely on their role players.
Rookie of the Year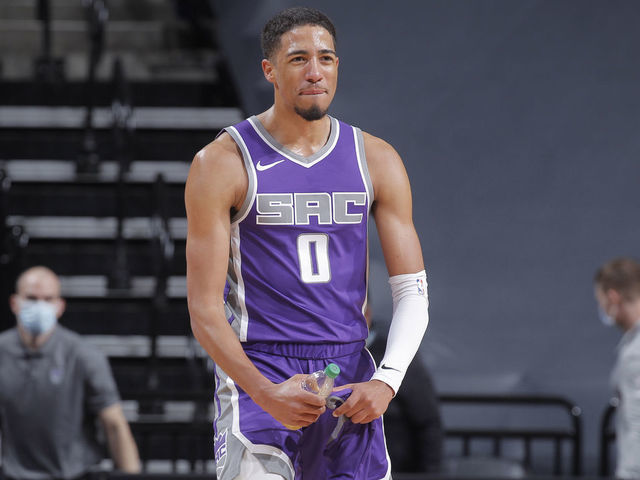 Online bookmaker 10Bet has LaMelo Ball as the favorite to win the Rookie of the Year at -200, while Sacramento Kinds guard Tyrese Haliburton follows close behind with +400.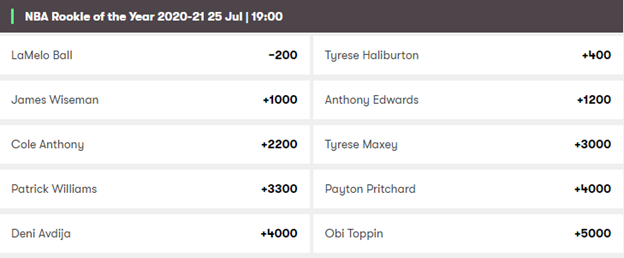 ※ Current Odds Date & Time: January 18th, 12:15 PM (EST)
This is essentially a two man race as both Haliburton and LaMelo are playing at an elite clip, and taking over games on a nightly basis.
James Wiseman (who carries the 3rd greatest odds) is in a nice situation and has put up great stats, but he does not have nearly the impact on his team that Haliburton or LaMelo does.
Similarly, Cole Anthony is also playing great all-around basketball right now. Since Markelle Fultz is likely out for the year with a torn ACL, Anthony will likely be given even more freedom as the season progresses. However, it is unlikely he will have the same impact as the current front-runners, LaMelo and Haliburton.
Most Improved Player of the Year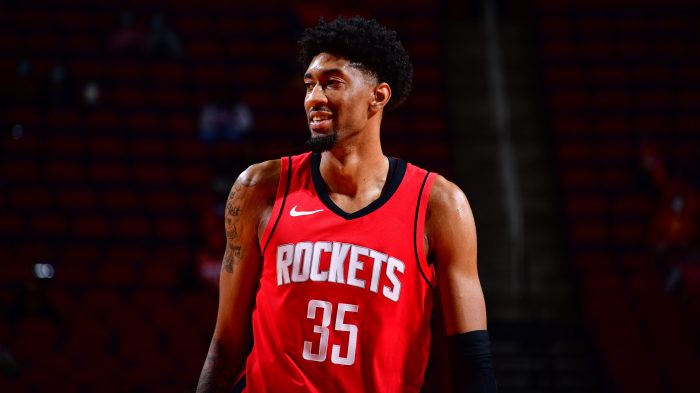 Online bookmaker 10Bet has Christian Wood as the favorite to win the Most Improved Player of the Year at -120, but Jerami Grant is inching his way into that top spot at +300.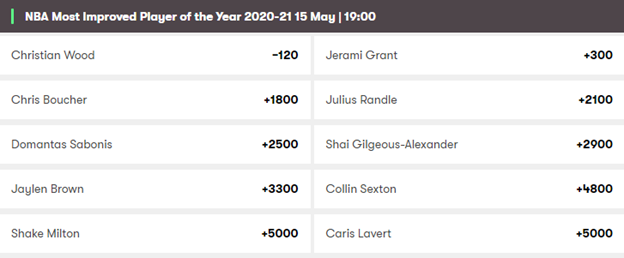 ※ Current Odds Date & Time: January 18th, 12:15 PM (EST)
To say Christian Wood has been an inspiration so far in his young career would be an understatement. He has built off of his impressive season a year ago in Detroit and has since emerged as one of the elite big men in the league.
Jerami Grant has also been thrust into a great situation and has taken advantage of it by providing great numbers all-around. It seems as though both players have found a home and seemingly fit into their respective teams like a glove.
Both Wood and Grant are playing tremendous basketball as (debatably) the two best players on their respective teams and will likely compete for All-Star spots this season as well.
Defensive Player of the Year
Online bookmaker 10Bet has Anthony Davis as the favorite to win the Defensive Player of the Year at +250 with Utah Jazz stud Rudy Gobert trailing right behind at +350.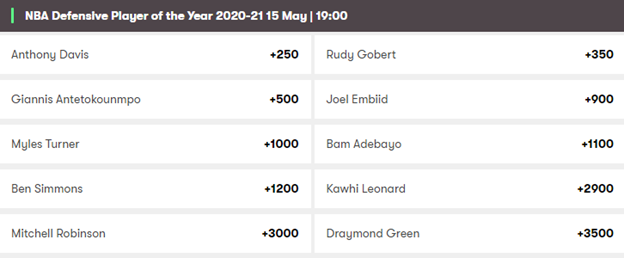 ※ Current Odds Date & Time: January 18th, 12:15 PM (EST)
As with most years, it appears that this year's award will likely come down to the trio of Anthony Davis, Rudy Gobert and Giannis Antetokounmpo.
A lot of it will heavily rely on who's team is most likely to sit their respective stars and between these players, Gobert seems like the best option in terms of durability.
There's a good chance that the Lakers and Bucks will (at some point) look to rest Giannis and AD. Whereas, Gobert is going to be paramount in Utah's game plan every single night since they don't really have a solid option to take his place if they were to sit him.
Coach of the Year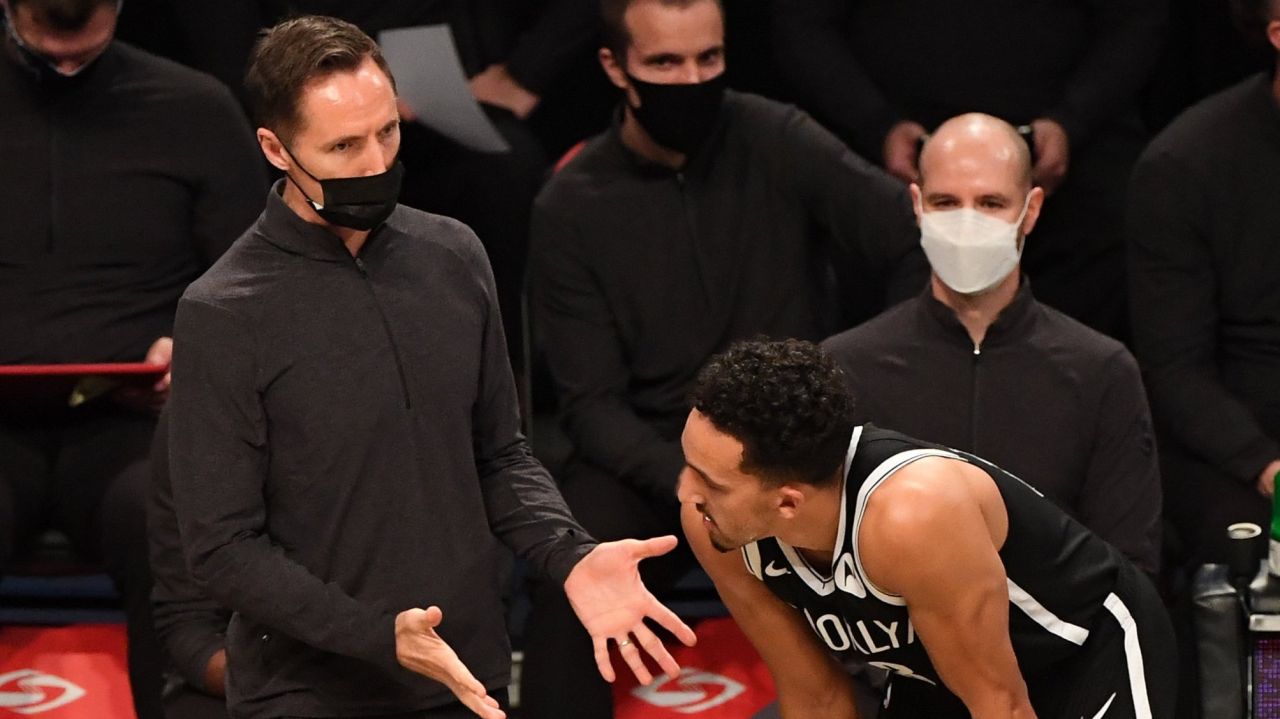 Online bookmaker 10Bet has Frank Vogel (Lakers) as the favorite to win Coach of the Year at +800, however Monty Williams (Suns), Steve Nash (Nets), and Brad Stevens (Celtics) all share the 2nd greatest odds at +900.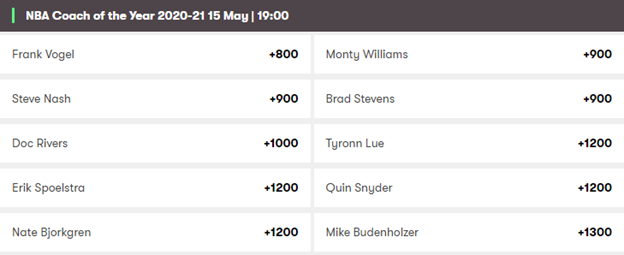 ※ Current Odds Date & Time: January 18th, 12:15 PM (EST)
This will obviously depend heavily on how each one of these teams finish but as of right now, the jobs that both Monty Williams has done in Phoenix and Steve Nash in Brooklyn have been spectacular to say the least.
Frank Vogel as well has been amazing at integrating a new group of talented players into a championship system, but it will depend entirely on how the Lakers finish.
With the addition of James Harden to the Brooklyn Nets, there is a good chance they finish as a top 3 or 4 seed in the East. If this were to happen, there is a very good chance that Steve Nash (as a first time HC with 3 big-time superstars and super-egos) will take home the illustrious title.
Similarly, Monty Williams is also new to Phoenix but has already made a massive impact in developing the Suns young core and integrating (future Hall-of-Famer) Chris Paul into the system.
Brad Stevens (Celtics) and Doc Rivers (76ers) also provide great odds, but their chances of taking home the award will once again depend on how the team finishes by the end of the season.
In short, any one of these coaches provide great odds for taking home the Coach of the Year award.
Sixth Man of the Year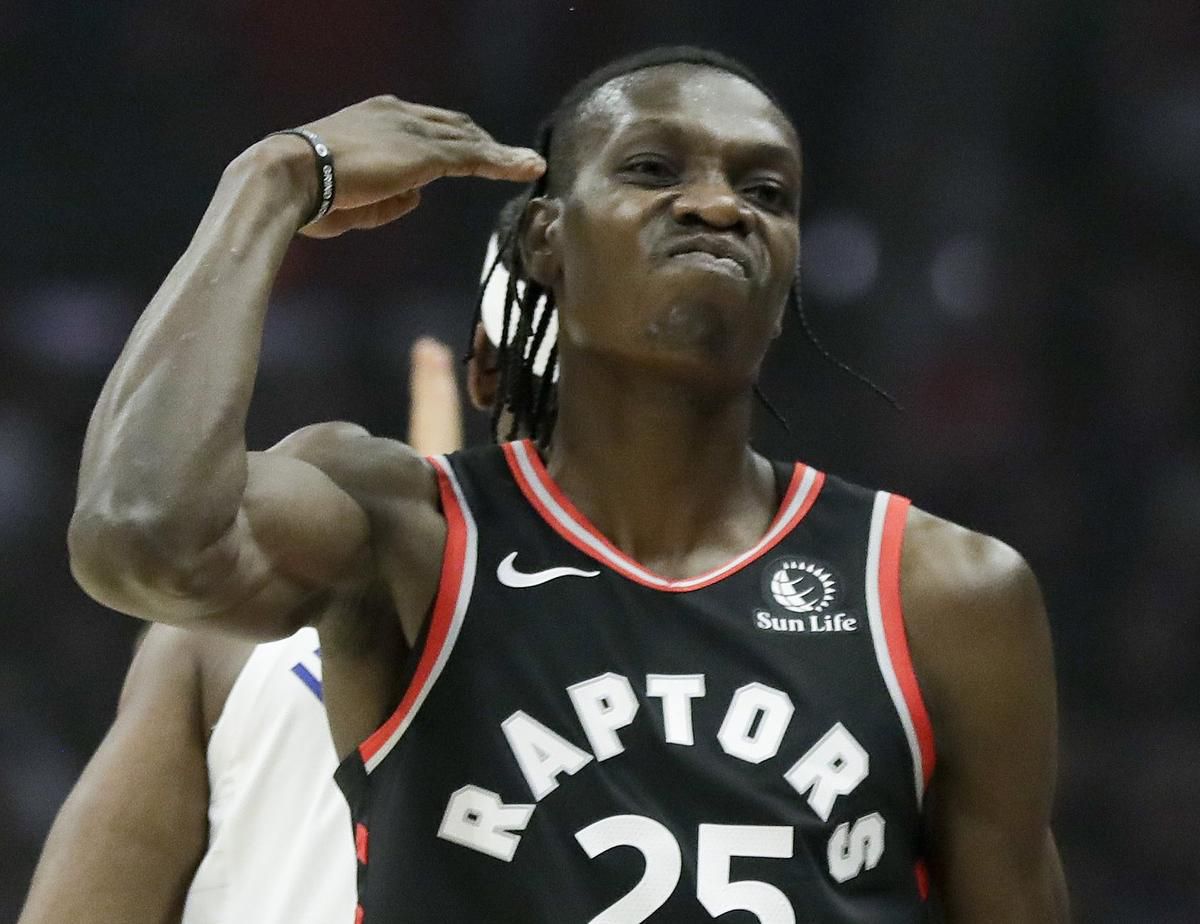 Online bookmaker 10Bet has Jordan Clarkson as the favorite to win the Sixth Man of the Year at +250 and Raptors young talent Chris Boucher follows close behind at +750.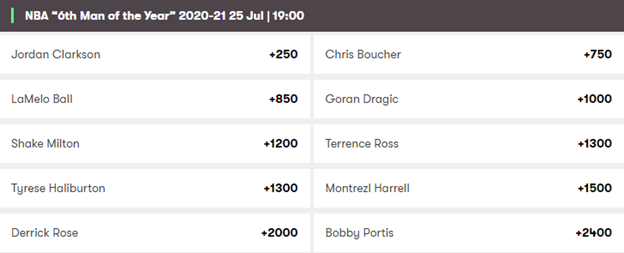 ※ Current Odds Date & Time: January 18th, 12:15 PM (EST)
Both Jordan Clarkson and Chris Boucher play for teams that are going to be in highly-competitive games all season long and don't really have reliable starters in front of them.
They both play huge roles for their teams on both sides of the floor and are in the prime of their careers (Boucher less so as he's younger and less experienced).
I doubt LaMelo will compete for this award as we get deeper into the season as he will likely get thrusted into the starting lineup as he continues to excel.
Dragic meanwhile could be a sneaky pick as the Heat have younger guards in front of him, but he is still relied on heavily to provide support off the bench.