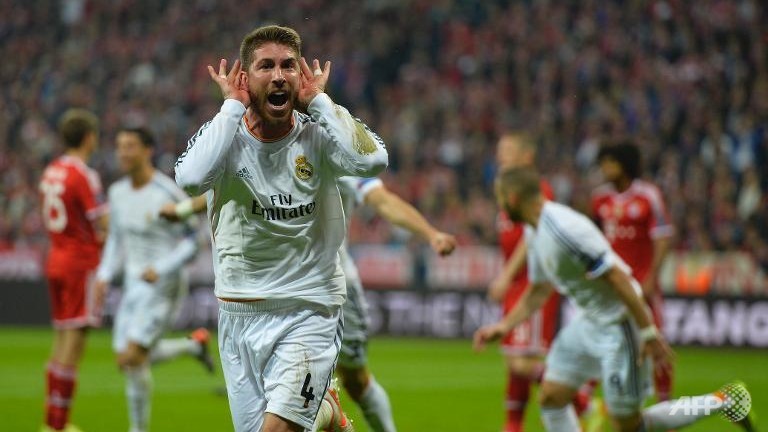 UEFA's Champions League knockout round gets underway this week and there is understandably a lot of excitement surrounding the resumption of the most prestigious club competition in Europe.
Sixteen teams are left to battle it out for European football's top prize. With the competition so fierce, one can expect a host of enticing encounters leading up to the final at the historic Olympiastadion in Berlin on June 6th.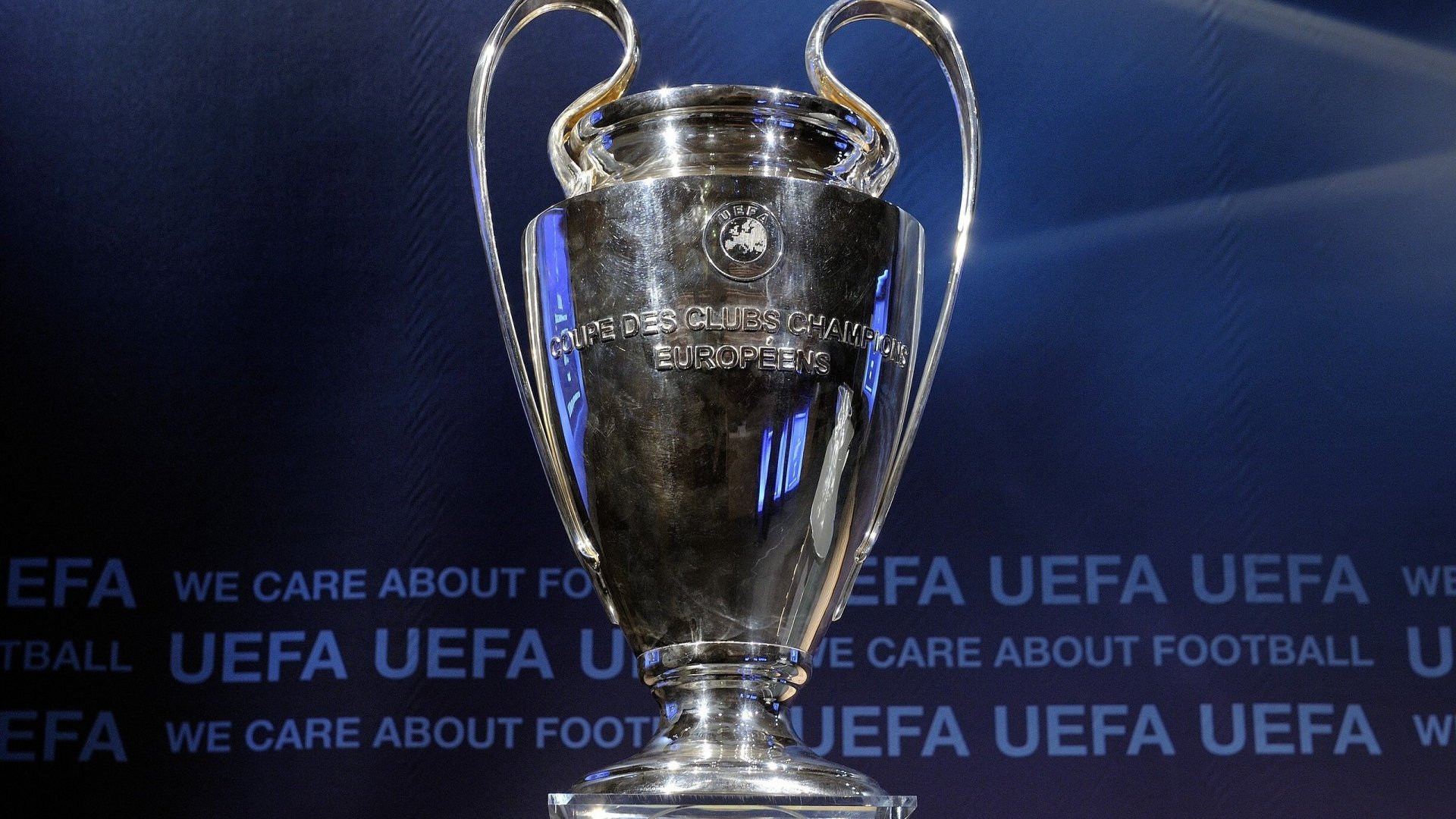 As more than two months have past since the Round of 16 draw in Nyon, we are now able to get right down to business and play some football with intriguing matchups such as Barcelona squaring off against Manchester City on the schedule.
The next few months of European football promises to deliver thrills, spills, joy, disappointment and all in all a wonderful spectacle for football fans around the world to cherish.
【2014-15 UEFA Champions League Round of 16 Matches】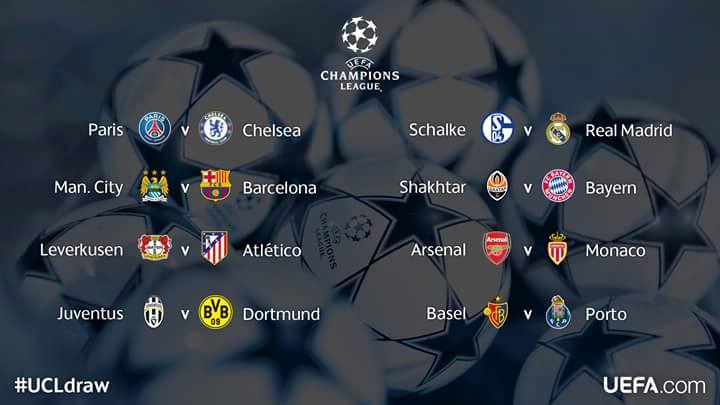 As cliché as it may sound, it is true that there are no foregone conclusions in football and especially not during the knockout stage of the Champions League tournament where all sixteen participating teams will have their eyes firmly set on going all the way.

That said though, there are certainly a couple of teams better equipped than others to claim the Champions League title. Let's have a closer look at bookmaker Dafabet's selection of the participating teams' chances to win the tournament outright.
【Dafabet: 2014-15 UEFA Champions League Outright Winner Odds】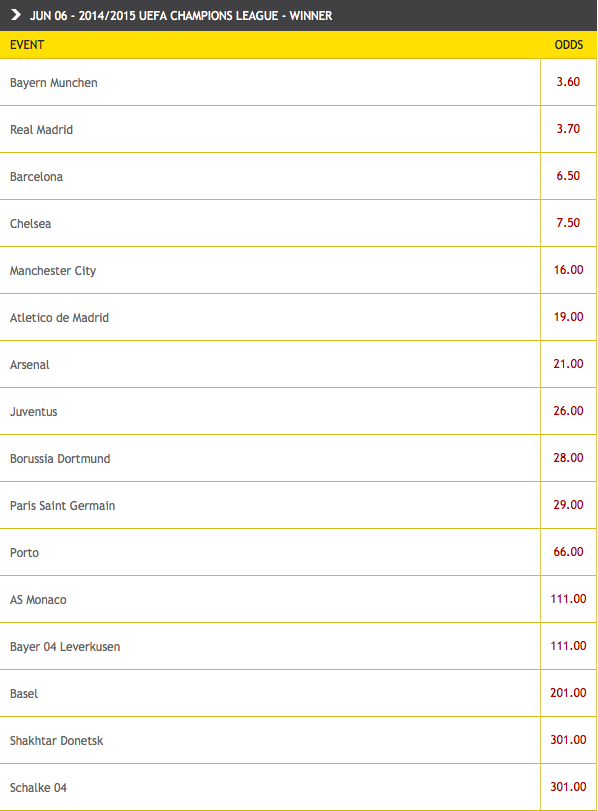 ※ Current Odds Date & Time: February 17, 11:00 a.m. (GMT)
Contenders: Bayern Munich, Real Madrid, Barcelona & Chelsea
Not coming as much of a surprise, the German giants Bayern Munich and defending champions Real Madrid have been placed as the favorites after having been priced at 3.60 & 3.70 respectively, and many expect the two teams to square off against each other in the final at the Olympiastadion in June.
Bayern has been enjoying a seemingly unchallenged supremacy at the top of the Bundesliga table while Real Madrid has also shown that they are intent on defending their hard earned European crown following an impressive first half.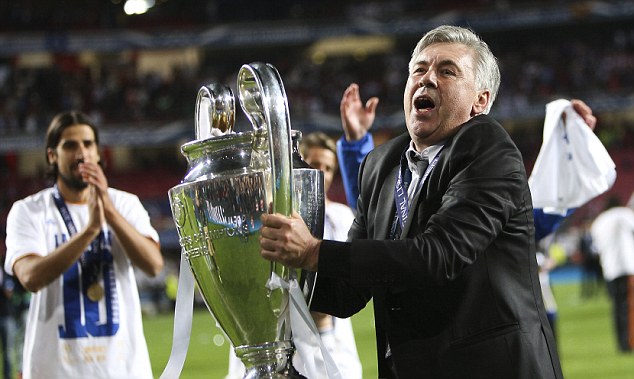 Both Bayern and Real possess extremely talented teams and with experienced managers such as Carlo Ancelotti and Pep Guardiola at the helm, the two teams, on paper, are the most equipped among the 16 to win the title.
However, it would be unwise to ignore the chances of Barcelona and Chelsea as well. Priced at 6.50 & 7.50, both Barcelona and Chelsea are expected to give Bayern and Real a run for their money.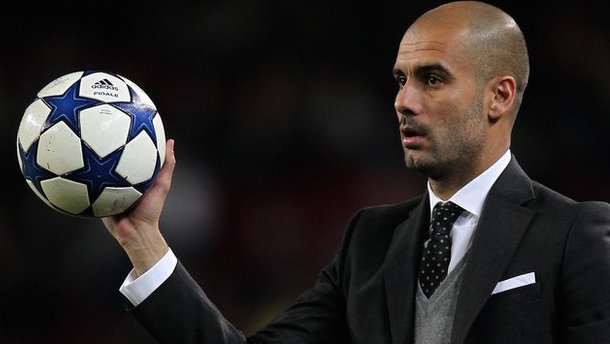 Under the tutelage of Luis Enrique, things have not been all smooth for Barcelona this season but they have managed to make a fine recovery of late and with the likes of Lionel Messi, Neymar and Luis Suarez running the show, it is hard to discount the "force" from Catalan.
As for Chelsea, "the Special One" Jose Mourinho has worked his magic once again and the Blues now seem destined for the Premier League title. Given Mourinho's winning mentality, one can be sure that he will be looking to guide Chelsea to victory in Europe as well. Given the quality of the lineup at the Portuguese manager's disposal, the London giants have to be considered genuine contenders.
Dark Horses: Manchester City, Atletico Madrid, Arsenal, Juventus, Borussia Dortmund & Paris Saint-Germain
The Champions League has the propensity to produce shocks and with the Round of 16 participants so well matched this year, expect many teams considered as dark horses to upset the order at the top.
English champions Manchester City made a meal out of their qualification from the group stages solidifying their place among the final 16. As City possesses a galaxy of stars on their side with wily old Manuel Pellegrini pulling the strings against old adversaries in Barcelona, they might be a risk worth taking at 16.00.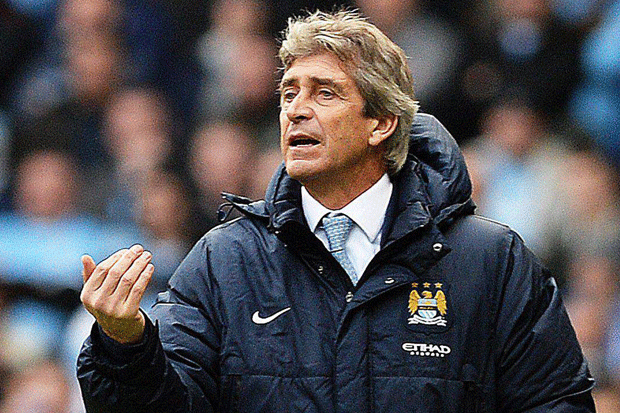 Another dark horse that stands a realistic chance of going all the way is Spanish champions Atletico Madrid (19.00). Atletico was seconds away from a historic Champions League triumph last season and despite losing a host of star players over the summer, they still boast a very good squad.
Perhaps Atletico's biggest strength is manager Diego Simeone. I think it goes without saying that the feisty Argentinean will undoubtedly be motivating his side to replicate their heroics from last year.
Premier League giants Arsenal usually tend to disappoint during the knockout stage of the Champions League tournament but after having been handed a relatively negotiable draw against Monaco this year, the Gunners are gaining confidence at the right time for finally challenging the best Europe has to offer with Alexis Sanchez leading the charge.
The same perhaps can be said of Italian champions Juventus (26.00) as well. The Old Lady has been dominating domestically but their performances in Europe have been nothing to write home about and they will be looking to set the record straight this year. Paul Pogba and Arturo Vidal are the two headliners among the Juventus ranks but the Italian side will require a collective effort if they are to do well.
Normally, Borussia Dortmund would have been priced lower than 28.00, but this time around not many are fancying the German squad due to the fact that they have endured an uncharacteristic poor domestic campaign so far. Currently languishing at the lower reaches of the Bundesliga table, it would be a huge surprise if Jurgen Klopp can inspire his side to another dream run in the Champions League.
French champions Paris Saint-Germain have spent lavishly in order to make their mark in Europe and although they do possess a very good group of players, lack of experience could mean that the Parisians will be approaching the tournament in hope rather than realistic optimism.
Outsiders: Porto, AS Monaco, Bayer Leverkusen, Basel, Shakhtar Donetsk & Schalke
Apart from the aforementioned big names, it would be considered an achievement for the rest of the pack to make it past the knockout stage.
The likes of Porto, AS Monaco and Bayer Leverkusen are the three teams who are expected to stake a claim for further progression in the tournament however the same can't be said for the likes of Basel, Shakhtar Donetsk and Schalke.
Porto has been handed a kind draw against Basel and are widely expected to go through. That said, the Swiss giants did manage to knock out Liverpool en route to the Round of 16 and the Portuguese side would be ill advised to head into the game with complacency on their minds.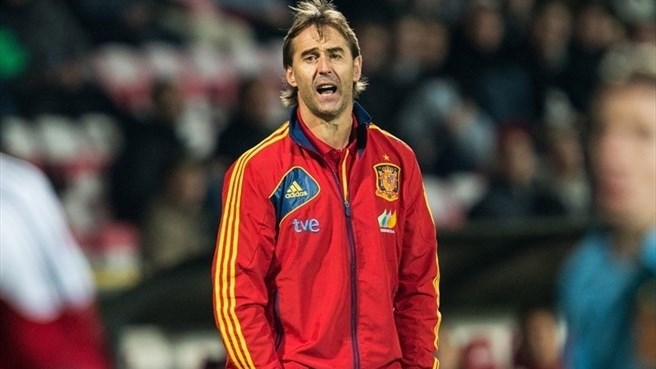 French side Monaco has made a good recovery following a difficult start to their season and the clash against Arsenal and hero Arsene Wenger will be a real test of their mettle. Arsenal is not invincible by any means, and if Monaco can somehow manage to beat the Premier League stronghold, they will surely approach the rest of the competition without fear.
Bayer Leverkusen face-off against last year's finalists in Atletico Madrid and much like Monaco, the German side will be hopeful they can cause an upset, which isn't a figment of anyone's imagination.
As for Shakhtar and Schalke though, the prospects does not look very promising. Shakhtar has been handed a draw against Bayern while Schalke, once again, pit their wits against Real Madrid. Even though nothing in football is certain, the two sides look destined for elimination from the Round of 16.
As for which player will achieve top honors once the tournament is said and done come June 6, bookie「Dafabet」sheds some light on who the oddsmakers are pinning to come away with the top goal scorer accolades of this season's campaign.
【Dafabet: 2014-15 UEFA Champions League Top Goal Scorer Winner Odds】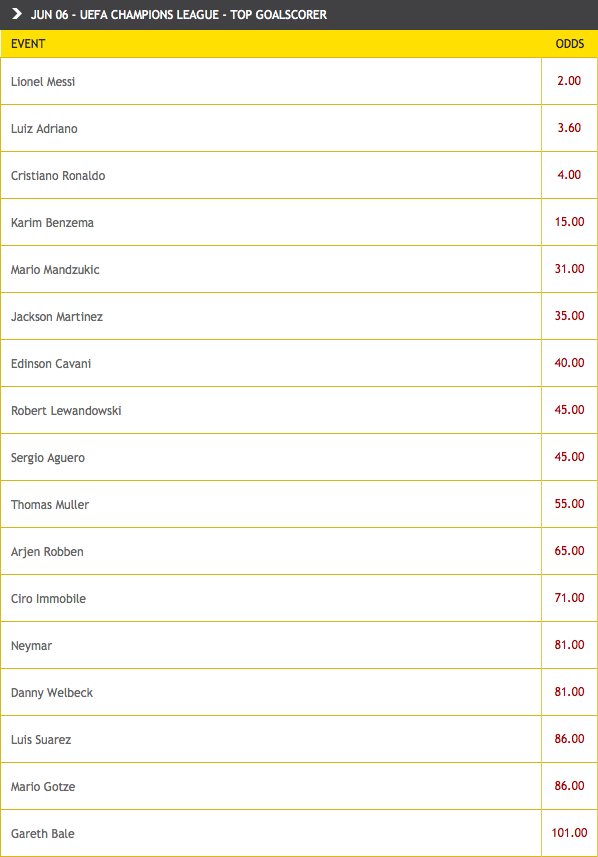 ※ Current Odds Date & Time: February 17, 11:00 a.m. (GMT)
Contenders: Lionel Messi, Cristiano Ronaldo & Luiz Adriano
As usual, superstars Lionel Messi and Cristiano Ronaldo have been placed as favorites to end this year's competition with the highest number of goals but Shakhtar sensation Luiz Adriano will also be hopeful of gate crashing the party.
Adriano is currently the competition's top scorer with a whopping nine goals during the group stages, which included consecutive hat tricks against BATE Borisov. The Brazilian striker's haul is very impressive but from a realistic view, he is unlikely to finish the tournament with the most number of goals.
With Shakhtar being drawn against Bayern Munich, it seems very likely that the Ukrainian side will have to bid farewell to the competition early and consequently, Adriano will find it very difficult to improve on his current tally.
Therefore, it is expected that Messi and Ronaldo will once again lock horns and compete to win the title as the tournament's top scorer. As of now, Messi has the advantage over Ronaldo at eight goals to five.
Everyone knows that the tables can turn in a matter of a single game though, and it will be interesting to see which superstar can out do his rival this time around.
Outsiders: Sergio Aguero, Karim Benzema, Jackson Martinez, Mario Mandzukic & Edinson Cavani
If we look beyond the duo of Lionel Messi and Cristiano Ronaldo, there are a host of other footballers who are capable of finishing the tournament as the top goal scorer.
It would not be an exaggeration to say that Sergio Aguero was the man who single handedly guided Manchester City to the knockout round of the Champions League. If the English boys are to progress further in the competition, Aguero will need to repeat his earlier performances against the stiffer competition.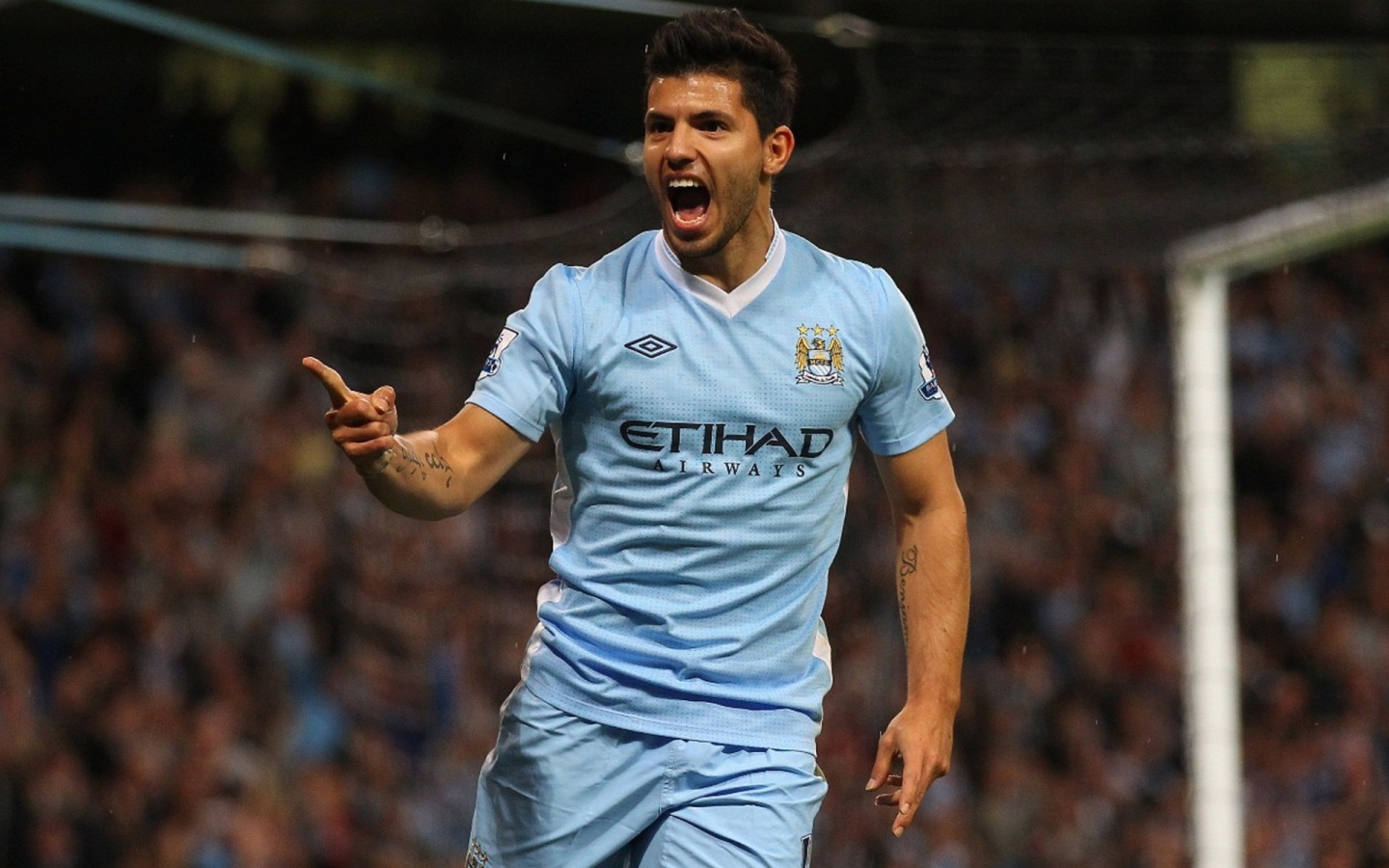 With five goals so far, Aguero has already shown his predatory instincts and he will surely have a huge say when Manchester City squares off against Barcelona later next week. At 45.00, Aguero seems like a long shot to win the top goal scorer crown but if City can see off Barcelona, the Argentine striker looks like a good bet.
Another contender with five goals to his name is Karim Benzema. The Frenchman has been a key player for Real Madrid this season and if Ronaldo fails to deliver expect Benzema to make up for it. With Madrid expected to go far in the competition, Benzema will surely be in contention for the top scorer title.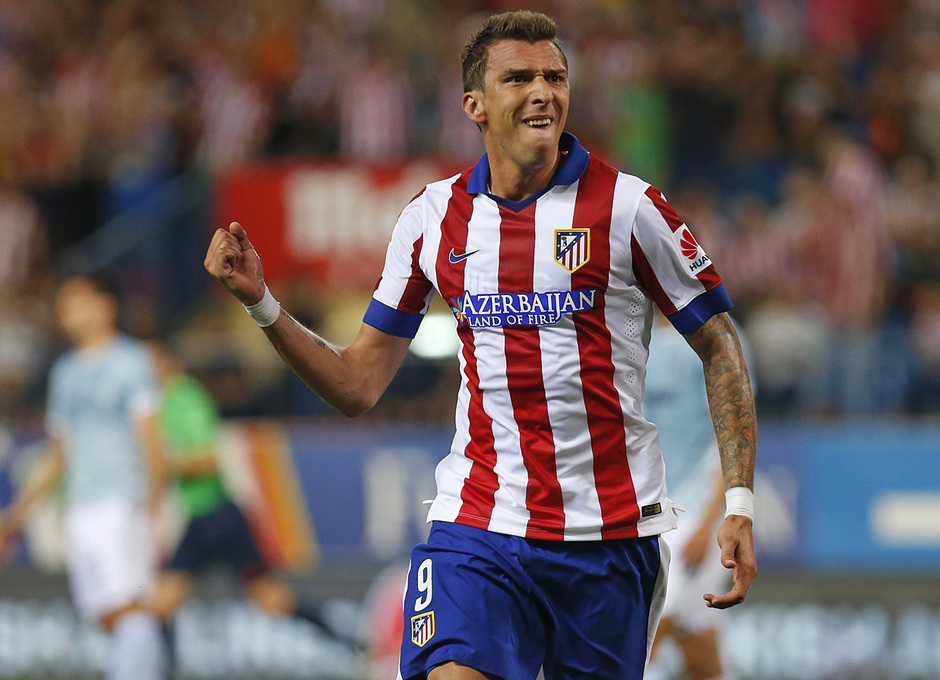 Jackson Martinez, Mario Mandzukic and Edinson Cavani are the other strikers with five goals to their name so far but if the trio is to finish among the top scorers, a lot will depend on how far their respective teams progress in the competition.
Out of the three, Mandzukic seems the best choice. Atletico Madrid is expected to reach the quarterfinals of the competition at least and given the fact that Mandzukic has already produced the goods at the highest level in Europe before with Bayern Munich, placing a bet on him with odds priced at 31.00 (courtesy of Dafabet) is one definitely worth taking.

But before we can toast to the top goal scorer we must first focus on the initial leg of the knockout round that gets underway later this evening. For a closer look at the pairings, let's check in with British sportsbook「Sportingbet
」and their linesmakers.
【Sportingbet: 2014-15 UEFA Champions League Round of 16 Odds】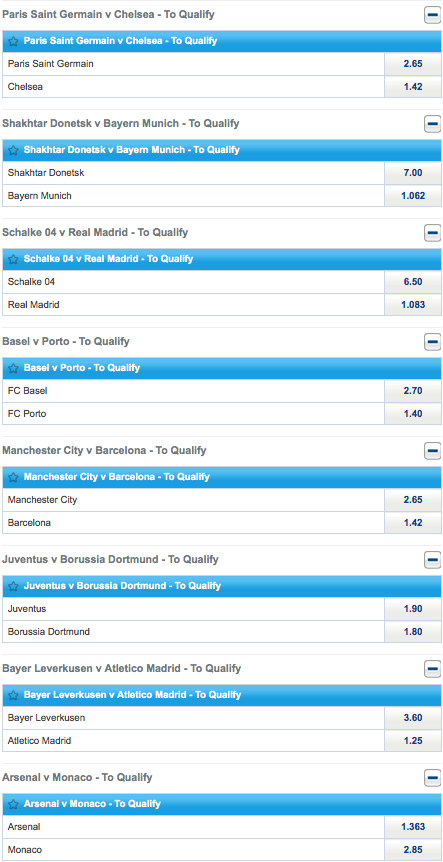 ※ Current Odds Date & Time: February 17, 11:00 a.m. (GMT)
Juventus and Borussia Dortmund is practically too close to call and five of the other games aren't priced too far apart providing not only enticing match-ups but also betting opportunities.
With the first kickoff of the knockout stage only a few hours away, European soccer again takes center stage of the sporting world. The road to Olympiastadion re-starts now!
【2014-15 UEFA Champions League Group Stage Top 10 Goals】