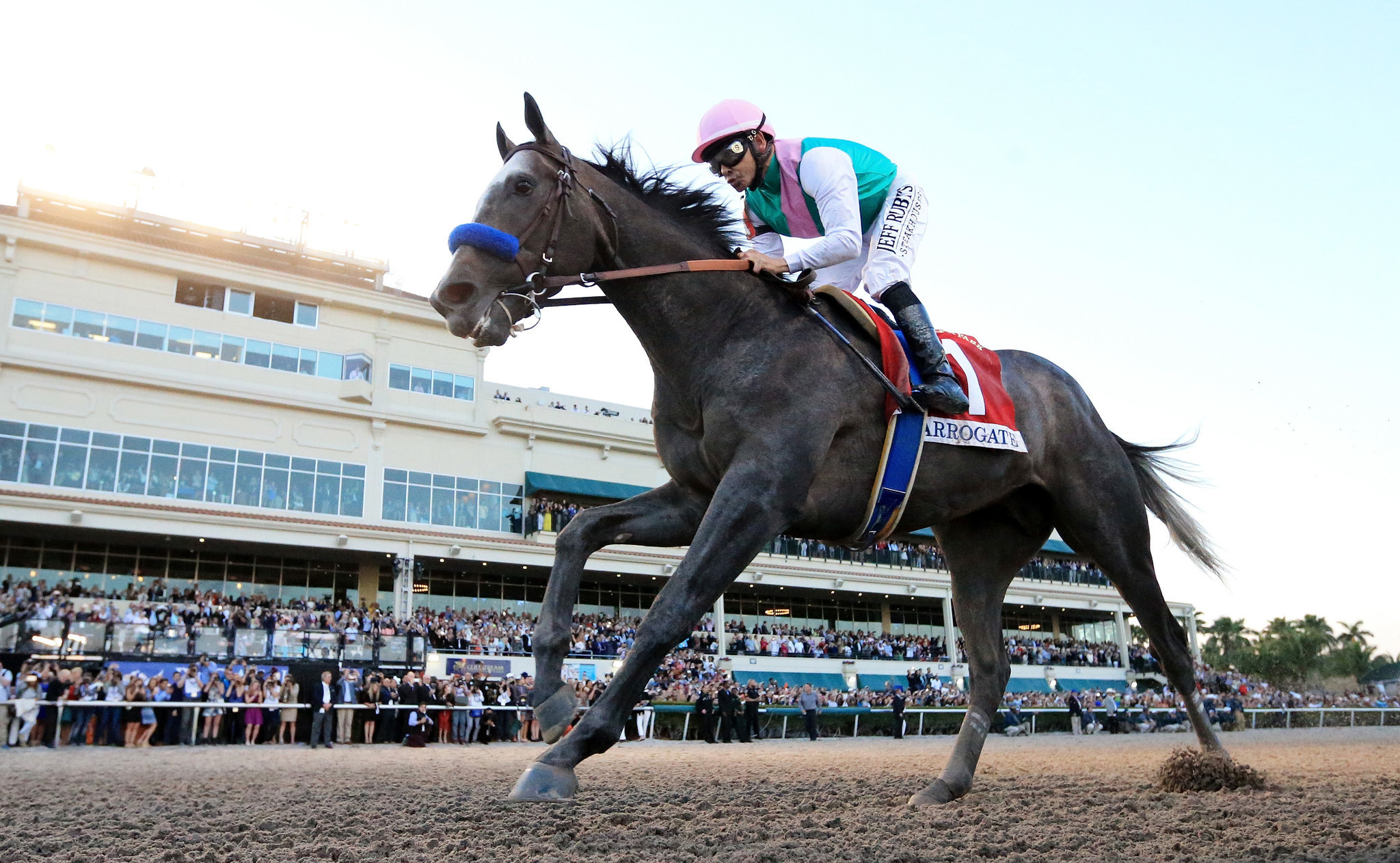 After 32 years horse players pretty much know what to expect with the Breeders' Cup – the year's best American horses with a smattering of international stars tossed into 13 Grade 1 races over two days chasing $28 million in prize money. But handicappers will get a new variable in 2017 as the Breeders' Cup puts down stakes at Del Mar Racetrack in southern California for the first time. The legendary seaside track is known mostly for the celebrity set that comes to its summer meet and not for its high-stakes racing. In addition, many of the horses will be seeing the oval for the first time.
And that track may be a factor in the biggest storyline of the Breeders' Cup – the showdown between four-year olds Arrogate and Gun Runner in the $6 million Classic. Arrogate won last year's Classic which earned him the honors of Horse of the Year and Longines World's Best Racehorse. The Bob Baffert-trained colt continued his winning streak in 2017 with impressive wins in the $12 million Pegasus World Cup and $10 million Dubai World Cup to become the leading North American money-winner of all-time.
2017 Breeders' Cup Classic Outright Winner Odds



※ Current Odds Date & Time: November 1, 4:00 a.m. (GMT)
Latest Odds: Breeders' Cup Classic (courtesy of bet365)
Then Arrogate settled in for the summer at Del Mar. In two races he finished a desultory fourth and second as a prohibitive favorite. Punters are left to wonder if a horse for the ages has a dislike for the track or if some other unknown factor is in play. Baffert has won three straight Classics and online bookmaker bet365 has Arrogate at 2/1 to make it a four-bagger.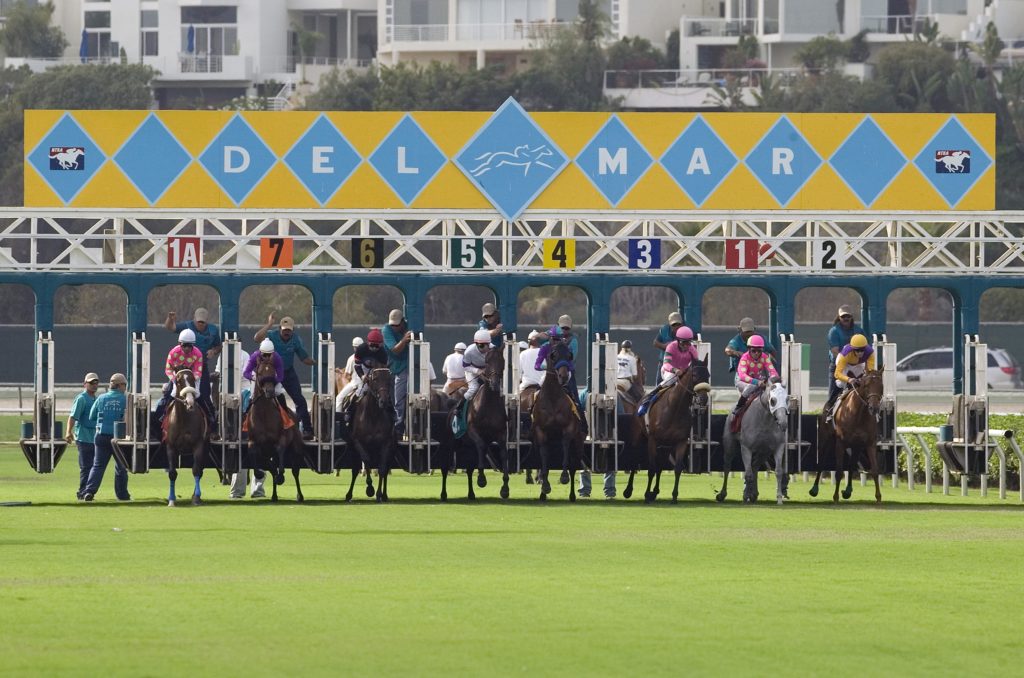 While Arrogate has mystified over the summer there are no questions about Gun Runner, who has matured into a top four-year old. After losing to Arrogate in Dubai, Gun Runner has clicked off consecutive Grade 1 victories by seven lengths in the Stephen Foster Handicap, 5 1/4 lengths in the Whitney Stakes and 10 1/4 lengths in the Woodward Stakes. While Gun runner may be the best horse currently in training, backers will want to note that Steve Asmussen's colt is still 0 for 3 in races at the Classic distance of 10 furlongs. Gun Runner is also 2/1 as he seeks to prevent Arrogate from becoming only the second back-to-back winner in the Breeders' Cup Classic.
Beyond the two favorites Collected is offered at 5/1. A stablemate of Arrogate, Collected dealt his barn companion one of those losses at Del Mar in the Pacific Classic Stakes. He is also an impressive 8 for 11 lifetime at 10 furlongs. After a lightly regarded three-year old campaign, Collected's four-year old season has been a revelation with four victories in four outings, including a 14-length demolition of the field in the Grade 3 Precisionist Stakes.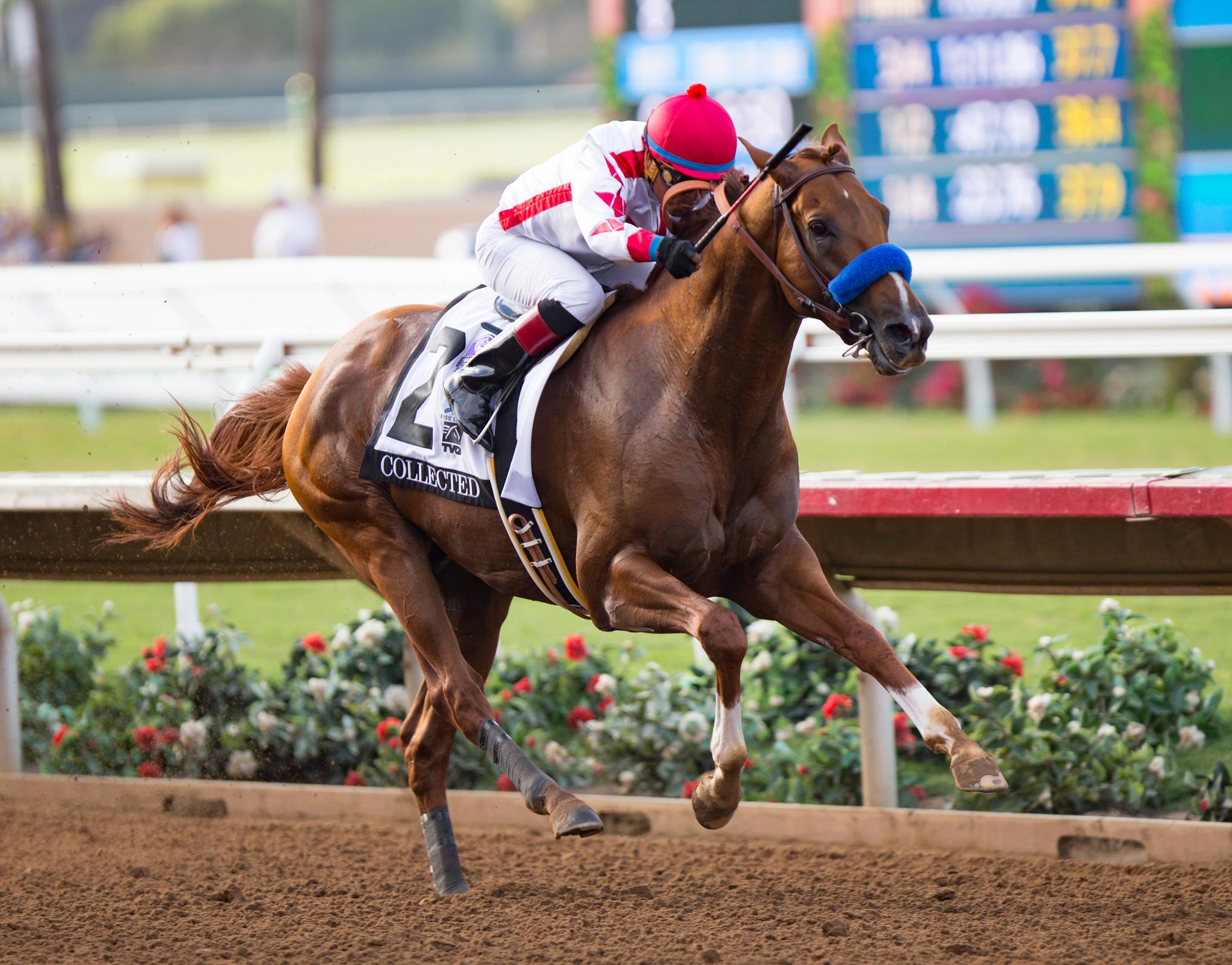 The 2017 racing season has not yet produced a stand-out three-year old. West Coast has emerged as the star of the crop with a commanding 3 1/4-length win in the Travers Stakes at Saratoga in August. If West Coast is indeed maturing into a Classic champion he will reward backers at 6/1. The rest of the Classic field is filled with hopefuls and long shots, led by Aidan O'Brien's Irish champion Churchill at 16/1. Churchill flashed top form at Ascot but he will be moving to the dirt and 10 furlongs for the first time.
2017 Breeders' Cup Turf Outright Winner Odds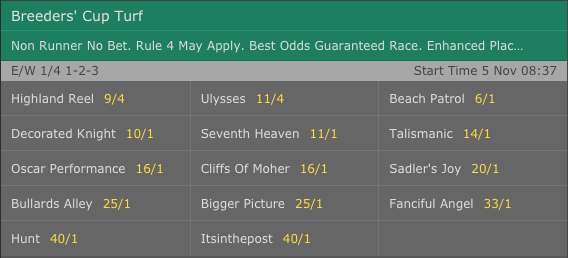 ※ Current Odds Date & Time: November 1, 4:00 a.m. (GMT)
Latest Odds: Breeders' Cup Turf (courtesy of bet365)
O'Brien will also be saddling the defending champion, Highland Reel, in the $4 million Breeders' Cup Turf. Once again, handicappers will be looking at the track as the Irish colt seems to prefer a firm footing which he is likely to get at Del Mar. That alone could warrant a chance on the 5-year old favorite at 9/4.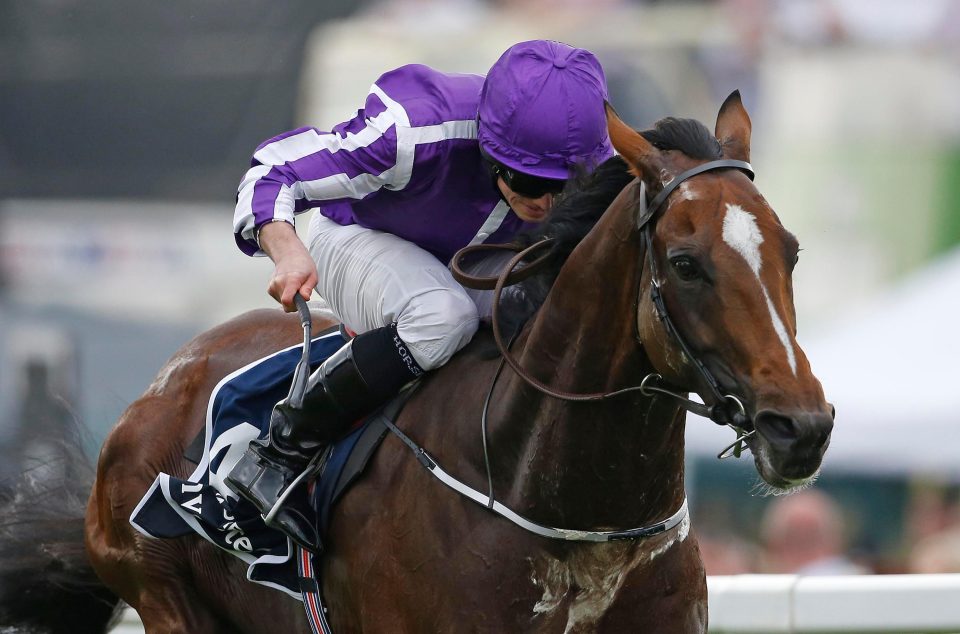 Looking to provide the stiffest challenge in the Turf will be a half-brother of Highland Reel, Ulysses. The Sir Michael Stoute-trained son of Galileo goes to the gate at 11/4 but has had a checkered career chasing both Highland Reel and this 12-furlong distance. Beach Patrol (6/1) will be the leading American defender. The 4-year old out of Lemon Drop Kid has scores in the Arlington Million XXXV Stakes and the Joe Hirsch Turf Classic Invitational and has run well at Del Mar in the past.
2017 Breeders' Cup Mile Outright Winner Odds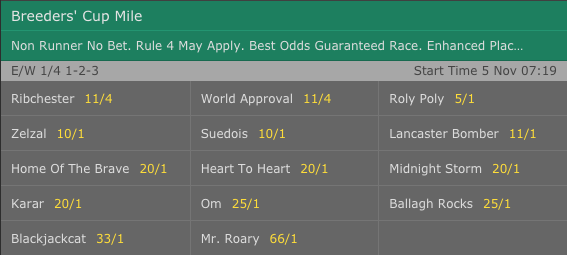 ※ Current Odds Date & Time: November 1, 4:00 a.m. (GMT)
Latest Odds: Breeders' Cup Mile (courtesy of bet365)
Ribchester, the co-favorite in the $2 million Breeders' Cup Mile at 11/4, will be making the United States his fourth country on an international tour this year that has produced Grade 1 wins in the Al Shaqab Lockinge Stakes, the Queen Anne Stakes and the Qatar Prix du Moulin de Longchamp. Despite the weariness induced by this globe-trotting four-year old, who will wind up his illustrious racing career at Del Mar, Ribchester has not finished out of the money all year.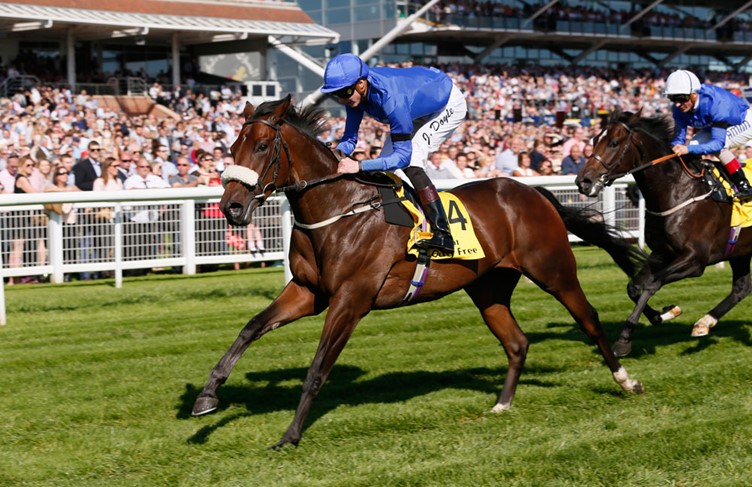 Ribchester will tangle with North American miler World Approval (11/4) who came through the Breeders' Cup Challenge series with wins in the Ricoh Woodbine Mile and Fourstardave Handicap. Third choice in the Mile will be O'Brien's three-year old filly Roly Poly. She has notched a trio of Grade 1 wins in her sophomore year and if she brings downs the older boys in the Mile she will return 5/1 at bet365.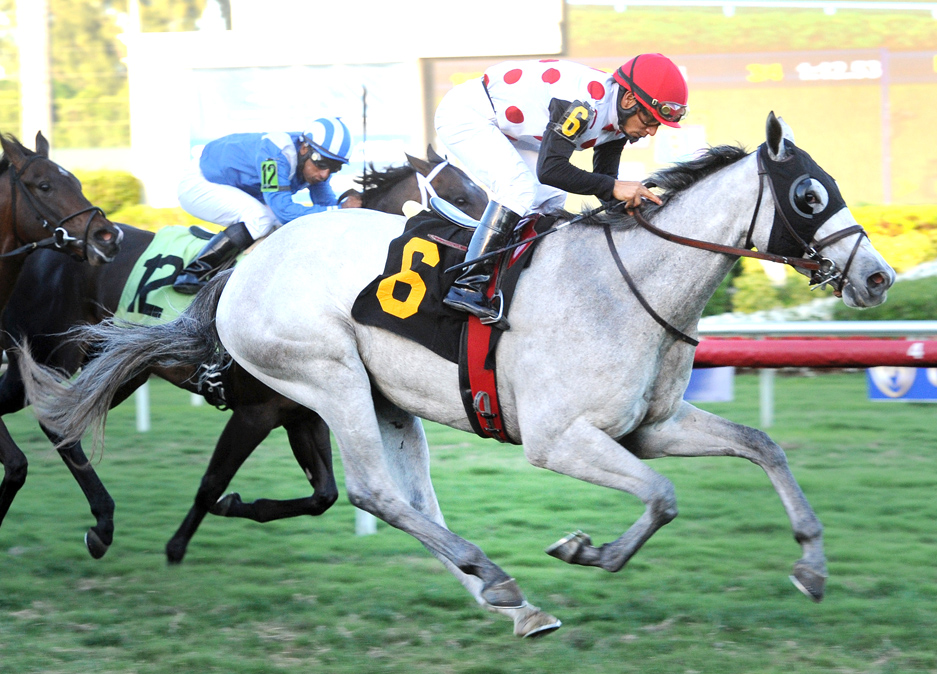 In the premier Breeders' Cup race for ladies only Stellar Wind has been installed as the 15/8 favorite in the Distaff. It is not an unfamiliar spot for the five-year old daughter of Curlin who was the hot horse coming into this race last year. She failed to fire in 2016 and trainer John Sadler has sent Stellar Wind to the post only three times in 2017 to ease her into this race. She hasn't raced in three months but Stellar Wind is undefeated in three trips around Del Mar.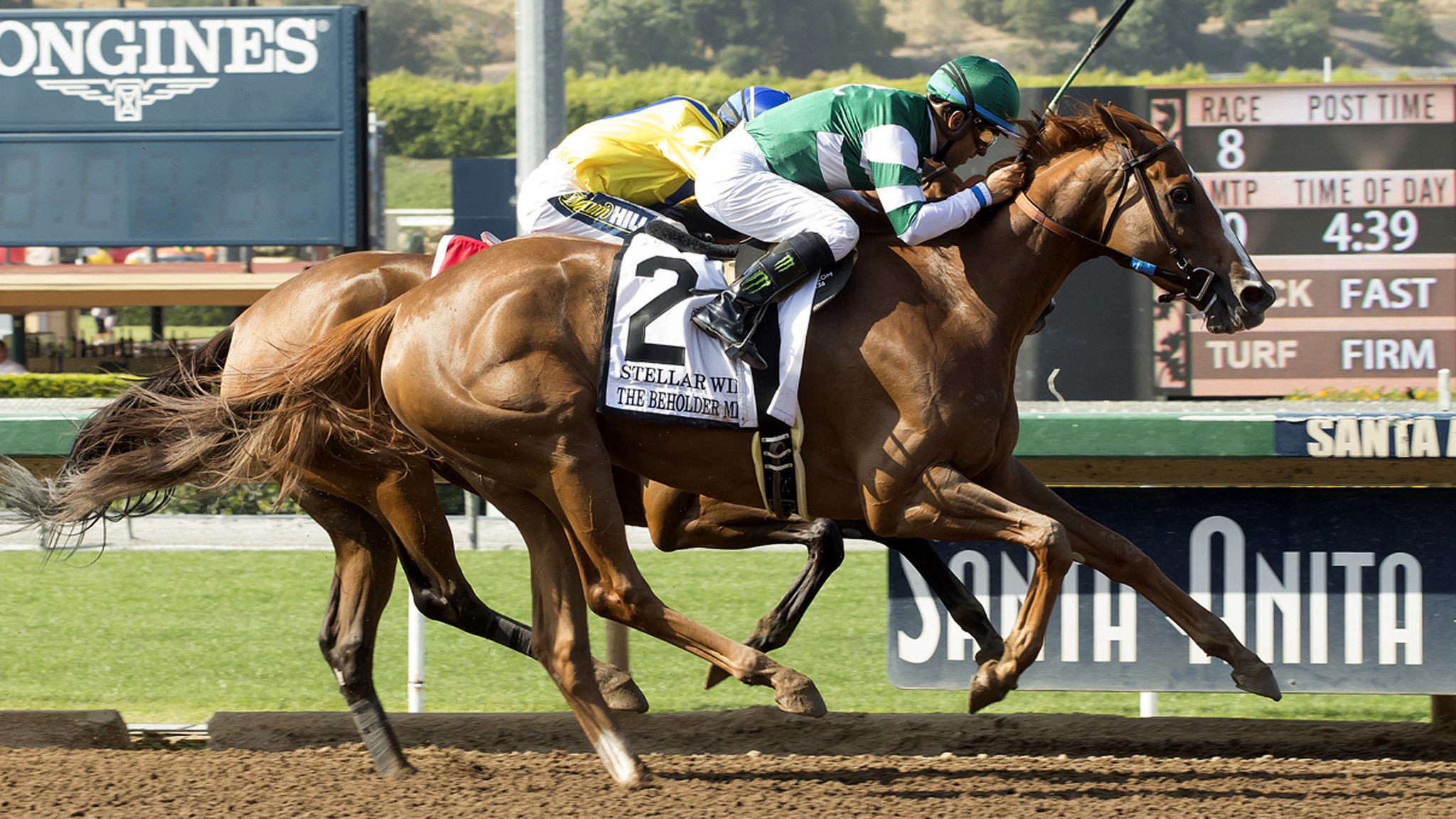 Elate at 10/3 is coming into the Distaff on a different approach. The three-year old filly has been rounding into form with recent wins by 5 1/2 and 8 1/4 furlongs respectively in the Alabama Stakes and Beldame Stakes in the past two months. The conqueror of the great Songbird in 2016, Forever Unbridled, has been eased back into racing this year following surgery for the removal of a bone chip after last year's Distaff. She has won both her races in 2017 and will be dangerous in this year's version of the Distaff at 7/2.
2017 Breeders' Cup Distaff Outright Winner Odds



※ Current Odds Date & Time: November 1, 4:00 a.m. (GMT)