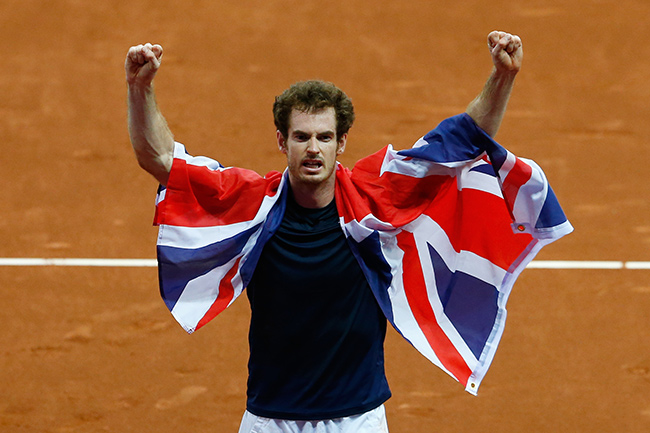 If bettors have not checked in on tennis since the summer's major tournaments they are likely in for a surprise in handicapping this week's Barclays ATP World Tour Finals. For the first time in over 700 weeks someone not named Roger Federer, Rafael Nadal or Novak Djokovic is the No. 1 ranked player in the world. Andy Murray, who first reached No. 2 over seven years ago and spent a total of 76 weeks in the heir-apparent position finally ascended to the top ranking after his victory in the Paris Masters last week. At the age of 29, Murray is the second oldest player ever to reach No. 1 for the first time.
As a result, Murray enters the tour's season-ending tournament – which Djokovic has won four straight times and Murray has never own – as the betting favorite in the elite eight-man field. That select group in London will not include Federer and Nadal who have both been hobbled by injuries and seen their careers rushing towards an exit faster than anticipated in 2016. For his part, Djokovic has won seven titles this year, a few short of the amazing 11 he snared in 2015, but the same as 2013 and 2014. He has also won two majors, the Australian Open and the French Open.
But after the French Open trophy gave Djokovic a career Grand Slam, his motivation, by his own admission, waned. The overpowering Serb was bounced early at Wimbledon and came up short in the finals of the U.S. Open against Stan Wawrinka. He has experienced uncharacteristic early dismissals from recent tournaments. His poor form continued last week in Paris when he was ousted in the quarterfinals. Djokovic's dip in play has allowed Murray to motor pass him in the rankings. Djokovic will admit to no physical ailments but pins his stretch of bad play to a combination of mental exhaustion and a refocusing of goals.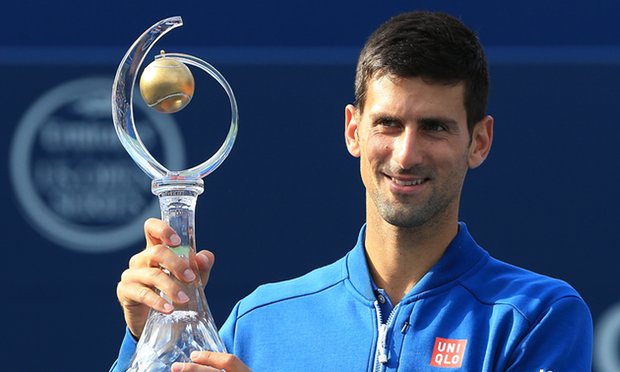 Djokovic has not slid so far down the rankings that he cannot still finish as the game's No. 1 for the third straight year. Winning this tournament for the fifth straight time would stop Murray's reign atop the sport at one week and carry Djokovic to the Australian Open in January, an event he has dominated the past two years, as the world No. 1. That should be enough motivation to roust his temporarily moribund game. On the blue court in London Djokovic has been a force, going 18-1 in the round robin format in the past four years, losing only eight sets. His overall record in final matches in this event is 5-0. Djokovic has been listed as a short 2.50 second favorite by online bookie Unibet.
【2016 ATP World Tour Finals Outright Winner Odds】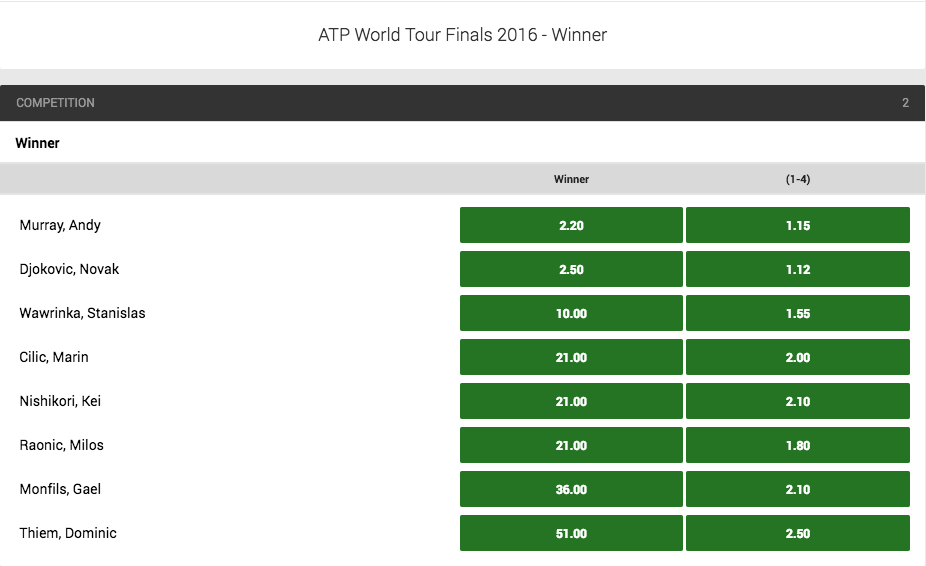 ※ Current Odds Date & Time: November 12, 3:00 a.m. (GMT)
Murray enters the ATP World Finals as the betting favorite, a position he had never been in until last week's Paris Masters with Federer, Nadal or Djokovic in the draw. The upheaval in world rankings has not been simply a matter of Djokovic being off his game. Murray has collected eight titles this year, including Wimbledon, a gold medal at the Olympics and everything he has entered lately. His record in 2016 in 73-9 and includes wins head-to-head against Djokovic this year. Still, his record against his main rival is still only 10-24 lifetime. Murray has never reached the finals in this event and he will need to stay in his best form to keep the top ranking that has so long eluded him. He is a 2.20 favorite to do so.
Since the ATP World Finals moved to London in 2009 only twice has the final not featured the two top betting favorites. Best positioned in the elite eight to that this time around is Stan Wawrinka who is at a career high No. 3 ranking and can insure finishing the year that high for the first time. The Stanimal has won a career tying best four titles this year, including that U.S. Open for his third major title. Before laying bets on Wawrinka at 10.00, punters may want to take note that the Swiss master has never claimed any of his 15 titles indoors.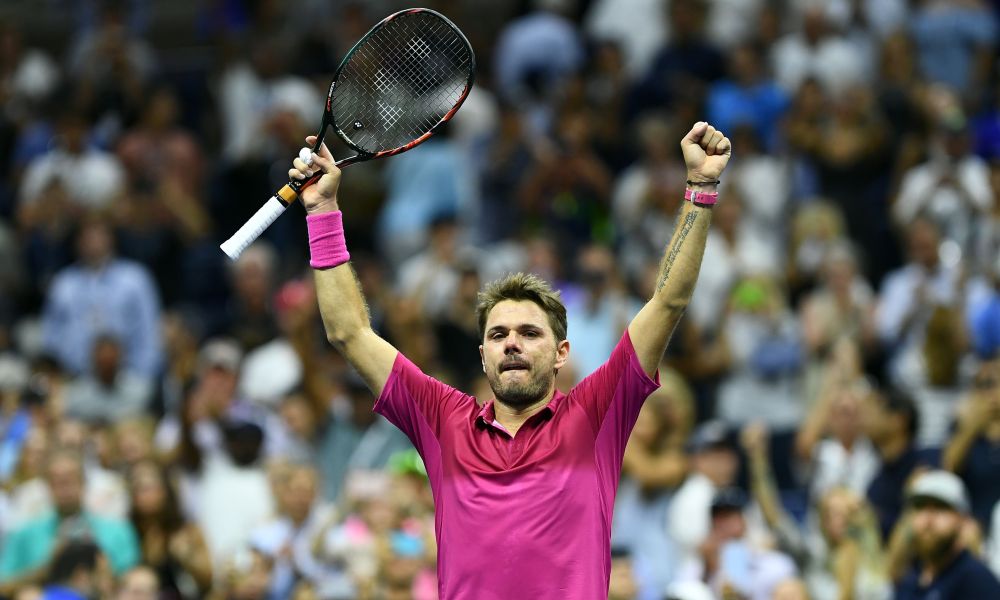 In a short-field tournament there is always an outsider no one wants to face. This time around that feared player comes in the form of Marin Cilic. This is the 28-year old's second go-round in Greenwich. After winning the U.S. Open, his only Grand Slam title, in 2014 he made the ATP World Finals but was battling an arm injury and lost all three of his group matches. This year Cilic registered his first ATP World Tour Masters 1000 title and during the year registered wins against both Murray and Djokovic. He has reached a career high No. 7 ranking and will attract long shot bets at 21.00.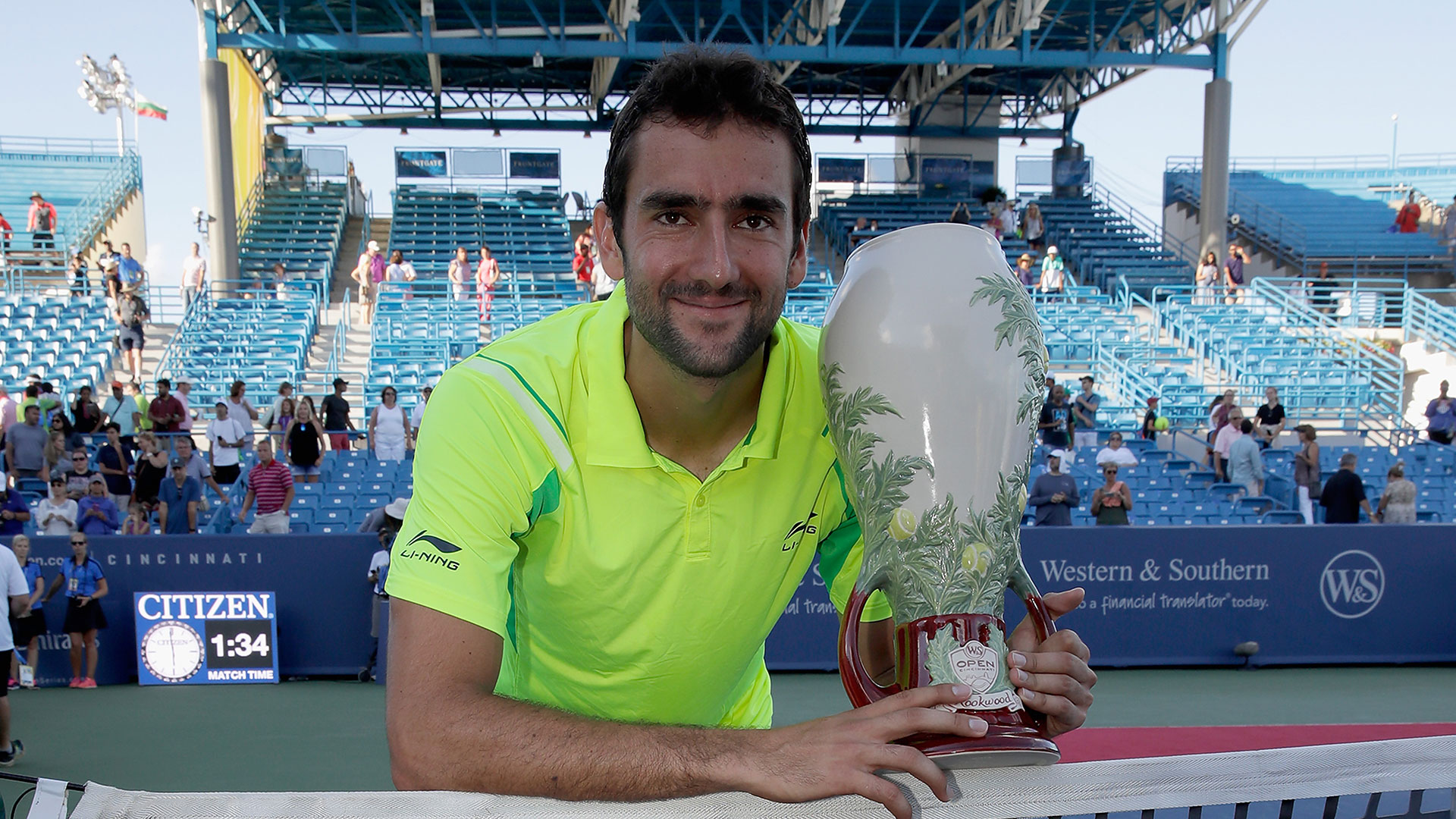 Milos Raonic will also be seeking to finish the season at a career-high No. 3. Currently the fourth-ranked player in the world, the native of Montenegro has enjoyed a consistent campaign in 2016. There was only one title but there have been several advances to the finals in tournaments, including Wimbledon. The hard-serving, 6'5″ Raonic was forced to the sidelines with a thigh injury last week in Paris but reports the leg to be fine for London barely a week later. That is just one more thing for handicappers to figure in to a chance on Raonic at 21.00.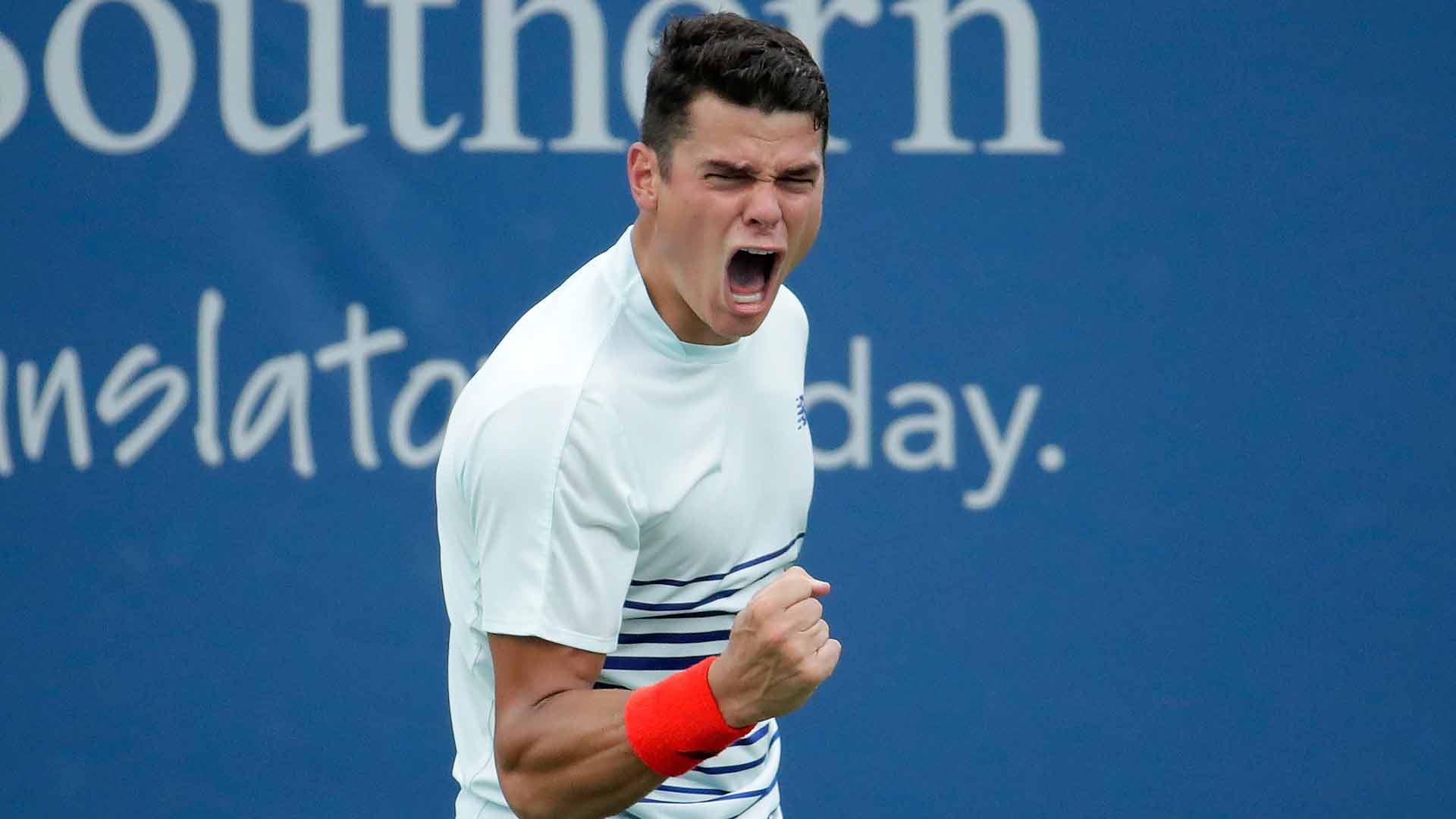 Japan's Kei Nishikori is also looking to snare that season-ending No. 3 spot. Nishikori has been a Top-Five player for over two years, waiting for a crack in the Big Four to make an advance. Now that chance has arrived. He reached the semi-finals in the U.S. Open after beating Murray in five sets in the quarters. It was a good sign for Nishikori fans as the 26-year old has always been plagued by questions of fitness. To make the next step forward at the ATP World Finals Nishikori will need to overcome 21.00 odds.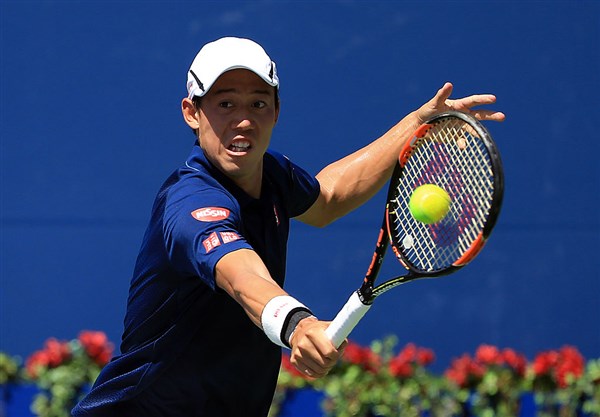 For those who like to plunge on comers, Gael Monfils finally appeared to harness his prodigious talent in 2016. At the age of 30 he rose from No. 25 at the start of the year all the way to a best ever ranking of No. 6. He became a regular attendee in late rounds and made his first ever grand slam semi-final at the U.S. Open. But after flaming out against Gastao Elias, then ranked No. 61, in Stockholm in early October Monfils has not returned to the court. His odds of 36.00, making him the longest shot in the field, reflect the mystery surrounding his game.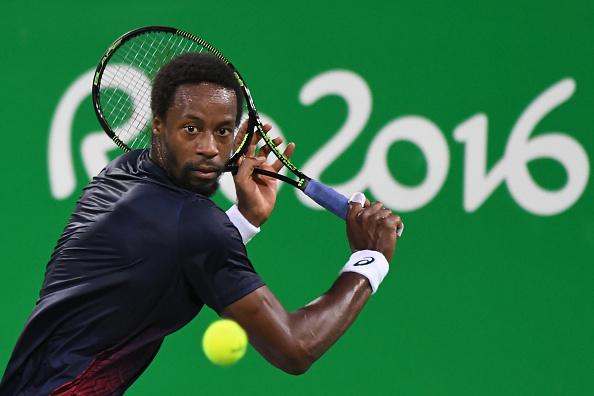 Save