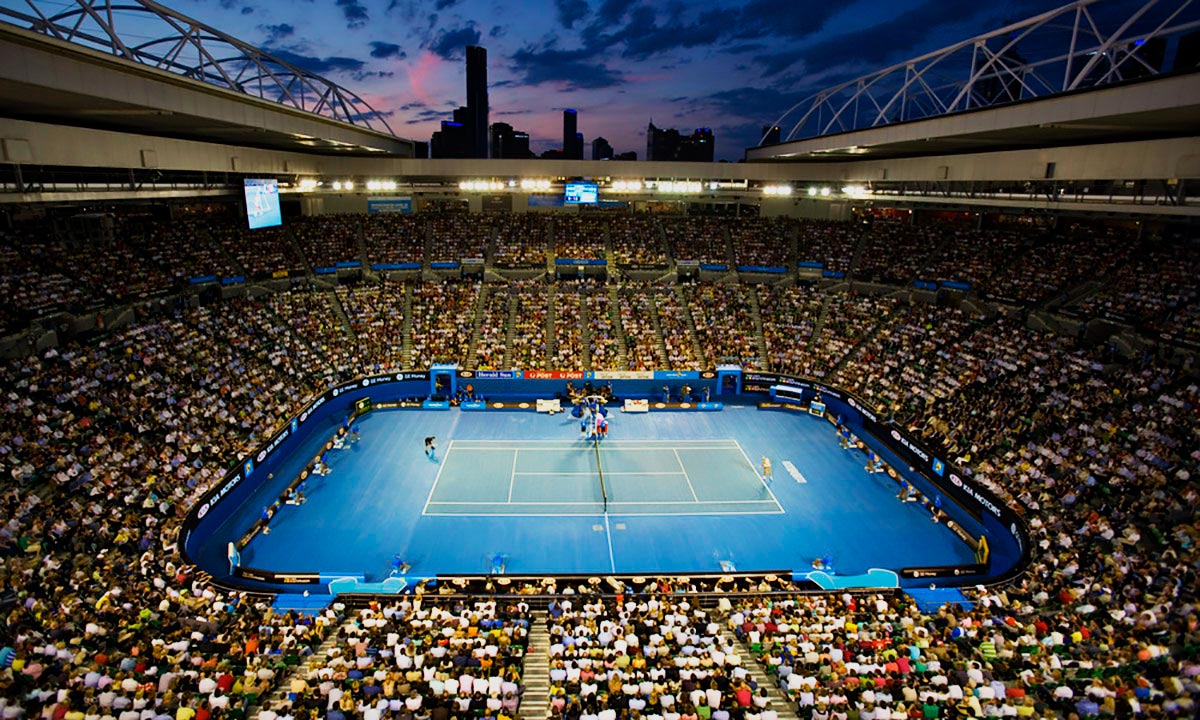 The calendar has turned on 2016 but tennis bettors can be excused for thinking this is still 2015 as the players get ready for the year's first major at the Australian Open. Defending champions Serena Williams and Novak Djokovic are both heavy favorites after enjoying seasons of three grand slam wins each last year.
Serena Williams, fresh off being named Sports Illustrated's Sportsperson of the Year, is the bigger question mark of the two. She has not played on tour since losing to Roberta Vinci in the semifinals of the U.S. Open in September, bringing her bid for a grand slam sweep to a screeching halt in the biggest upset in recent sports history.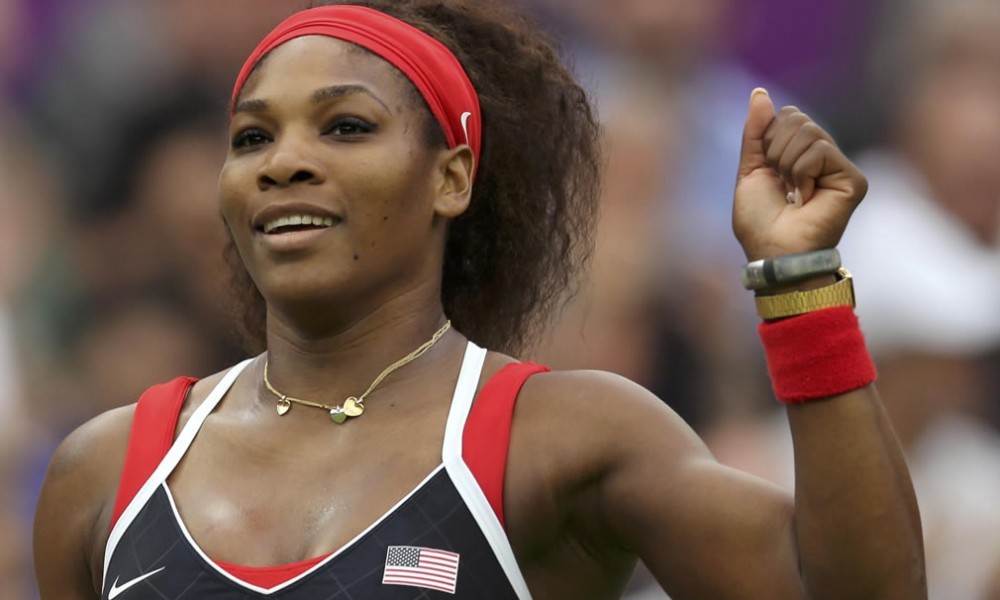 Williams took a break to refresh mentally but in an exhibition to prepare for the Australian Open she was forced to withdraw with a knee injury. And she is now 34 years old, beyond the age when nicks and bruises seem to disappear with a good night's sleep. Mentally ready? Physically ready? That is what bettors must decide before backing the world's best women's player at 4.00 at bet365.
【2016 Australian Open Women's Singles Tournament Winner Odds】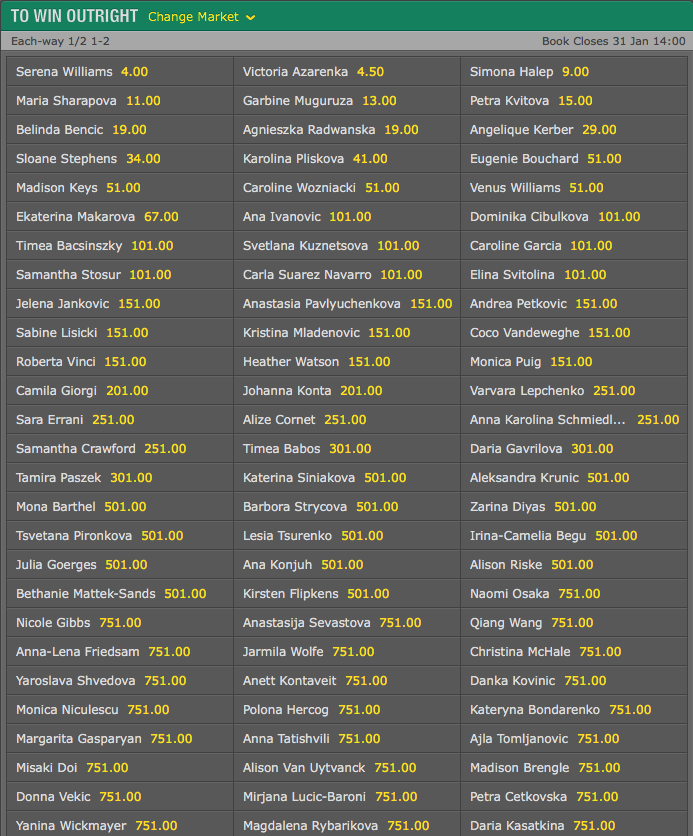 ※ Current Odds Date & Time: January 18, 3:00 a.m. (GMT)
If not Serena, who? That is the riddle handicappers must solve in sifting through the women's draw. Injuries and illness have felled most of the top contenders, so much so that No. 14 seed Victoria Azarenka has been installed as a strong second choice at 4.50. It is not wishful thinking; she has spent time as the world number one during a Williams sabbatical and is a two-time champion at Melbourne.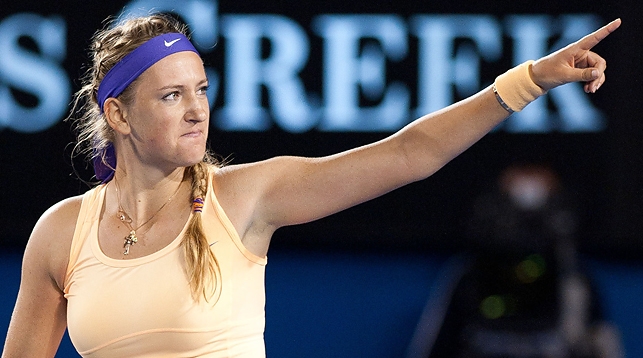 The Australian Open, more so than other majors, has a reputation for pushing longshots deep into the tournament. Last year it was American Madison Keys and she will reward backers at 51.00 if she can progress all the way to the championship in 2016. Fellow American Sloane Stephens, who was the surprise of Melbourne in 2013 when she made the semifinals, is listed at 34.00 and that looks attractive when factoring in her second career win last week in Auckland.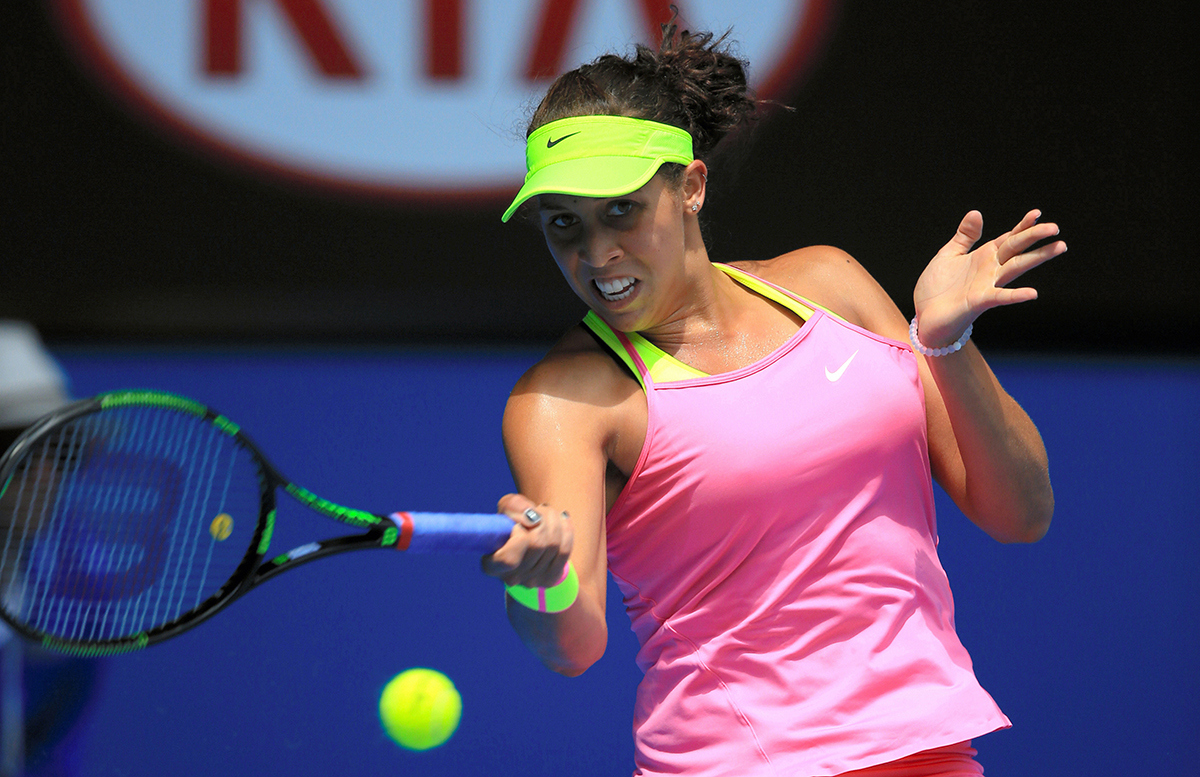 【2016 Australian Open Men's Singles Tournament Winner Odds】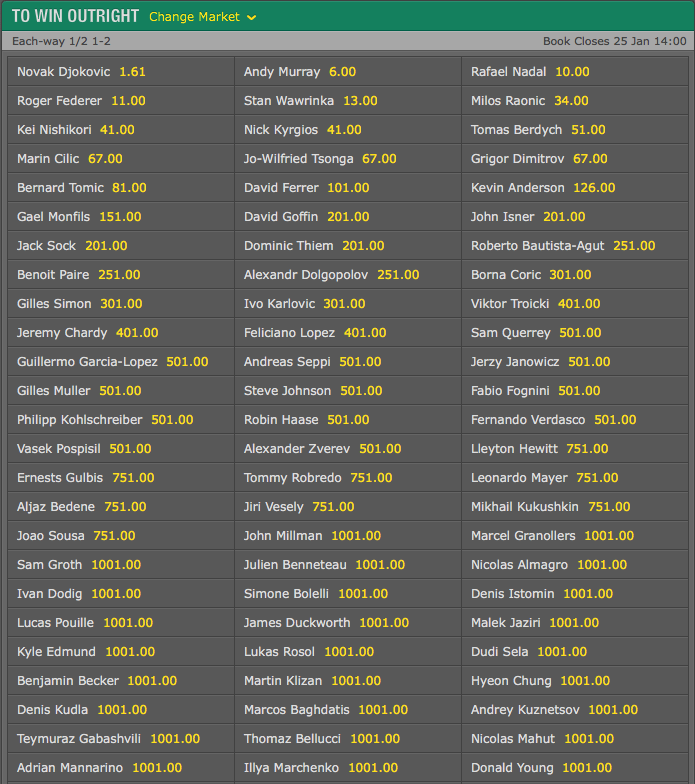 ※ Current Odds Date & Time: January 18, 3:00 a.m. (GMT)
On the men's side the Big Four of Djokovic, Murray, Federer and Nadal still rule the game but as Federer has pointed out, Novak deserves a "little star" next to his name for his play of late. Since winning the U.S. Open, the Serbian superstar has won 31 of 32 matches. He has made the final match in each of his last 16 tournaments. If anyone needs more evidence of his up-to-date form, Djokovic destroyed Nadal in the finals in Doha in early January, losing only three games in the final match. Djokovic goes into the kick-off major of 2016 as a commanding 1.61 favorite.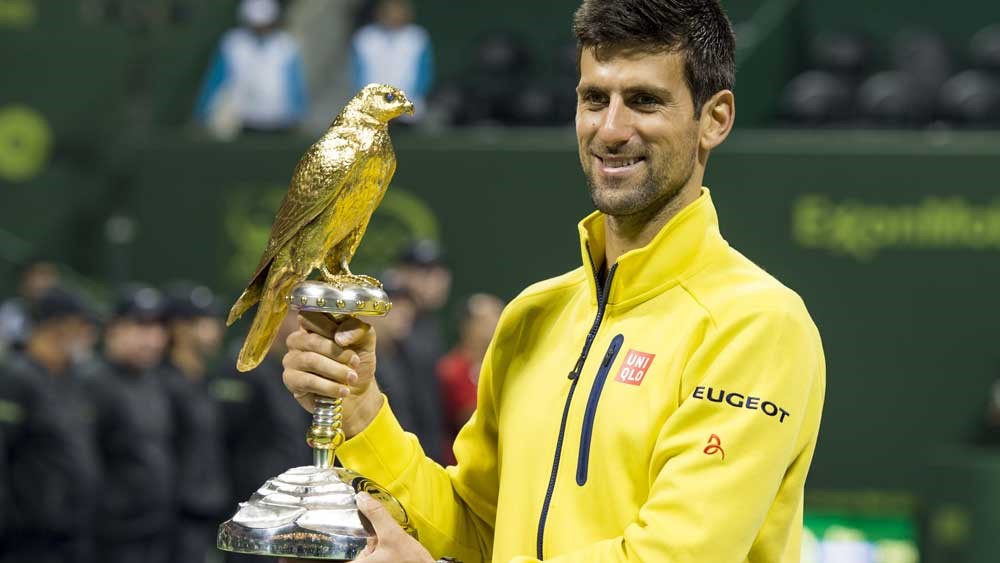 Andy Murray is the No. 2 seed and has been given odds of 6.00. Before considering to lay real money on the hard-serving Englishman, players must also handicap the pregnancy of his wife Kim, who will be back in London expecting the couple's first child in early February. Murray has already told tournament organizers that if the baby comes before schedule he will be on a plane back home to be on hand for the blessed event. That will not come as happy news to punters holding tickets on Murray.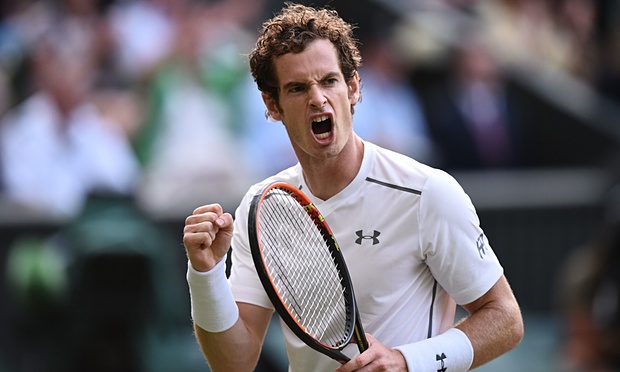 Roger Federer is playing better tennis into his mid-thirties than anyone since Jimmy Connors but he still has not won a major tournament since the 2012 Wimbledon. After a spate of disappointing losses to Djokovic, the 34-year old Swiss has recruited Ivan Ljubicic, a former world number three, as his new coach in his search for a way back to the top of the tennis world. Believers can get a price of 11.00 on the 17-time major winner.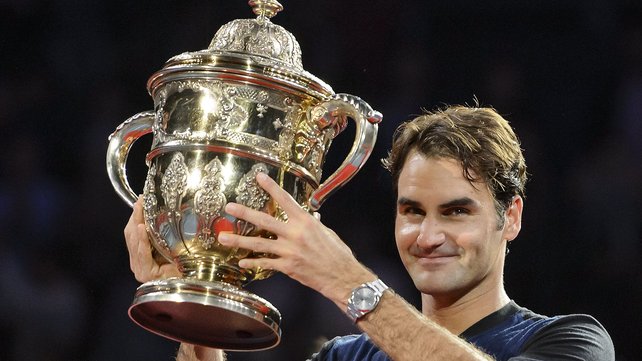 Nadal has been suffering through a string of frustrating injuries over the past 18 months but he claims to be fit and fresh heading into the 2016 tournament grind. He played well to close out the 2015 season and if he is indeed ready to run down every ball in the stadium again his odds of 10.00 will be a bargain.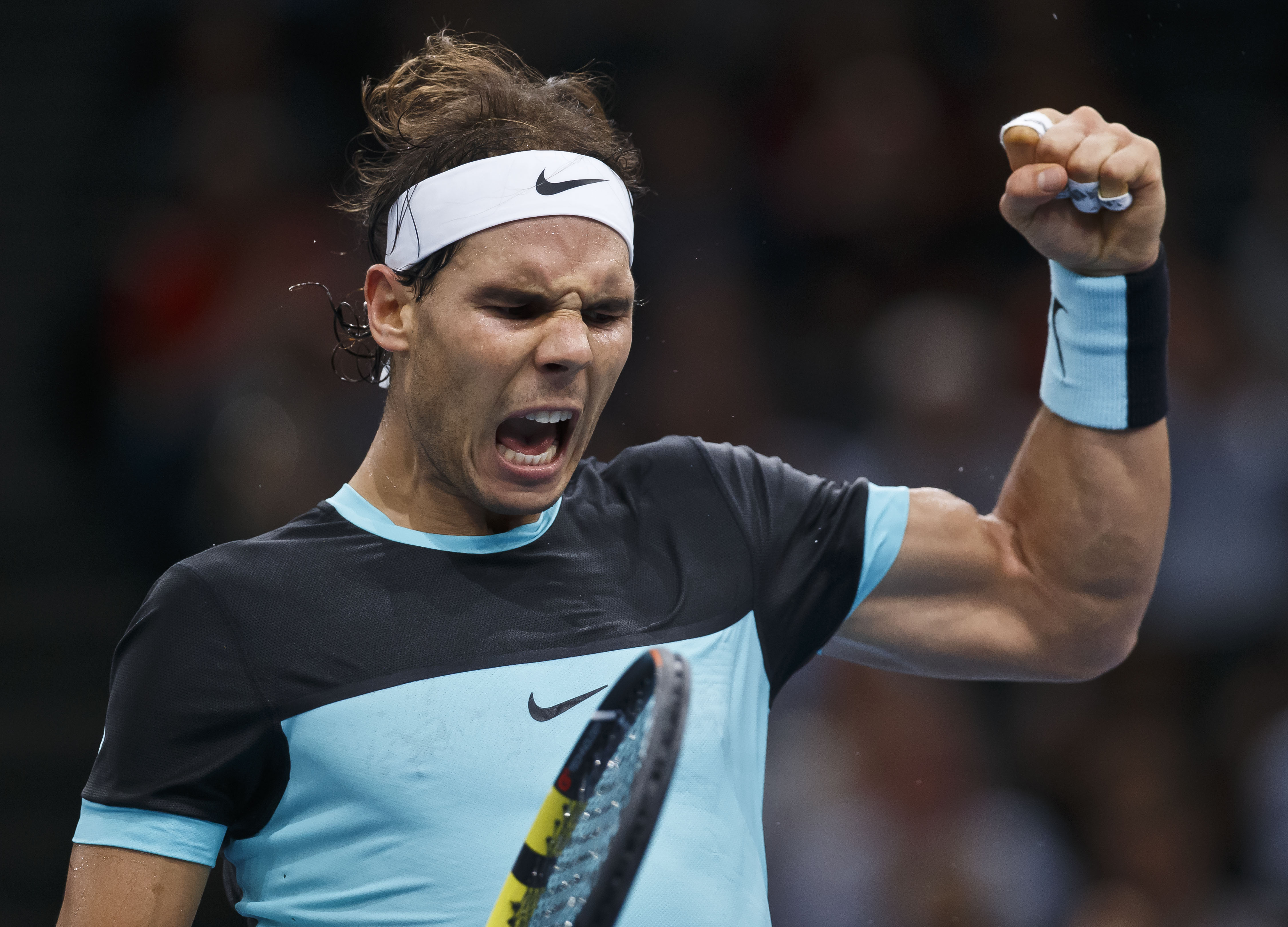 Stan Wawrinka, one of the select few players other than the Big Four to win a major championship in the past seven years, is poised to bust up the party again with his devastating backhand placement game. His best game is on clay but he has made the quarterfinals in all four grand slams and won this championship in 2014 when he beat Nadal, ranked number one at the time. Wawrinka is one of only three men's players who owns a career win against each of the Big Four. Hunch players will enjoy Wawrinka's 13.00 odds should he wriggle through to another grand slam title in 2016 in Melbourne.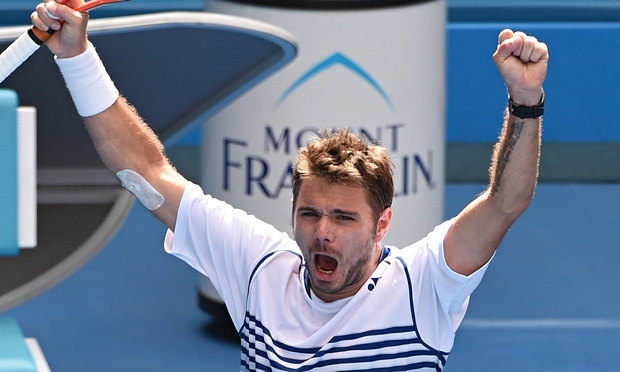 And speaking of hunches, this will be Australian Lleyton Hewitt's 20th and last go at his country's national championship. Hewitt was the last Aussie men's major champion with wins at the U.S. Open in 2001 and Wimbledon in 2002. Hewitt is preparing to take over the reins as coach of Australia's Davis Cup team in 2016 and should he pull off the biggest – and most sentimental – upset in tennis history he will return 751.00.
A more realistic hometown play would be 20-year old Nick Kyrgios, known so far in his short career more for his racquet smashing and verbal abusing of chair umpires than his tennis. But he captured the boys' singles event at the 2013 Australian Open and recorded a career-advancing win over Federer last year. Possibly the future of men's tennis, the longshot bet on the Aussie will pay 41.00.