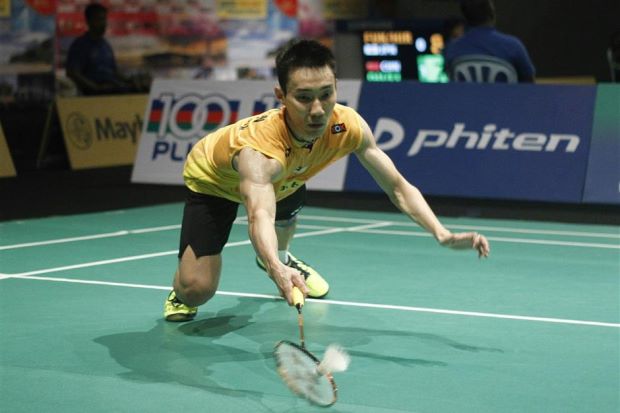 Bettors who wager on badminton only once every four years at the Olympics were no doubt startled to watch their money play out in the 2012 Olympic Games. Some of the top shuttlers in the world spent much of their time in preliminary matches smashing shuttlecocks into the net and blasting shots purposely out of the court. The goal was to strategically lose certain matches to gain a more favorable seeding in future rounds.
The match fixing brought badminton its most attention ever in an Olympiad – and not in a good way for the betting world. Players were disqualified, appeals filed, apologies issued for unsportsmanlike behavior and the rules changed for the 2016 Rio de Janeiro games to insure that competitors "play to their full potential." Still, once burned, it is certain that match bettors will proceed with caution. A safer path may be to take odds on the eventual winner in the five categories of play in the badminton tournament at Riocentro.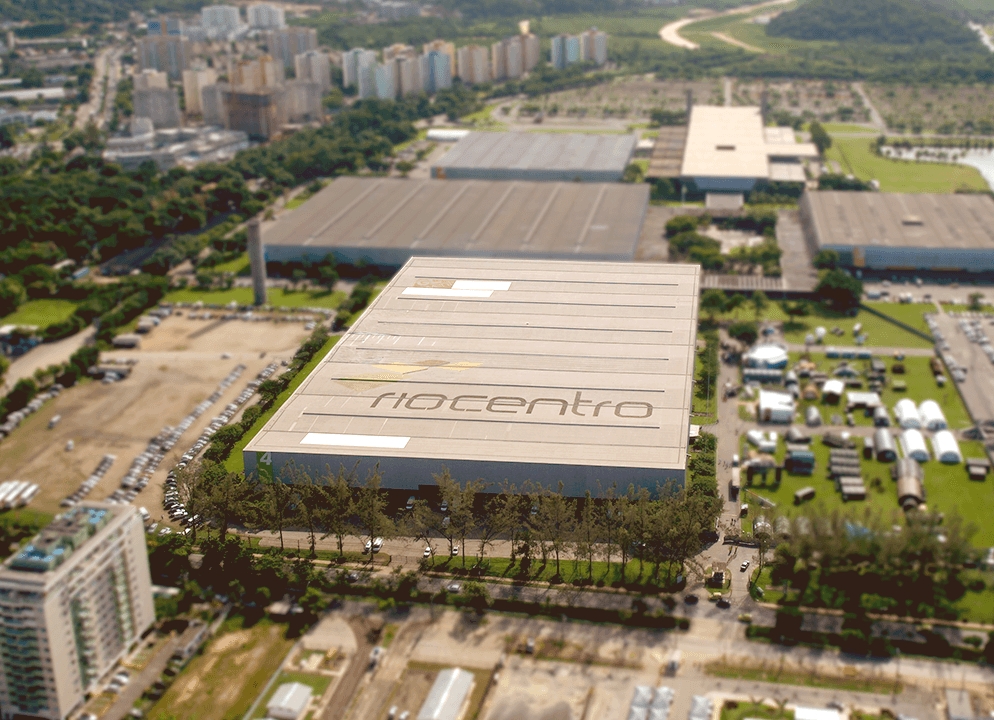 In the men's singles, plungers will be parsing among three top players. Bovada's has installed the Malaysian professional Lee Chong Wei as the favourite at +150. At the age of 33, Lee has piled up 64 career titles and was the top-ranked player in the world for 199 consecutive weeks from August 21, 2008 until June 14, 2012 – one week after the 2008 Olympic Games in Bejing to one month before the 2012 Olympic Games in London. In those Olympics, however, Lee came up short both times in the finals, taking home silver. Backers will hope he has found a way to overcome that psychological hurdle in Rio.
【2016 Rio Olympics Badminton Gold Medal Winner Odds】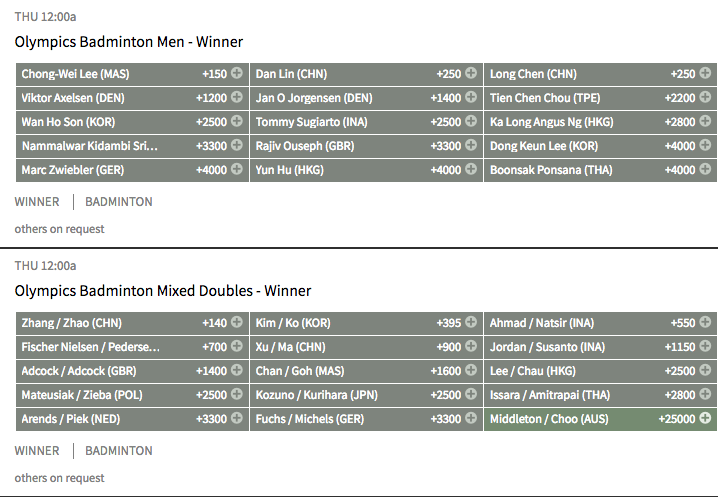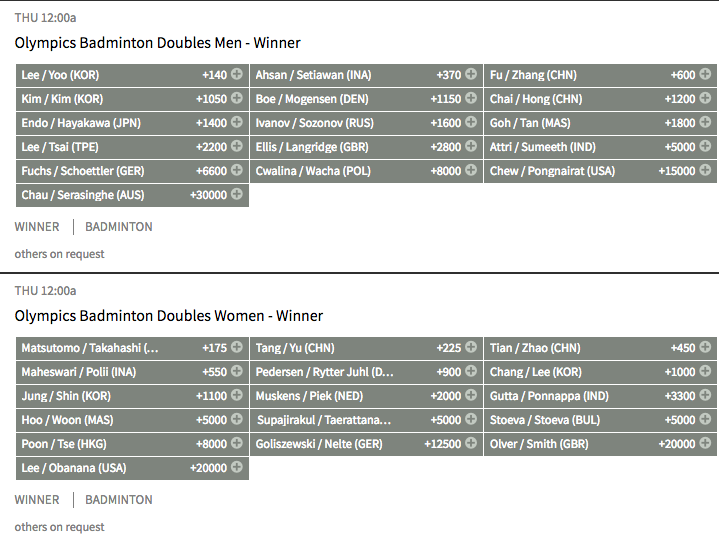 ※ Current Odds Date & Time: August 10, 2:00 p.m. (GMT)
In 2016 Lee has captured four titles including a second Asian Badminton Championships crown. In route to the victory he vanquished his Olympic tormenter, Lin Dan, on his home court in China, 3-0. But for those handicappers wary about badminton shenanigans at the Olympics, Lee has had to endure an eight-month ban from competition for using dexamethasone, an anti-inflammatory drug. He is playing in Rio only because his sentence was back-dated.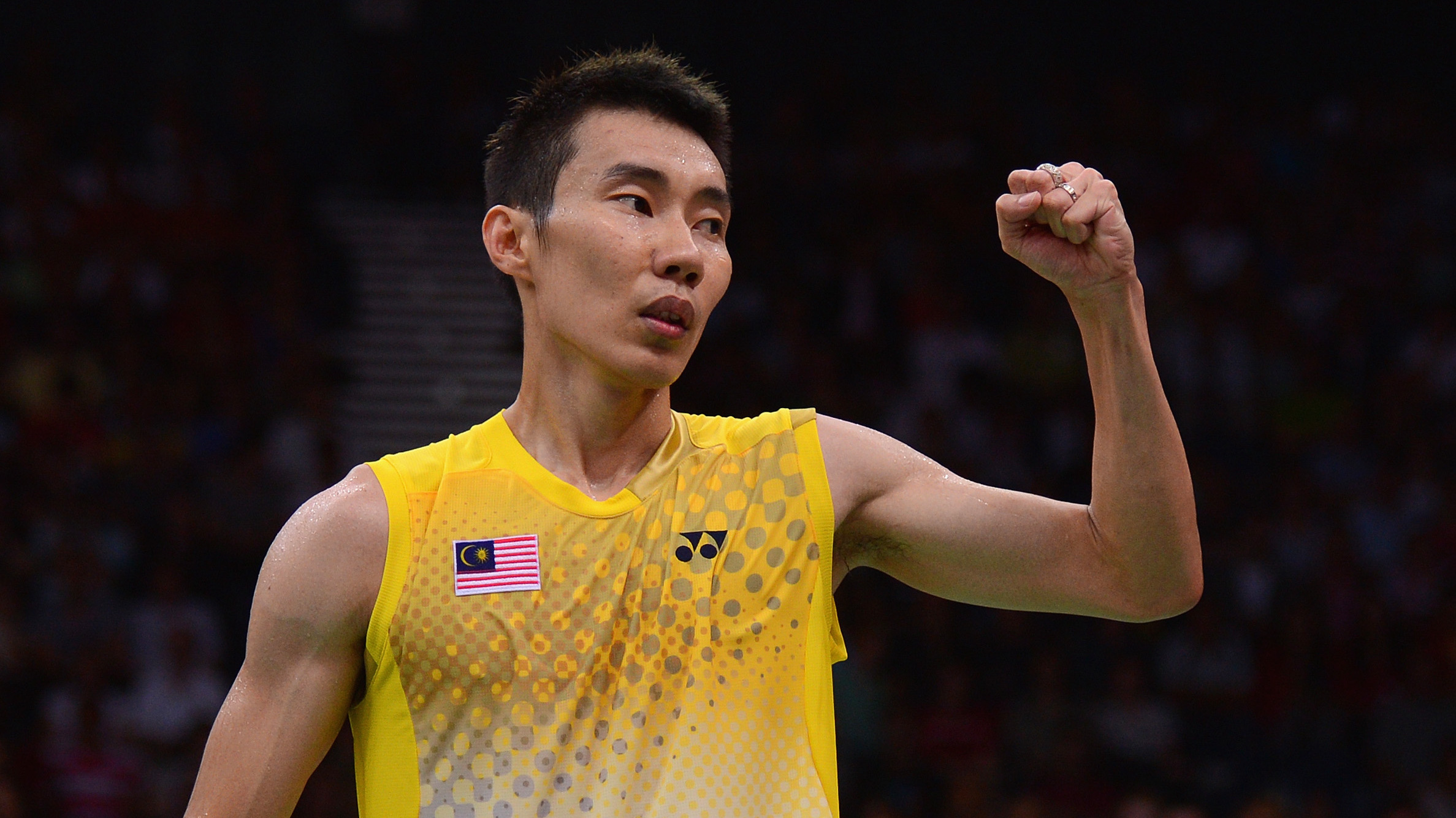 In addition to being the reigning two-time Olympic champion, Lin has been a five-time world champion and six-time All-England titleist. Now 32 years old, Super Dan will be playing not only for an unprecedented third gold medal (badminton only became an Olympic sport in 1992) but also to lock away his case for being the greatest shuttler of all time. He is already the only singles player to bank all nine major titles in the badminton world – dubbed the Super Grand Slam. Lin has been installed with odds of +250.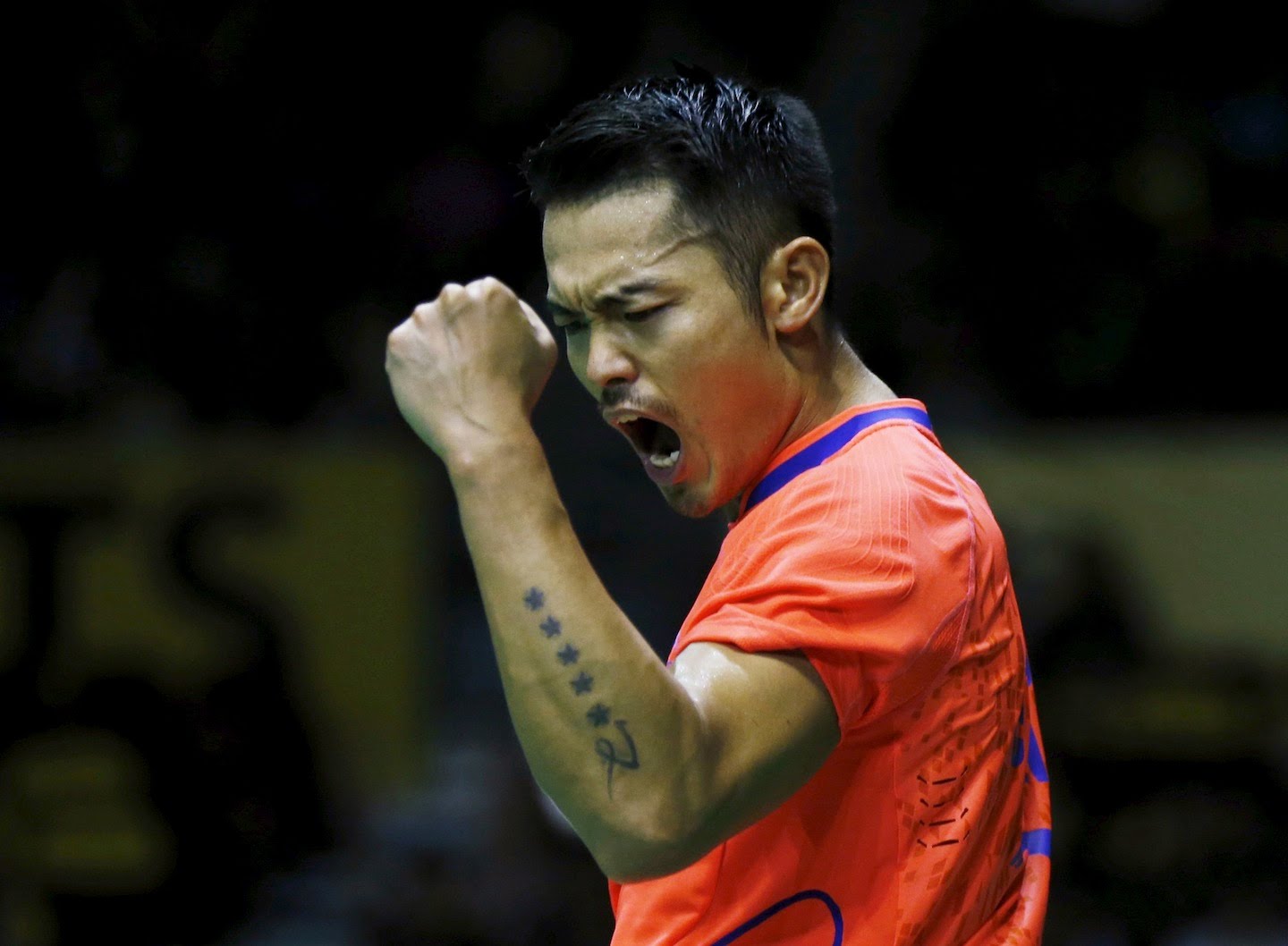 Also listed at +250 is Lin's teammate Chen Long, bronze medal winner at the London Olympics. Long is the two-time defending world singles champion (beating Lee Chong Wei both times in Copenhagen and Jakarta). In fact in eight of Chen's worldwide titles, Lee has been the victim in the finals. But so far this year Chen has gone winless losing to Lee in the finals in the Asia Championships and the Malaysia Open. Even so, he is still ranked #2 in the world.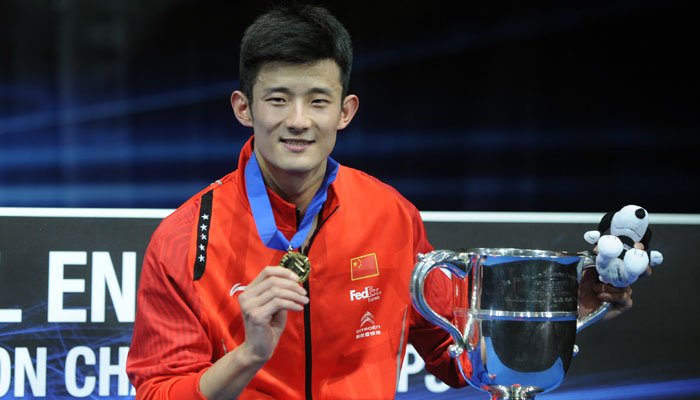 The women's competition appears to be more wide open with top players from five nations. Li Xuerui from China is back to defend her gold medal from London at the age of 25. She is a tentative +285 favorite to do so going into the tournament in Rio. She is ranked No. 3 in the world and has won two of her 23 titles this year in the German Open and China Masters. But she has not triumphed in a major competition since the 2012 Olympics.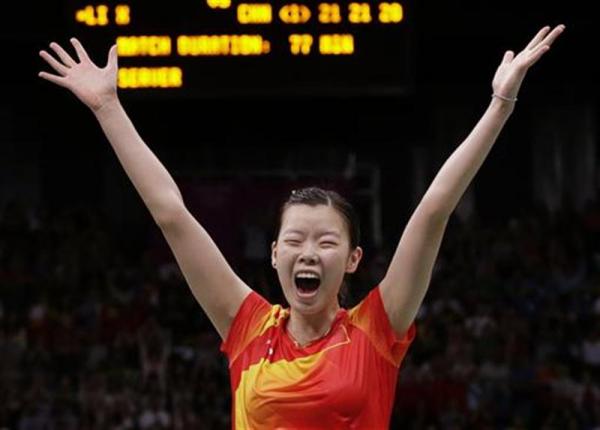 Also expected to be in the mix will be Ratchanok Intanon of Thailand who won the World Championship in 2013 at the age of 18. Before that she was the youngest ever junior champion at the age of 14. Ratchanok was the top-ranked player in the world back in April but has since slipped to No. 4 after she failed a doping test in May at China's Uber Cup. Through some legal gymnastics and a claim that the positive result was falsely triggered by treatment for an injury, Ratchanok was cleared for Rio. She is given odds of +525. Third-ranked Yihan Wang of China (+750) and sixth-ranked Nozomi Okuhara of Japan (+900) will also draw strong consideration in the women's singles tournament.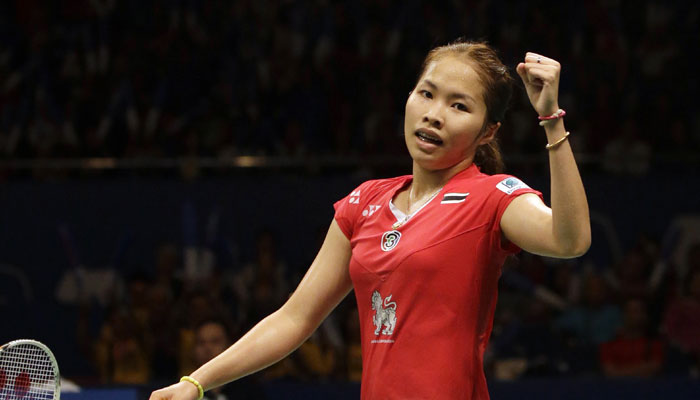 The top-ranked men's doubles team of Lee Yong Dae and Yoo Yeon Seong of South Korea have racked up nine Super Series titles in 2015 and 2016 (although there were no golds at the last two World Championships) and are the shortest favorite in the badminton competition in the Rio Games at +140. Lee won the gold medal in men's doubles in 2008 in Bejing and a bronze in 2012 with a different partner but has been playing with Yoo since 2014. The pair quickly won three Super Series titles in three weeks consisting of the Japan Open, Indonesian Open and Australia Open that year to vault from world No. 4 to second-ranked. Since then it has been a steady march to their current No. 1 ranking.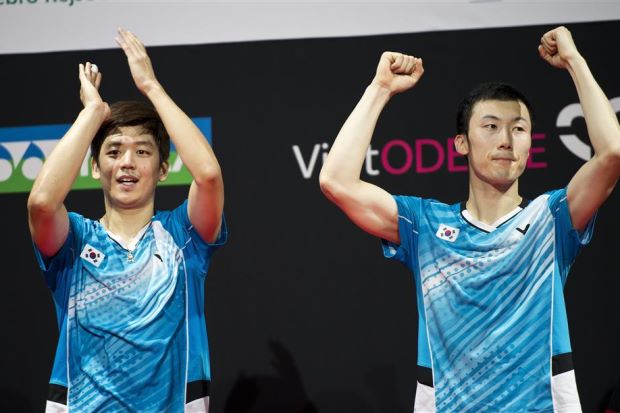 The South Koreans will expect stiff competition from the Indonesian duo of Hendra Setiawan and Mohammad Ahsan (+370). The experienced Setiawan owns a gold medal from Bejing and three golds at the World Championships including the 2013 and 2015 tournaments with Ahsan. Their first victory as a shuttling pair in 2013 came at the expense of the Koreans.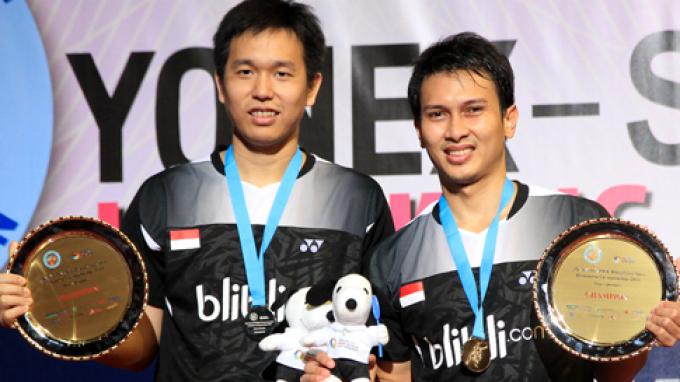 The most competitive betting field in the Rio badminton tournament will likely come in the women's doubles where top seeds are Misaki Matsutomo and Ayaka Takahashi of Japan. The pair has flashed the best and most consistent form in 2016, and as a result have been rewarded as +175 favorites. Almost as impressive have been Tang Yuanting and Yu Yang of China who have been given odds of +225.
And the eventual winners could well be Greysia Polii and Nitya Krishinda Maheswari of Indonesia (+550) who have taken down the top-ranked duo on a big stage before in the 2014 Asian Games.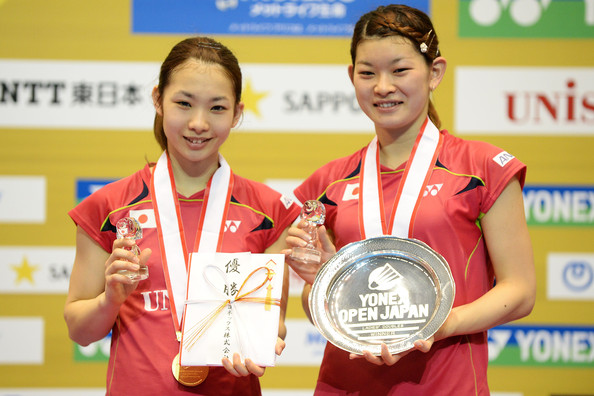 In mixed doubles, most of the top teams return intact from the 2012 Olympics and that includes gold medal winners Zhang Nan and Zhao Yunlei of China. The pair has also claimed three World Championships in the interim. It has been a long run on the top perch and several experienced teams will be aiming to topple the Chinese who are favored at +140. Chief among them will be Song-Hyun Ko and Ha-Na Kim of South Korea (+395) and Tontowi Ahmad and Lilyana Natsir (+550) of Indonesia who have a World Championship notch on their victory belt.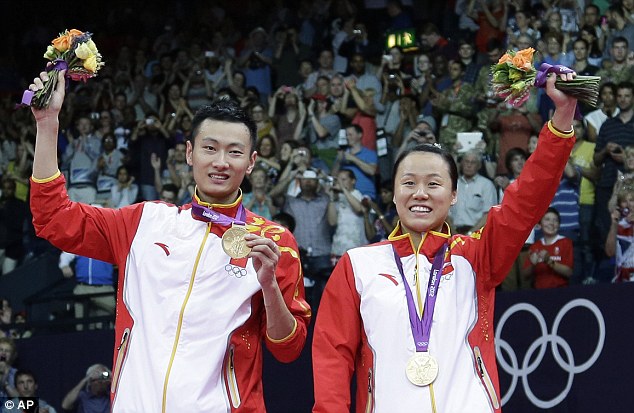 Save