If you ask WWE CEO Vince McMahon, the product he delivers into millions of homes across America is Sports Entertainment and not Professional Wrestling. Even though WWE (World Wrestling Entertainment) has the name wrestling in their company name, McMahon is focused on the entertainment aspect of the show in general.
Even though his wrestlers are high-flying and the outcomes of each specific event are pre-determined, you can still place money on WWE pay-per-views. Tomorrow's Crown Jewel event in Saudi Arabia is no different.

※ Current Odds Date & Time: October 30th, 5:30 p.m. (EST)
Online bookmaker 5Dimes has Lensar at -210 to retain the WWE Championship.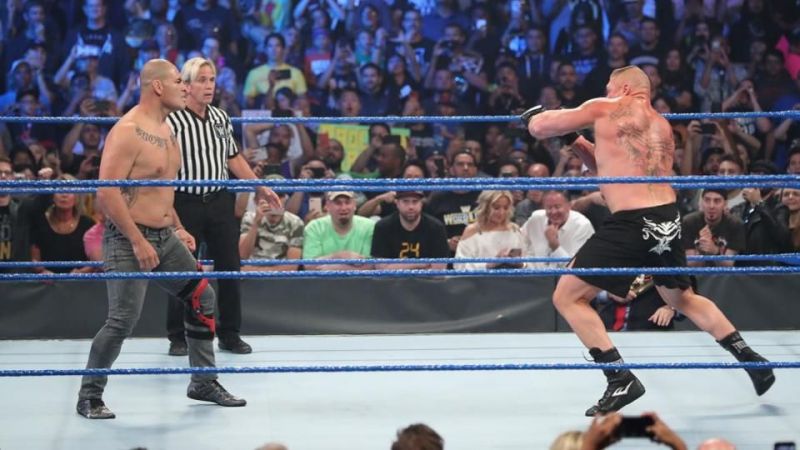 Whether you agree with WWE and Saudi Arabia having a partnership, the event will go on and there are many betting opportunities for fans. One of the most anticipated matches that will headline this event is Brock Lesnar vs. Cain Velasquez. Yes, you read that right.
The WWE Championship is on the line and Lesnar is looking to defend his belt against the same guy that defeated him in 2010 in the UFC. Can Lesnar exact revenge against the man that beat him almost 10 years ago?
Velasquez reportedly retired from UFC and MMA after signing a lucrative deal with WWE. Velasquez has much experience in the octagon but he also spent some time wrestling in Mexico. In his two brief appearances in Mexico, Velasquez partnered with famous wrestlers like Brian Cage and Cody.
This will be Velasquez's first official match inside WWE, although he did show his skillsets briefly inside a WWE ring previously. He attacked Lesnar on an episode of SmackDown earlier this month.
In his first-ever match, can Velasquez defeat Lesnar or will Lesnar leave Saudia Arabia WWE champion?